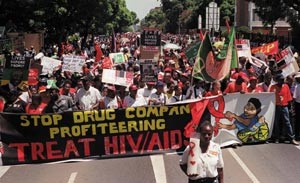 Thousands of protestors marched on the Pretoria High Court last month to show support for the South African government's legal challenge to import patented AIDS drugs at a cheaper price from other countries without the permission of the manufacturer (parallel importing) and/or to manufacture such drugs locally (compulsory licensing).
The government's effort to legalize such importation is being challenged in a class action lawsuit filed in February 1998 by 39 pharmaceutical companies. The case opened on 5 March but has been postponed until 18 April because the counsel for the Pharmaceutical Manufacturers Association objected to the advocacy group, Treatment Action Campaign, joining the trial at a late stage.
More than 4.2 million South Africans are infected with HIV/AIDS and, as a result, the country is expected to experience negative population growth by 2003. For several years it has complained that it can not afford to buy AIDS medications at Western prices and has rejected lower price offers made by some pharmaceutical companies (Nature Med. 5, 1, 1999).
Last month, Merck became the latest company to offer cut-price drugs when it announced that it would sell two of its AIDS medications—Stockrin and Crixivan—to poor countries at one tenth of their US price. Meanwhile, Pfizer—which is not among those contesting the case—delivered the first shipment of free anti-fungal medication to South Africa.
The SA government has so far resisted calls to exercise its option of declaring a state of national emergency, which under the World Trade Agreement would allow it to issue compulsory licenses to local manufacturers. The national emergency exemption is limited in term, and is not considered a sustainable strategy. Another alternative is for the government to grant an application by the Indian company, Cipla, to sell its cheap versions of patented AIDS medicines in the country.
About this article
Cite this article
Birmingham, K. South Africa vs. big pharma. Nat Med 7, 390 (2001). https://doi.org/10.1038/86424