Abstract
Evidence for a final common pathway for disorders of the myocardium (pages 246 and 320–330).
Access options
Access options
Subscribe to Journal
Get full journal access for 1 year
$225.00
only $18.75 per issue
All prices are NET prices.
VAT will be added later in the checkout.
Rent or Buy article
Get time limited or full article access on ReadCube.
from$8.99
All prices are NET prices.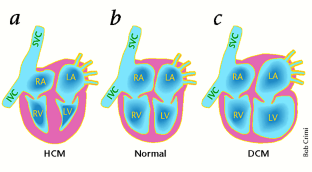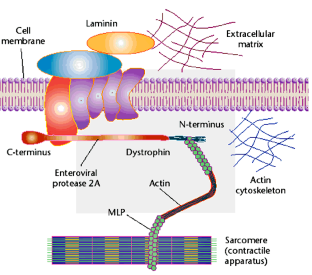 References
1

Georgakopoulous, D. et al. The pathogenesis of familial hypertrophic cardiomyopathy: Early and evolving effects of an α-cardiac myosin heavy chain missense mutation. Nature Med. 5, 327– 330 (1999).

2

Lim, H.W. & Molkentin, J.D. Calcineurin and human heart failure. Nature Med. 5, 246– 247 (1999).

3

Badorff, C. et al. Enteroviral protease 2A cleaves dystrophin: Evidence of cytoskeletal disruption in an acquired cardiomyopathy. Nature Med. 5, 320–326 (1999).

4

Seidman, C.E. & Seidman, J.G. in Molecular Cardiovascular Medicine (ed. Haber, E.) 193–210 (Scientific American Press, New York, 1995).

5

Watkins, H. et al. Mutations in the genes for cardiac troponin T and α-tropomyosin in hypertrophic cardiomyopathy. N. Engl. J. Med. 332 , 1058–1064 (1995).

6

Molkentin, J.D. et al. A calcineurin-dependent transcriptional pathway for cardiac hypertrophy. Cell 93, 215– 228 (1998).

7

Sussman, M.A. et al. Prevention of cardiac hypertrophy in mice by calcineurin inhibition. Science 281,1690–1693 (1998).

8

Towbin, J.A. The role of cytoskeletal proteins in cardiomyopathies. Curr. Opin. Cell. Biol. 10, 131–139 (1998).

9

Towbin, J.A. et al. X-linked dilated cardiomyopathy. Molecular genetic evidence of linkage to the Duchenne muscular dystrophy locus. Circulation 87, 1854–1865 ( 1993).

10

Olson, J.M., Michels, V.V., Thibodeau, S.N., Tai, Y.S. & Keating, M.T. Actin mutations in dilated cardiomyopathy, an inheritable form of heart failure. Science 280, 750–752 (1998).