LWEZA, UGANDA — On 19 January, health workers at an HIV care facility run by Mildmay Uganda began vaccinating 500 HIV-positive girls between the ages of 9 and 13 against the cancer-causing human papillomavirus (HPV). The campaign makes the clinic run by Mildmay, an international not-for-profit Christian organization, the first treatment center devoted to HIV to vaccinate for HPV in Uganda.
AIDS clinics are poised to have an important role in providing essential infrastructure for delivery of the vaccine, Gardasil, which is made by Merck and protects against cervical cancer. Peter Mugyenyi, a world specialist in HIV/AIDS and director at the Joint Clinical Research Centre in Kampala, Uganda says this is part of larger plan whereby governments will integrate HIV services in normal delivery of health care: "We have to be futurists."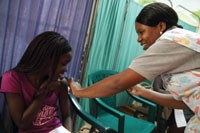 Cervical cancer is the leading cause of cancer deaths among women in the developing world. The International Agency for Research on Cancer estimates that more than 274,000 women die of cervical cancer each year and that 80% of these deaths occur in developing countries.
In addition to the distribution of Merck's Gardasil by Mildmay, GlaxoSmithKline has committed to donating 90,000 doses of its HPV vaccine, Cervarix, to be administered in Uganda, a portion of which was delivered with help from the US-based nonprofit Path.
Currently, schools and health centers are being used to administer the HPV vaccine to adolescent girls in Africa. But these facilities and the teachers that staff them are overstretched. What's more, the vaccine cannot be delivered through the national routine immunization days in most countries, as these campaigns target children younger than five years.
At Mildmay, the Cleveland, Ohio–based Axios International donated 1,600 doses for the 500 HIV-positive girls. The facility already has cold-chain facilities to ensure proper preservation of the shots and trained staff members who are knowledgeable in vaccine management and can report adverse effects to the government. The facility also has a fun-hospital setting for its young HIV-positive clients: there is an area where youngsters can read books and assemble puzzles and an adolescents' club where the girls discuss various issues affecting their lives.
According to Emmanuel Luyirika, a doctor and the country director of Mildmay Uganda, the clinic has taken a comprehensive approach. "We are not only looking at the vaccine; we are screening for cancer of the cervix for all women. All women found to have early signs [of cervical malignancies] are treated; those with advanced signs are referred to the Mulago hospital," she says.
About this article
Cite this article
Nakkazi, E. Cancer vaccine boosted by infrastructure for HIV care in Africa. Nat Med 17, 272 (2011). https://doi.org/10.1038/nm0311-272a
Published:

Issue Date:

DOI: https://doi.org/10.1038/nm0311-272a