Excess salt intake over many years can lead to high blood pressure. An essential signaling mechanism behind this effect is now uncovered (pages 64–68).
Access options
Subscribe to Journal
Get full journal access for 1 year
$79.00
only $6.58 per issue
All prices are NET prices.
VAT will be added later in the checkout.
Tax calculation will be finalised during checkout.
Buy article
Get time limited or full article access on ReadCube.
$32.00
All prices are NET prices.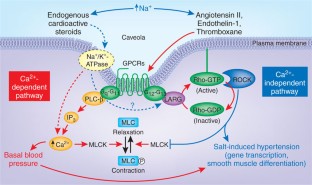 References
Wirth, A. et al. Nat. Med. 14, 64–68 (2008).

O'Shaughnessy, K.M. & Karet, F.E. Annu. Rev. Nutr. 26, 343–365 (2006).

Huang, B.S., Amin, M.S. & Leenen, F.H.H. Curr. Opin. Cardiol. 21, 295–304 (2006).

Schoner, W. & Scheiner-Bobis, G. Am. J. Physiol. Cell Physiol. 293, C509–C536 (2007).

Maguire, J.J. & Davenport, A.P. Trends Pharmacol. Sci. 26, 448–454 (2005).

Patel, H.H., Murray, F. & Insel, P.A. Annu. Rev. Pharmacol. Toxicol. published online, doi:10.1146/annurev.pharmtox.48.121506.124841 (3 October 2007).

Fukata, Y., Amano, M. & Kaibuchi, K. Trends Pharmacol. Sci. 22, 32–39 (2001).

Somlyo, A.P. & Somlyo, A.V. Physiol. Rev. 83, 1325–1358 (2003).
About this article
Cite this article
Schoner, W. Salt abuse: the path to hypertension. Nat Med 14, 16–17 (2008). https://doi.org/10.1038/nm0108-16
Issue Date:

DOI: https://doi.org/10.1038/nm0108-16