Abstract
Spermatogonial cell transplantation from a mouse with a defective soma to a mouse with a compromised germ line re-establishes spermatogenesis. The ability of both of these cell types to resume normal function has implications for fertility treatment (29–34).
Access options
Subscribe to Journal
Get full journal access for 1 year
$225.00
only $18.75 per issue
All prices are NET prices.
VAT will be added later in the checkout.
Rent or Buy article
Get time limited or full article access on ReadCube.
from$8.99
All prices are NET prices.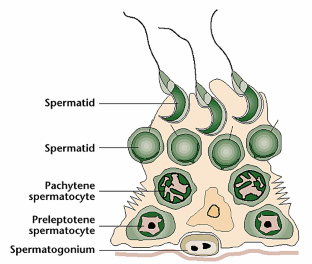 References
1

Ogawa, T., Dobrinski, I., Avarbock, M.R. & Brinster, R.L. Transplantation of male germ line stem cells restores fertility in infertile mice. Nature Med. 5, 29– 34 (1999).

2

Dym, M. Spermatogonial stem cells of the testis. Proc. Natl. Acad. Sci. USA 91, 11287–11289 (1994).

3

Brinster, R.L. et al. Spermatogenesis following male germ-cell transplantation. Proc. Natl. Acad. Sci. USA 91, 11298– 11302 (1994).

4

Clouthier, D.E. et al. Rat spermatogenesis in mouse testis. Nature 381, 418–421 (1996).

5

Blatt, J. Pregnancy outcome in long-term survivors of childhood cancer. Med. Pediatr. Oncol. 33, 29–33 (1999).

6

Radford, J.A., Shalet, S.M. & Laberman, B.A. Fertility after treatment for cancer. Br. Med. J. 319, 935–936 (1999).

7

Nagano, M. et al. Culture of mouse spermatogonial stem cells. Tissue Cell 30, 389–397 ( 1998).

8

Fleischman, R.A. et al. Deletion of the c-kit proto-oncogene in the human developmental defect piebald. Proc. Nat. Acad. Sci. USA 88, 10885–10889 (1991).

9

Mcelreavey, K. et al. Male Infertility and the Y Chromosome. Am. J. Hum. Genet. 64, 928–933 ( 1999).

10

Page, D.C. et al. Men with infertility caused by AZFc deletion can produce sons by intracytoplasmic sperm injection, but are likely to transmit the deletion and infertility. Hum. Reprod. 14, 1722– 1726 (1999).
About this article
Cite this article
Cooke, H., Saunders, P. Germ cell transplantation—a fertile field. Nat Med 6, 16–17 (2000). https://doi.org/10.1038/71469
Further reading
T. Mirzapour

,

M. Movahedin

,

M. Koruji

&

M. R. Nowroozi

Andrologia (2015)

J. Li

,

H. Savolainen

,

F. Tan

&

S. Zheng

Reproduction (2010)