In a recent study, Maciocia et al. develop a novel T cell receptor beta (TCRB) constant C1-chain-directed cellular immunotherapy for the treatment of T cell malignancies.
Access options
Subscribe to Journal
Get full journal access for 1 year
$225.00
only $18.75 per issue
All prices are NET prices.
VAT will be added later in the checkout.
Rent or Buy article
Get time limited or full article access on ReadCube.
from$8.99
All prices are NET prices.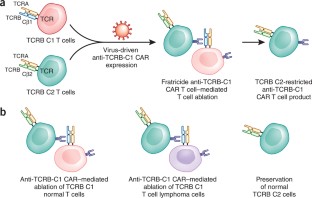 References
1

Pishko, A. & Nasta, S.D. Transl. Cancer Res. 6, 93–103 (2017).

2

Ramos, C.A. et al. J. Clin. Invest. 126, 2588–2596 (2016).

3

Toyonaga, B., Yoshikai, Y., Vadasz, V., Chin, B. & Mak, T.W. Proc. Natl. Acad. Sci. USA 82, 8624–8628 (1985).

4

Schwartz, R.H. Annu. Rev. Immunol. 3, 237–261 (1985).

5

Warner, K. et al. Curr. Hematol. Malig. Rep. 8, 163–172 (2013).

6

Nikolich-Zugich, J., Slifka, M.K. & Messaoudi, I. Nat. Rev. Immunol. 4, 123–132 (2004).
Ethics declarations
Competing interests
The authors declare no competing financial interests.
About this article
Cite this article
Palomero, T., Ferrando, A. Targeted cellular immunotherapy for T cell malignancies. Nat Med 23, 1402–1403 (2017). https://doi.org/10.1038/nm.4458
Further reading
Best Practice & Research Clinical Haematology (2018)