A recent study shows that spermidine has beneficial effects on health and lifespan in mice, and that these effects are the result of improved cardiovascular function. Similar effects of spermidine on humans are supported by epidemiological studies.
Access options
Subscribe to Journal
Get full journal access for 1 year
$79.00
only $6.58 per issue
All prices are NET prices.
VAT will be added later in the checkout.
Tax calculation will be finalised during checkout.
Buy article
Get time limited or full article access on ReadCube.
$32.00
All prices are NET prices.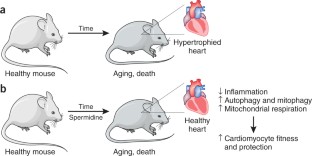 References
Eisenberg, T. et al. Nat. Med. 22, 1428–1438 (2016)

Pegg, A.E. J. Biol. Chem. 291, 14904–14912 (2016).

Eisenberg, T. et al. Nat. Cell Biol. 11, 1305–1314 (2009).

Taneike, M. et al. Autophagy 6, 600–606 (2010).

de Cabo, R., Carmona-Gutierrez, D., Bernier, M., Hall, M.N. & Madeo, F. Cell 157, 1515–1526 (2014).

López-Otín, C., Galluzzi, L., Freije, J.M., Madeo, F. & Kroemer, G. Cell 166, 802–821 (2016).

Morselli, E. et al. J. Cell Biol. 192, 615–629 (2011).

Diaz, M., Degens, H., Vanhees, L., Austin, C. & Azzawi, M. Exp. Gerontol. 85, 41–47 (2016).

Minois, N. Gerontology 60, 319–326 (2014).

Soda, K. et al. J. Nutr. Sci. Vitaminol. (Tokyo) 55, 361–366 (2009).
Ethics declarations
Competing interests
The authors declare no competing financial interests.
About this article
Cite this article
de Cabo, R., Navas, P. Spermidine to the rescue for an aging heart. Nat Med 22, 1389–1390 (2016). https://doi.org/10.1038/nm.4243
Published:

Issue Date:

DOI: https://doi.org/10.1038/nm.4243
This article is cited by
Kaan Adacan
Pınar Obakan-Yerlikaya
Narçın Palavan-Unsal

Amino Acids (2020)

Qi-Juan Hu
Mo-Xian Chen
Jian-Hua Zhang

Plant Growth Regulation (2020)

Guilherme C. L. Reis
Leticia R. Guidi
Maria Beatriz A. Gloria

Food Analytical Methods (2020)