A recent study suggests that exposure to the mold Aspergillus induces the production of antibodies that neutralize interferon-γ (IFN-γ), which increases the risk of mycobacterial disease.
Access options
Subscribe to Journal
Get full journal access for 1 year
$59.00
only $4.92 per issue
All prices are NET prices.
VAT will be added later in the checkout.
Tax calculation will be finalised during checkout.
Rent or Buy article
Get time limited or full article access on ReadCube.
from$8.99
All prices are NET prices.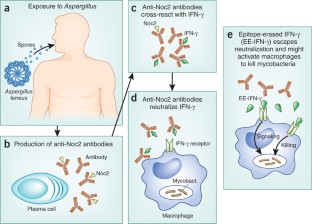 References
1

Bustamante, J., Boisson-Dupuis, S., Abel, L. & Casanova, J.L. Semin. Immunol. 26, 454–470 (2014).

2

Chi, C.Y. et al. Medicine 95, e3927 (2016).

3

Browne, S.K. et al. N. Engl. J. Med. 367, 725–734 (2012).

4

Lin, C.-H.C. Nat. Med. 22, 994–1001 (2016).

5

Ku, C.L., et al. J. Allergy Clin. Immunol. 137, 945–948.e8 (2016).

6

Holland, S.M. Microbes Infect. 2, 1579–1590 (2000).

7

Patel, S.Y. et al. J. Immunol. 175, 4769–4776 (2005).

8

Trapnell, B.C., Whitsett, J.A. & Nakata, K. N. Engl. J. Med. 349, 2527–2539 (2003).

9

Rosen, L.B. et al. J. Immunol. 190, 3959–3966 (2013).

10

Puel, A. et al. J. Exp. Med. 207, 291–297 (2010).

11

Walter, J.E. et al. J. Clin. Invest. 125, 4135–4148 (2015).
Acknowledgements
This work was supported in part by the Intramural Research Program of the National Institute of Allergy and Infectious Disease, NIH.
Ethics declarations
Competing interests
The authors declare no competing financial interests.
About this article
Cite this article
Notarangelo, L., Holland, S. Friendly fire: anti-cytokine antibodies elicited by microbes. Nat Med 22, 973–975 (2016). https://doi.org/10.1038/nm.4175
Further reading
Jakob H. von Stemann

,

Ole B. Pedersen

,

Henrik Hjalgrim

,

Christian Erikstrup

,

Henrik Ullum

,

Lise W. Thørner

,

Margit AH. Larsen

,

Kristoffer S. Burgdorf

,

Erik Sørensen

,

Morten B. Hansen

&

Sisse R. Ostrowski

Journal of Clinical Immunology (2020)