Reservoirs of virally infected cells that are resistant to standard antiretroviral therapy make HIV-1 infection an incurable disease. A new study shows that follicular T helper cells in lymph node germinal centers are prime niches for HIV-1 persistence during antiviral therapy.
Access options
Subscribe to Journal
Get full journal access for 1 year
$79.00
only $6.58 per issue
All prices are NET prices.
VAT will be added later in the checkout.
Tax calculation will be finalised during checkout.
Buy article
Get time limited or full article access on ReadCube.
$32.00
All prices are NET prices.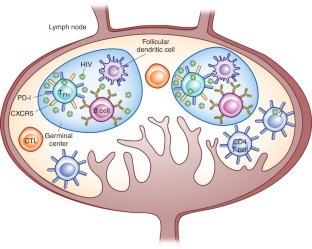 References
Siliciano, J.D. et al. Nat. Med. 9, 727–728 (2003).

Whitney, J.B. et al. Nature 512, 74–77 (2014).

Allers, K. et al. Blood 117, 2791–2799 (2011).

Banga, R. et al. Nat. Med. 22, 754–761 (2016).

Locci, M. et al. Immunity 39, 758–769 (2013).

Kohler, S.L. et al. J. Immunol. 196, 2711–2722 (2016).

Heesters, B.A. et al. PLoS Pathog. 11, e1005285 (2015).

Fletcher, C.V. et al. Proc. Natl. Acad. Sci. USA 111, 2307–2312 (2014).

Fukazawa, Y. et al. Nat. Med. 21, 132–139 (2015).

Hale, J.S. & Ahmed, R. Front. Immunol. 6, 16 (2015).

Pallikkuth, S. et al. J. Virol. 90, 2718–2728 (2015).
Acknowledgements
M.P. is supported by NIH grants AI110334 and AI104278. M.L. is supported by NIH grants AI106468, AI114235, AI117841, AI120008 and AI098487.
Ethics declarations
Competing interests
The authors declare no competing financial interests.
About this article
Cite this article
Paiardini, M., Lichterfeld, M. Follicular T helper cells: hotspots for HIV-1 persistence. Nat Med 22, 711–712 (2016). https://doi.org/10.1038/nm.4138
Published:

Issue Date:

DOI: https://doi.org/10.1038/nm.4138