Abstract
Brain metastases represent the greatest clinical challenge in treating HER2-positive breast cancer. We report the development of orthotopic patient-derived xenografts (PDXs) of HER2-expressing breast cancer brain metastases (BCBM), and their use for the identification of targeted combination therapies. Combined inhibition of PI3K and mTOR resulted in durable tumor regressions in three of five PDXs, and therapeutic response was correlated with a reduction in the phosphorylation of 4EBP1, an mTORC1 effector. The two nonresponding PDXs showed hypermutated genomes with enrichment of mutations in DNA-repair genes, which suggests an association of genomic instability with therapeutic resistance. These findings suggest that a biomarker-driven clinical trial of PI3K inhibitor in combination with an mTOR inhibitor should be conducted for patients with HER2-positive BCBM.
This is a preview of subscription content
Access options
Subscribe to Journal
Get full journal access for 1 year
$59.00
only $4.92 per issue
All prices are NET prices.
VAT will be added later in the checkout.
Tax calculation will be finalised during checkout.
Buy article
Get time limited or full article access on ReadCube.
$32.00
All prices are NET prices.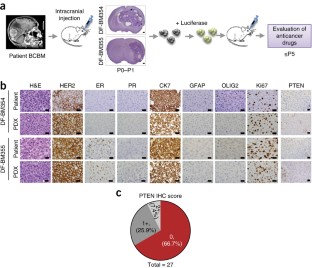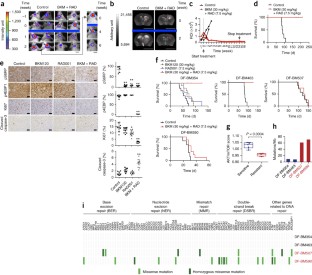 Accession codes
Primary accessions
Gene Expression Omnibus
References
Wikman, H. et al. Breast Cancer Res. 14, R49 (2012).

Zhang, L. et al. Nature 527, 100–104 (2015).

Filbin, M.G. et al. Nat. Med. 19, 1518–1523 (2013).

Maire, C.L. et al. Stem Cells 32, 313–326 (2014).

Thorpe, L.M., Yuzugullu, H. & Zhao, J.J. Nat. Rev. Cancer 15, 7–24 (2015).

Elkabets, M. et al. Sci. Transl. Med. 5, 196ra199 (2013).

Krueger, D.A. et al. N. Engl. J. Med. 363, 1801–1811 (2010).

O'Reilly, T. et al. Cancer Chemother. Pharmacol. 65, 625–639 (2010).

Choo, A.Y., Yoon, S.O., Kim, S.G., Roux, P.P. & Blenis, J. Proc. Natl. Acad. Sci. USA 105, 17414–17419 (2008).

Creighton, C.J. Oncogene 26, 4648–4655 (2007).

Brastianos, P.K. et al. Cancer Discov. 5, 1164–1177 (2015).

Shlien, A. et al. Biallelic Mismatch Repair Deficiency Consortium. Nat. Genet. 47, 257–262 (2015).

Hortobagyi, G.N. et al. J. Clin. Oncol. 34, 419–426 (2016).

Gentleman, R.C. et al. Genome Biol. 5, R80 (2004).

Miller, C.A., Hampton, O., Coarfa, C. & Milosavljevic, A. PLoS One 6, e16327 (2011).

Wang, Y. et al. Cell 163, 174–186 (2015).

Love, M.I., Huber, W. & Anders, S. Genome Biol. 15, 550 (2014).
Acknowledgements
We thank D. Livingston for reading the manuscript. We thank R. Modiste and G. Dai at the Dana-Farber Lurie Family Image Center for MRI imaging. We thank R. Bronson and the Dana-Farber/Harvard Cancer Center Rodent Histoplathology Core for histopathological analyses. We thank F. Pan, D. Light and R. Qi (Life Technologies, Thermo Fisher) for assistance with WES and transcriptome analyses with the Ion Torrent sequencing system. We thank J. Ruan and M. Ruan (VigeneTech) for quantification of pS6RP and p4EBP IHC data by the Cellvigene data-analysis program. This work was supported by the Breast Cancer Research Foundation (N.U.L., E.P.W., Z.W. and J.J.Z.); Aid for Cancer Research (E.P.W. and J.J.Z.); Breast Cancer Alliance (J.J.Z.); Komen scholar grant (E.P.W.); and US National Institutes of Health (NIH) grants R01 CA187918 (T.M.R. and J.J.Z.), CA172461 (J.J.Z.), 1K08NS087118 (S.H.R.), P50 CA165962 (T.M.R., K.L.L. and J.J.Z.), P01 CA142536 (J.J.Z.) and 1P50CA168504 (T.M.R., I.E.K., E.P.W., N.U.L., and J.J.Z.).
Ethics declarations
Competing interests
T.M.R. is a consultant of Novartis and has received a research grant from Novartis. E.P.W. has received research grants from Genentech and Roche. I.E.K. is a consultant of Amgen and has received research funding from Genentech. N.U.L. has received research grants from Genentech, Array Biopharma, GlaxoSmithKline, Kadmon and Novartis.
Supplementary information
About this article
Cite this article
Ni, J., Ramkissoon, S., Xie, S. et al. Combination inhibition of PI3K and mTORC1 yields durable remissions in mice bearing orthotopic patient-derived xenografts of HER2-positive breast cancer brain metastases. Nat Med 22, 723–726 (2016). https://doi.org/10.1038/nm.4120
Received:

Accepted:

Published:

Issue Date:

DOI: https://doi.org/10.1038/nm.4120