Abstract
Tumor heterogeneity may reduce the efficacy of molecularly guided systemic therapy for cancers that have metastasized. To determine whether the genomic alterations in a single metastasis provide a reasonable assessment of the major oncogenic drivers of other dispersed metastases in an individual, we analyzed multiple tumors from men with disseminated prostate cancer through whole-exome sequencing, array comparative genomic hybridization (CGH) and RNA transcript profiling, and we compared the genomic diversity within and between individuals. In contrast to the substantial heterogeneity between men, there was limited diversity among metastases within an individual. The number of somatic mutations, the burden of genomic copy number alterations and aberrations in known oncogenic drivers were all highly concordant, as were metrics of androgen receptor (AR) activity and cell cycle activity. AR activity was inversely associated with cell proliferation, whereas the expression of Fanconi anemia (FA)-complex genes was correlated with elevated cell cycle progression, expression of the E2F transcription factor 1 (E2F1) and loss of retinoblastoma 1 (RB1). Men with somatic aberrations in FA-complex genes or in ATM serine/threonine kinase (ATM) exhibited significantly longer treatment-response durations to carboplatin than did men without defects in genes encoding DNA-repair proteins. Collectively, these data indicate that although exceptions exist, evaluating a single metastasis provides a reasonable assessment of the major oncogenic driver alterations that are present in disseminated tumors within an individual, and thus may be useful for selecting treatments on the basis of predicted molecular vulnerabilities.
Relevant articles
Open Access articles citing this article.
Junmei Liu

,

Ranran Zhang

…

Weiwen Chen

Journal of Experimental & Clinical Cancer Research Open Access 20 May 2023

Zhiping Li

,

Xuanmao Jiao

…

Richard G. Pestell

Oncogene Open Access 24 April 2023

Yichun Xu

,

Yong Yang

…

Junsong Han

Journal of Translational Medicine Open Access 10 April 2023
Access options
Subscribe to this journal
Receive 12 print issues and online access
$189.00 per year
only $15.75 per issue
Rent or buy this article
Get just this article for as long as you need it
$39.95
Prices may be subject to local taxes which are calculated during checkout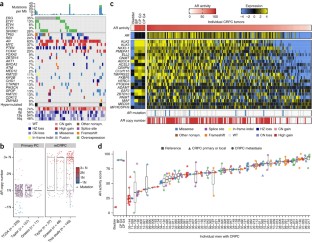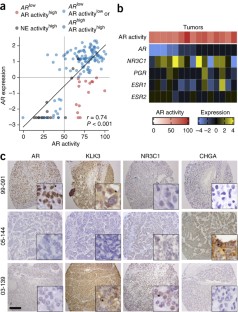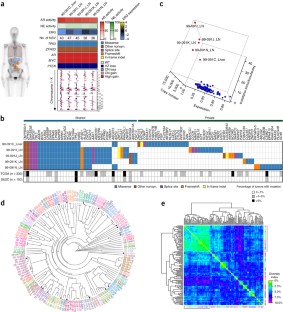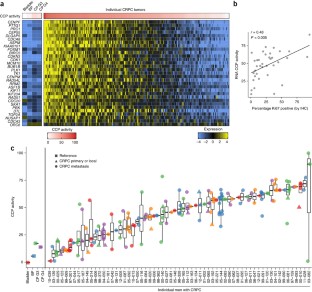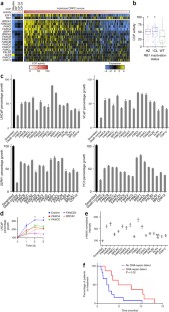 Accession codes
Primary accessions
Gene Expression Omnibus
References
National Research Council (U.S.). Committee on A Framework for Developing a New Taxonomy of Disease. Toward Precision Medicine: Building a Knowledge Network for Biomedical Research and a New Taxonomy of Disease. (National Academies Press, 2011).

Perou, C.M. et al. Molecular portraits of human breast tumours. Nature 406, 747–752 (2000).

Frattini, V. et al. The integrated landscape of driver genomic alterations in glioblastoma. Nat. Genet. 45, 1141–1149 (2013).

Sato, Y. et al. Integrated molecular analysis of clear-cell renal cell carcinoma. Nat. Genet. 45, 860–867 (2013).

Verhaak, R.G. et al. Prognostically relevant gene signatures of high-grade serous ovarian carcinoma. J. Clin. Invest. 123, 517–525 (2013).

Tannock, I.F. et al. Docetaxel plus prednisone or mitoxantrone plus prednisone for advanced prostate cancer. N. Engl. J. Med. 351, 1502–1512 (2004).

de Bono, J.S. et al. Abiraterone and increased survival in metastatic prostate cancer. N. Engl. J. Med. 364, 1995–2005 (2011).

Scher, H.I. et al. Increased survival with enzalutamide in prostate cancer after chemotherapy. N. Engl. J. Med. 367, 1187–1197 (2012).

Druker, B.J. et al. Effects of a selective inhibitor of the Abl tyrosine kinase on the growth of Bcr-Abl positive cells. Nat. Med. 2, 561–566 (1996).

Yachida, S. et al. Distant metastasis occurs late during the genetic evolution of pancreatic cancer. Nature 467, 1114–1117 (2010).

Gerlinger, M. et al. Intratumor heterogeneity and branched evolution revealed by multiregion sequencing. N. Engl. J. Med. 366, 883–892 (2012).

Cooper, C.S. et al. Analysis of the genetic phylogeny of multifocal prostate cancer identifies multiple independent clonal expansions in neoplastic and morphologically normal prostate tissue. Nat. Genet. 47, 367–372 (2015).

Liu, W. et al. Copy number analysis indicates monoclonal origin of lethal metastatic prostate cancer. Nat. Med. 15, 559–565 (2009).

Haffner, M.C. et al. Tracking the clonal origin of lethal prostate cancer. J. Clin. Invest. 123, 4918–4922 (2013).

Gundem, G. et al. The evolutionary history of lethal metastatic prostate cancer. Nature 520, 353–357 (2015).

Siegel, R.L., Miller, K.D. & Jemal, A. Cancer statistics, 2015. CA Cancer J. Clin. 65, 5–29 (2015).

Huggins, C. & Hodges, C.V. Studies on prostate cancer 1: the effect of castration, of estrogen and of androgen injection on serum phosphatases in metastatic carcinoma of the prostate. Cancer Res. 1, 293–297 (1941).

Kumar, A. et al. Exome sequencing identifies a spectrum of mutation frequencies in advanced and lethal prostate cancers. Proc. Natl. Acad. Sci. USA 108, 17087–17092 (2011).

Grasso, C.S. et al. The mutational landscape of lethal castration-resistant prostate cancer. Nature 487, 239–243 (2012).

Robinson, D. et al. Integrative clinical genomics of advanced prostate cancer. Cell 161, 1215–1228 (2015).

Mosquera, J.M. et al. Concurrent AURKA and MYCN gene amplifications are harbingers of lethal treatment-related neuroendocrine prostate cancer. Neoplasia 15, 1–10 (2013).

Qi, J. et al. Siah2-dependent concerted activity of HIF and FoxA2 regulates formation of neuroendocrine phenotype and neuroendocrine prostate tumors. Cancer Cell 18, 23–38 (2010).

Gupta, A. et al. Mash1 expression is induced in neuroendocrine prostate cancer upon the loss of Foxa2. Prostate 73, 582–589 (2013).

Pritchard, C.C. et al. Complex MSH2 and MSH6 mutations in hypermutated microsatellite unstable advanced prostate cancer. Nat. Commun. 5, 4988 (2014).

Hieronymus, H. et al. Copy number alteration burden predicts prostate cancer relapse. Proc. Natl. Acad. Sci. USA 111, 11139–11144 (2014).

Taylor, B.S. et al. Integrative genomic profiling of human prostate cancer. Cancer Cell 18, 11–22 (2010).

Sahu, B. et al. FoxA1 specifies unique androgen and glucocorticoid receptor binding events in prostate cancer cells. Cancer Res. 73, 1570–1580 (2013).

Arora, V.K. et al. Glucocorticoid receptor confers resistance to antiandrogens by bypassing androgen receptor blockade. Cell 155, 1309–1322 (2013).

Lai, J., Myers, S.A., Lawrence, M.G., Odorico, D.M. & Clements, J.A. Direct progesterone receptor and indirect androgen receptor interactions with the kallikrein-related peptidase 4 gene promoter in breast and prostate cancer. Mol. Cancer Res. 7, 129–141 (2009).

Setlur, S.R. et al. Estrogen-dependent signaling in a molecularly distinct subclass of aggressive prostate cancer. J. Natl. Cancer Inst. 100, 815–825 (2008).

Cancer Genome Atlas Research Network. The molecular taxonomy of primary prostate cancer. Cell 163, 1011–1025 (2015).

Tomlins, S.A. et al. Recurrent fusion of TMPRSS2 and ETS transcription factor genes in prostate cancer. Science 310, 644–648 (2005).

Morrissey, C. et al. Differential expression of angiogenesis associated genes in prostate cancer bone, liver and lymph node metastases. Clin. Exp. Metastasis 25, 377–388 (2008).

Cuzick, J. et al. Prognostic value of an RNA expression signature derived from cell cycle proliferation genes in patients with prostate cancer: a retrospective study. Lancet Oncol. 12, 245–255 (2011).

Sedelaar, J.P. & Isaacs, J.T. Tissue culture media supplemented with 10% fetal calf serum contains a castrate level of testosterone. Prostate 69, 1724–1729 (2009).

Kokontis, J.M., Hay, N. & Liao, S. Progression of LNCaP prostate tumor cells during androgen deprivation: hormone-independent growth, repression of proliferation by androgen, and role for p27Kip1 in androgen-induced cell cycle arrest. Mol. Endocrinol. 12, 941–953 (1998).

Schweizer, M.T. et al. Effect of bipolar androgen therapy for asymptomatic men with castration-resistant prostate cancer: results from a pilot clinical study. Sci. Transl. Med. 7, 269ra2 (2015).

Tategu, M., Arauchi, T., Tanaka, R., Nakagawa, H. & Yoshida, K. Systems biology-based identification of crosstalk between E2F transcription factors and the Fanconi anemia pathway. Gene Regul. Syst. Bio. 1, 1–8 (2007).

Meier, D. & Schindler, D. Fanconi anemia core complex gene promoters harbor conserved transcription regulatory elements. PLoS One 6, e22911 (2011).

Tan, H.L. et al. Rb loss is characteristic of prostatic small cell neuroendocrine carcinoma. Clin. Cancer Res. 20, 890–903 (2014).

Mateo, J. et al. DNA-repair defects and olaparib in metastatic prostate cancer. N. Engl. J. Med. 373, 1697–1708 (2015).

Lindberg, J. et al. The mitochondrial and autosomal mutation landscapes of prostate cancer. Eur. Urol. 63, 702–708 (2013).

Barbieri, C.E. et al. Exome sequencing identifies recurrent SPOP, FOXA1 and MED12 mutations in prostate cancer. Nat. Genet. 44, 685–689 (2012).

Robbins, C.M. et al. Copy number and targeted mutational analysis reveals novel somatic events in metastatic prostate tumors. Genome Res. 21, 47–55 (2011).

Aryee, M.J. et al. DNA methylation alterations exhibit intraindividual stability and interindividual heterogeneity in prostate cancer metastases. Sci. Transl. Med. 5, 169ra10 (2013).

de Bruin, E.C. et al. Spatial and temporal diversity in genomic instability processes defines lung cancer evolution. Science 346, 251–256 (2014).

McKenna, A. et al. The Genome Analysis Toolkit: a MapReduce framework for analyzing next-generation DNA sequencing data. Genome Res. 20, 1297–1303 (2010).

Wu, X. et al. Clonal selection drives genetic divergence of metastatic medulloblastoma. Nature 482, 529–533 (2012).

Zhang, J. et al. Intratumor heterogeneity in localized lung adenocarcinomas delineated by multiregion sequencing. Science 346, 256–259 (2014).

Sakr, W.A. et al. High grade prostatic intraepithelial neoplasia (HGPIN) and prostatic adenocarcinoma between the ages of 20–69: an autopsy study of 249 cases. In Vivo 8, 439–443 (1994).

Garraway, L.A. & Sellers, W.R. Lineage dependency and lineage-survival oncogenes in human cancer. Nat. Rev. Cancer 6, 593–602 (2006).

Jones, M.J. & Huang, T.T. The Fanconi anemia pathway in replication stress and DNA crosslink repair. Cell. Mol. Life Sci. 69, 3963–3974 (2012).

Roudier, M.P. et al. Phenotypic heterogeneity of end-stage prostate carcinoma metastatic to bone. Hum. Pathol. 34, 646–653 (2003).

Li, H. et al. & 1000 Genome Project Data Processing Subgroup. The Sequence Alignment/Map format and SAMtools. Bioinformatics 25, 2078–2079 (2009).
Acknowledgements
We thank all of the men and their families who participated in this study. We thank A. McKenna and other members of the Nelson, Shendure and Vessella laboratories for helpful advice and assistance. We thank T. Taniguchi for helpful discussions. LNCaPAR cells were a kind gift from C. Sawyers (Memorial Sloan Kettering Cancer Center). We thank M. Roudier, J. Noteboom, J. Kho and all other members of the tissue-acquisition necropsy team for their hard work and dedication. This work was supported by a Stand Up To Cancer–Prostate Cancer Foundation Prostate Dream Team Translational Cancer Research Grant. Stand Up To Cancer is a program of the Entertainment Industry Foundation administered by the American Association for Cancer Research (SU2C-AACR-DT0712) (B.M., N.S. and P.S.N.), and also by awards from the US National Institutes of Health: Pacific Northwest Prostate Cancer SPORE grant P50 CA097186 (P.S.N., B.M., L.D.T., R.L.V. and C.M.), P01 CA163227 (P.S.N., R.L.V. and C.M.), P01 CA85859 (R.L.V., C.M., M.F. and P.S.N.), US Department of Defense awards W81XWH-15-1-0562 and W81XWH-15-1-0430 (P.S.N., R.F.D., I.C., R.C. and N.S.) a Fred Hutchinson Cancer Research Center Solid Tumor Translational Research award (P.S.N., H.B. and B.M.) and the Prostate Cancer Foundation. J.S. and N.S. are supported by Prostate Cancer Foundation Young Investigator awards.
Ethics declarations
Competing interests
The authors declare no competing financial interests.
Supplementary information
About this article
Cite this article
Kumar, A., Coleman, I., Morrissey, C. et al. Substantial interindividual and limited intraindividual genomic diversity among tumors from men with metastatic prostate cancer. Nat Med 22, 369–378 (2016). https://doi.org/10.1038/nm.4053
Received:

Accepted:

Published:

Issue Date:

DOI: https://doi.org/10.1038/nm.4053