Abstract
Exposure of newborns to the maternal vaginal microbiota is interrupted with cesarean birthing. Babies delivered by cesarean section (C-section) acquire a microbiota that differs from that of vaginally delivered infants, and C-section delivery has been associated with increased risk for immune and metabolic disorders. Here we conducted a pilot study in which infants delivered by C-section were exposed to maternal vaginal fluids at birth. Similarly to vaginally delivered babies, the gut, oral and skin bacterial communities of these newborns during the first 30 d of life was enriched in vaginal bacteria—which were underrepresented in unexposed C-section–delivered infants—and the microbiome similarity to those of vaginally delivered infants was greater in oral and skin samples than in anal samples. Although the long-term health consequences of restoring the microbiota of C-section–delivered infants remain unclear, our results demonstrate that vaginal microbes can be partially restored at birth in C-section–delivered babies.
Relevant articles
Open Access articles citing this article.
Patricia Medici Dualib

,

Gabriel Fernandes

…

Bianca de Almeida-Pititto

Diabetology & Metabolic Syndrome Open Access 24 December 2022

Noora Carpén

,

Petter Brodin

…

Otto Helve

BMC Pediatrics Open Access 29 September 2022

Yanping Xu

,

Olivia Milburn

…

David B. Haslam

Microbiome Open Access 07 July 2022
Access options
Subscribe to Journal
Get full journal access for 1 year
$79.00
only $6.58 per issue
All prices are NET prices.
VAT will be added later in the checkout.
Tax calculation will be finalised during checkout.
Buy article
Get time limited or full article access on ReadCube.
$32.00
All prices are NET prices.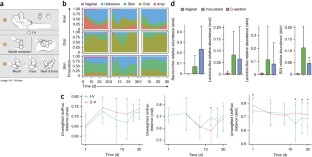 Accession codes
Primary accessions
European Nucleotide Archive
References
Dominguez-Bello, M.G. et al. Proc. Natl. Acad. Sci. USA 107, 11971–11975 (2010).

Olszak, T. et al. Science 336, 489–493 (2012).

Cox, L.M. et al. Cell 158, 705–721 (2014).

Thavagnanam, S., Fleming, J., Bromley, A., Shields, M.D. & Cardwell, C.R . Clin. Exp. Allergy 38, 629–633 (2008).

Pistiner, M., Gold, D.R., Abdulkerim, H., Hoffman, E. & Celedón, J.C. J. Allergy Clin. Immunol. 122, 274–279 (2008).

Huh, S.Y. et al. Arch. Dis. Child. 97, 610–616 (2012).

Sevelsted, A., Stokholm, J., Bønnelykke, K. & Bisgaard, H. Pediatrics 135, e92–e98 (2015).

Gibbons, L. et al. World Health Rep. 30, 1–31 (2010).

Finger, C. Lancet 362, 628 (2003).

Barber, E.L. et al. Obstet. Gynecol. 118, 29–38 (2011).

Moore, B. Lancet 2, 436–437 (1985).

Clemente, J.C. et al. Sci. Adv. 1, e1500183 (2015).

Knights, D. et al. Nat. Methods 8, 761–763 (2011).

Knights, D., Parfrey, L.W., Zaneveld, J., Lozupone, C. & Knight, R. Cell Host Microbe 10, 292–296 (2011).

Bäckhed, F. et al. Cell Host Microbe 17, 690–703 (2015).

Yatsunenko, T. et al. Nature 486, 222–227 (2012).

Pantoja-Feliciano, I.G. et al. ISME J. 7, 1112–1115 (2013).

Fardini, Y., Chung, P., Dumm, R., Joshi, N. & Han, Y.W. Infect. Immun. 78, 1789–1796 (2010).

Aagaard, K. et al. Sci. Transl. Med. 6, 237ra265 (2014).

Caporaso, J.G. et al. Nat. Methods 7, 335–336 (2010).

Rideout, J.R. et al. PeerJ 2, e545 (2014).

McDonald, D. et al. ISME J. 6, 610–618 (2012).

Faith, D.P. & Baker, A.M. Evol. Bioinform. Online 2, 121–128 (2006).

Lozupone, C. & Knight, R. Appl. Environ. Microbiol. 71, 8228–8235 (2005).

Langille, M.G. et al. Nat. Biotechnol. 31, 814–821 (2013).

Katoh, K. & Standley, D.M. Mol. Biol. Evol. 30, 772–780 (2013).
Acknowledgements
This work was partially supported by the C&D Research Fund (M.G.D.-B.), the US National Institutes of Health grant no. R01 DK090989 (M.G.D.-B), the Crohn's and Colitis Foundation of America grant no. 362048 (J.C.C.) and the Sinai Ulcerative Colitis: Clinical, Experimental & Systems Studies philanthropic grant (J.C.C.). Sequencing at the New York University Genome Technology Center was partially supported by the Cancer Center Support grant no. P30CA016087 at the Laura and Isaac Perlmutter Cancer Center. Computing was partially supported by the Department of Scientific Computing at the Icahn School of Medicine at Mount Sinai. We acknowledge the contribution of the students who participated in obtaining the samples and the metadata: S.M. Rodriguez, J.F. Ruiz, N. Garcia and J.L. Rivera-Correa. We also thank M.J. Blaser for discussions and critical comments, and three anonymous reviewers for their suggestions to improve this manuscript.
Ethics declarations
Competing interests
New York University has filed a US patent application (number 62161549) related to methods for restoring the microbiota of newborns on behalf of M.G.D.-B.
Supplementary information
About this article
Cite this article
Dominguez-Bello, M., De Jesus-Laboy, K., Shen, N. et al. Partial restoration of the microbiota of cesarean-born infants via vaginal microbial transfer. Nat Med 22, 250–253 (2016). https://doi.org/10.1038/nm.4039
Received:

Accepted:

Published:

Issue Date:

DOI: https://doi.org/10.1038/nm.4039