Developing therapeutics for cancers targeting driver mutations in epigenetic regulators is a challenging frontier in cancer therapy. A new study identifies a pathway that, when activated, inhibits the actions of the histone methyltransferase DOT1L in MLL fusion leukemia.
Access options
Subscribe to Journal
Get full journal access for 1 year
$99.00
only $8.25 per issue
All prices are NET prices.
VAT will be added later in the checkout.
Tax calculation will be finalised during checkout.
Buy article
Get time limited or full article access on ReadCube.
$32.00
All prices are NET prices.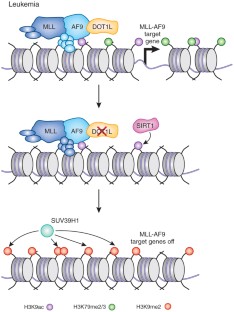 References
Li, B.E. & Ernst, P. Exp. Hematol. 42, 995–1012 (2014).

Daigle, S.R. et al. Blood 122, 1017–1025 (2013).

Chen, C.-W. et al. Nat. Med. 21, 335–343 (2015).

Blander, G. & Guarente, L. Annu. Rev. Biochem. 73, 417–435 (2004).

Martínez-Redondo, P. & Vaquero, A. Genes Cancer 4, 148–163 (2013).

Vaquero, A. et al. Nature 450, 440–444 (2007).

van Leeuwen, F., Gafken, P.R. & Gottschling, D.E. Cell 109, 745–756 (2002).

Singh, S.K. et al. J. Exp. Med. 210, 987–1001 (2013).

Mishra, B.P. et al. Cell Rep. 7, 1239–1247 (2014).
Ethics declarations
Competing interests
The authors declare no competing financial interests.
About this article
Cite this article
Harte, P., Ernst, P. Harnessing gene repression to inhibit leukemia. Nat Med 21, 308–310 (2015). https://doi.org/10.1038/nm.3834
Published:

Issue Date:

DOI: https://doi.org/10.1038/nm.3834