CD4+ helper T cells are immune cells that can specifically target cancer cells, but the antigens they recognize on tumor cells are mostly unknown. A new study shows that CD4+ T cells recognize peptides encoded by mutated genes in human melanoma, opening the way for new approaches to cancer immunotherapy.
Access options
Subscribe to Journal
Get full journal access for 1 year
$225.00
only $18.75 per issue
All prices are NET prices.
VAT will be added later in the checkout.
Rent or Buy article
Get time limited or full article access on ReadCube.
from$8.99
All prices are NET prices.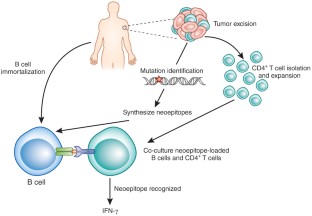 References
1

Rosenberg, S.A. Nat. Rev. Clin. Oncol. 11, 630–632 (2014).

2

Linnemann, C. et al. Nat. Med. 2, 81–85 (2015).

3

Robbins, P.F. et al. Nat. Med. 19, 747–752 (2013).

4

Snyder, A. et al. N. Engl. J. Med. 371, 2189–2199 (2014).

5

Kim, H.J. & Cantor, H. Cancer Immunol. Res. 2, 91–98 (2014).

6

Hunder, N.N. et al. N. Engl. J. Med. 358, 2698–2703 (2008).

7

Tran, E. et al. Science 344, 641–645 (2014).

8

Hailemichael, Y. et al. Nat. Med. 19, 465–472 (2013).

9

Cobbold, M. et al. Sci. Transl. Med. 5, 203ra125 (2013).
Ethics declarations
Competing interests
The author declares no competing financial interests.
About this article
Cite this article
Overwijk, W. Human CD4+ T cells spontaneously detect somatic mutations in cancer cells. Nat Med 21, 12–14 (2015) doi:10.1038/nm.3783