Access options
Subscribe to Journal
Get full journal access for 1 year
$225.00
only $18.75 per issue
All prices are NET prices.
VAT will be added later in the checkout.
Rent or Buy article
Get time limited or full article access on ReadCube.
from$8.99
All prices are NET prices.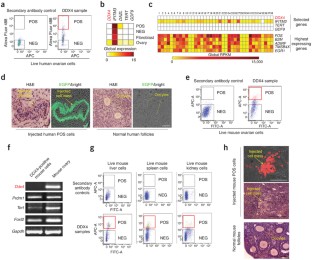 References
1

White, Y.A.R. et al. Nat. Med. 18, 413–421 (2012).

2

Tanaka, S.S. et al. Genes Dev. 14, 841–853 (2000).

3

Noce, T., Okamoto-Ito, S. & Tsunekawa, N. Cell Struct. Funct. 26, 131–136 (2001).

4

Woods, D.C. & Tilly, J.L. Nat. Protoc. 8, 966–988 (2013).

5

Mandelbaum, J. et al. Cancer Cell 18, 568–579 (2010).

6

Heidenreich, B., Rachakonda, P.S., Hemminki, K. & Kumar, R. Curr. Opin. Genet. Dev. 24, 30–37 (2014).

7

Schmidt, D. et al. Development 131, 933–942 (2004).

8

Muzumdar, M.D., Tasic, B., Miyamichi, K., Li, L. & Luo, L. Genesis 45, 593–605 (2007).

9

Johnson, J. et al. Cell 122, 303–315 (2005).

10

Zou, K. et al. Nat. Cell Biol. 11, 631–636 (2009).

11

Handel, M.A., Eppig, J.J. & Schimenti, J.C. Cell 157, 1257–1261 (2014).

12

Zhang, H., Adhikari, D., Zheng, W. & Liu, K. Reproduction 146, R229–R233 (2013).
Acknowledgements
This study was supported by grants to O.H. from the Swedish Research Council, the Karolinska Institute and Stockholm County Council Research Funds (ALF); by a grant to L.L. from the Ministry of Science and Technology (MOST) of China National Basic Research Program (2010CB94500); by a grant to F.L. from the Ragnar Söderberg Foundation, the Swedish Research Council (2013-32485-100360-64) and the Swedish Foundation for Strategic Research (ICA12-0001); and by grants to K.L. from the Jane and Dan Olssons Foundation, the LUA/ALF-medel Västra Götalandsregionen, AFA Insurance, the Swedish Research Council and the Swedish Cancer Foundation; and by grants (HIRP100680 and RP110444) to J.-A.G. from the Cancer Prevention & Research Institute of Texas (CPRIT), the Texas Emerging Technology Fund under Agreement no. 300-9-1958, the Robert A. Welch Foundation (grant no. E-0004), and the Swedish Cancer Fund. S. Petropoulos is supported by the Mats Sundin Postdoctoral Fellowship.
Ethics declarations
Competing interests
The authors declare no competing financial interests.
Supplementary information
Supplementary Methods, Supplementary Figures 1–4 and Supplementary Tables 1–2 (PDF 1275 kb)
About this article
Cite this article
Zhang, H., Panula, S., Petropoulos, S. et al. Adult human and mouse ovaries lack DDX4-expressing functional oogonial stem cells. Nat Med 21, 1116–1118 (2015). https://doi.org/10.1038/nm.3775