Abstract
Proper function of the endoplasmic reticulum (ER) and mitochondria is crucial for cellular homeostasis, and dysfunction at either site has been linked to pathophysiological states, including metabolic diseases. Although the ER and mitochondria play distinct cellular roles, these organelles also form physical interactions with each other at sites defined as mitochondria-associated ER membranes (MAMs), which are essential for calcium, lipid and metabolite exchange. Here we show that in the liver, obesity leads to a marked reorganization of MAMs resulting in mitochondrial calcium overload, compromised mitochondrial oxidative capacity and augmented oxidative stress. Experimental induction of ER-mitochondria interactions results in oxidative stress and impaired metabolic homeostasis, whereas downregulation of PACS-2 or IP3R1, proteins important for ER-mitochondria tethering or calcium transport, respectively, improves mitochondrial oxidative capacity and glucose metabolism in obese animals. These findings establish excessive ER-mitochondrial coupling as an essential component of organelle dysfunction in obesity that may contribute to the development of metabolic pathologies such as insulin resistance and diabetes.
Relevant articles
Open Access articles citing this article.
Chanyue Zhao

,

Li Li

…

Lin Sun

Molecular Medicine Open Access 23 September 2022

Michael A. van der Kooij

,

Liliana Rojas-Charry

…

Axel Methner

Journal of Molecular Medicine Open Access 09 August 2022

Rongrong Li

,

Yuqi Li

…

Yana Li

Journal of Translational Medicine Open Access 30 July 2022
Access options
Subscribe to Journal
Get full journal access for 1 year
$99.00
only $8.25 per issue
All prices are NET prices.
VAT will be added later in the checkout.
Tax calculation will be finalised during checkout.
Buy article
Get time limited or full article access on ReadCube.
$32.00
All prices are NET prices.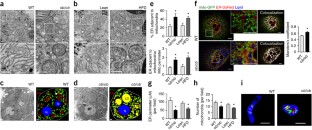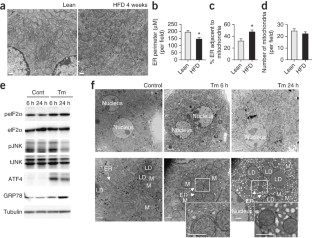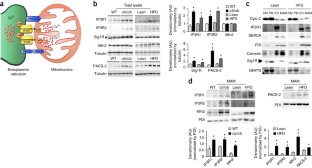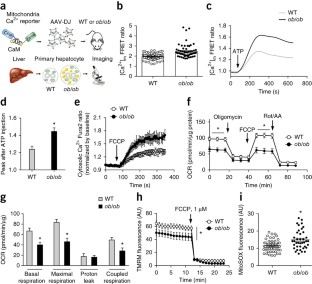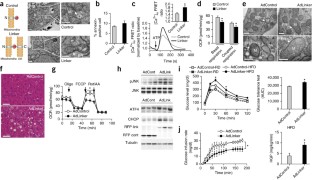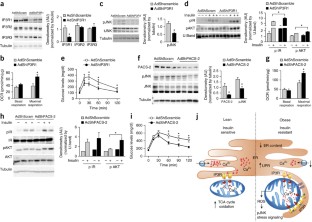 References
Flegal, K.M., Carroll, M.D., Ogden, C.L. & Curtin, L.R. Prevalence and trends in obesity among US adults, 1999–2008. J. Am. Med. Assoc. 303, 235–241 (2010).

Hotamisligil, G.S. Inflammation and metabolic disorders. Nature 444, 860–867 (2006).

Hotamisligil, G.S. Endoplasmic reticulum stress and the inflammatory basis of metabolic disease. Cell 140, 900–917 (2010).

Lowell, B.B. & Shulman, G.I. Mitochondrial dysfunction and type 2 diabetes. Science 307, 384–387 (2005).

Fu, S. et al. Aberrant lipid metabolism disrupts calcium homeostasis causing liver endoplasmic reticulum stress in obesity. Nature 473, 528–531 (2011).

Otoda, T. et al. Proteasome dysfunction mediates obesity-induced endoplasmic reticulum stress and insulin resistance in the liver. Diabetes 62, 811–824 (2013).

Walter, P. & Ron, D. The unfolded protein response: from stress pathway to homeostatic regulation. Science 334, 1081–1086 (2011).

Ozcan, L. & Tabas, I. Role of endoplasmic reticulum stress in metabolic disease and other disorders. Annu. Rev. Med. 63, 317–328 (2012).

Boden, G. et al. Increase in endoplasmic reticulum stress-related proteins and genes in adipose tissue of obese, insulin-resistant individuals. Diabetes 57, 2438–2444 (2008).

Gregor, M.F. et al. Endoplasmic reticulum stress is reduced in tissues of obese subjects after weight loss. Diabetes 58, 693–700 (2009).

Ozcan, U. et al. Chemical chaperones reduce ER stress and restore glucose homeostasis in a mouse model of type 2 diabetes. Science 313, 1137–1140 (2006).

Kars, M. et al. Tauroursodeoxycholic acid may improve liver and muscle but not adipose tissue insulin sensitivity in obese men and women. Diabetes 59, 1899–1905 (2010).

Xiao, C., Giacca, A. & Lewis, G.F. Sodium phenylbutyrate, a drug with known capacity to reduce endoplasmic reticulum stress, partially alleviates lipid-induced insulin resistance and beta-cell dysfunction in humans. Diabetes 60, 918–924 (2011).

Zhang, D. et al. Mitochondrial dysfunction due to long-chain acyl-CoA dehydrogenase deficiency causes hepatic steatosis and hepatic insulin resistance. Proc. Natl. Acad. Sci. USA 104, 17075–17080 (2007).

Kelley, D.E., He, J., Menshikova, E.V. & Ritov, V.B. Dysfunction of mitochondria in human skeletal muscle in type 2 diabetes. Diabetes 51, 2944–2950 (2002).

Kim, J.A., Wei, Y. & Sowers, J.R. Role of mitochondrial dysfunction in insulin resistance. Circ. Res. 102, 401–414 (2008).

Petersen, K.F. et al. Mitochondrial dysfunction in the elderly: possible role in insulin resistance. Science 300, 1140–1142 (2003).

Vianna, C.R. et al. Hypomorphic mutation of PGC-1β causes mitochondrial dysfunction and liver insulin resistance. Cell Metab. 4, 453–464 (2006).

Cheng, Z. et al. Foxo1 integrates insulin signaling with mitochondrial function in the liver. Nat. Med. 15, 1307–1311 (2009).

Patti, M.E. & Corvera, S. The role of mitochondria in the pathogenesis of type 2 diabetes. Endocr. Rev. 31, 364–395 (2010).

Mantena, S.K., King, A.L., Andringa, K.K., Eccleston, H.B. & Bailey, S.M. Mitochondrial dysfunction and oxidative stress in the pathogenesis of alcohol- and obesity-induced fatty liver diseases. Free Radic. Biol. Med. 44, 1259–1272 (2008).

Bugianesi, E. et al. Insulin resistance in non-diabetic patients with non-alcoholic fatty liver disease: sites and mechanisms. Diabetologia 48, 634–642 (2005).

Vial, G. et al. Effects of a high-fat diet on energy metabolism and ROS production in rat liver. J. Hepatol. 54, 348–356 (2011).

Begriche, K., Massart, J., Robin, M.A., Bonnet, F. & Fromenty, B. Mitochondrial adaptations and dysfunctions in nonalcoholic fatty liver disease. Hepatology 58, 1497–1507 (2013).

Rowland, A.A. & Voeltz, G.K. Endoplasmic reticulum-mitochondria contacts: function of the junction. Nat. Rev. Mol. Cell Biol. 13, 607–625 (2012).

Hamasaki, M. et al. Autophagosomes form at ER-mitochondria contact sites. Nature 495, 389–393 (2013).

Friedman, J.R. et al. ER tubules mark sites of mitochondrial division. Science 334, 358–362 (2011).

Schuck, S., Prinz, W.A., Thorn, K.S., Voss, C. & Walter, P. Membrane expansion alleviates endoplasmic reticulum stress independently of the unfolded protein response. J. Cell Biol. 187, 525–536 (2009).

Bravo, R. et al. Increased ER-mitochondrial coupling promotes mitochondrial respiration and bioenergetics during early phases of ER stress. J. Cell Sci. 124, 2143–2152 (2011).

Pinton, P., Giorgi, C., Siviero, R., Zecchini, E. & Rizzuto, R. Calcium and apoptosis: ER-mitochondria Ca2+ transfer in the control of apoptosis. Oncogene 27, 6407–6418 (2008).

de Brito, O.M. & Scorrano, L. Mitofusin 2 tethers endoplasmic reticulum to mitochondria. Nature 456, 605–610 (2008).

Simmen, T. et al. PACS-2 controls endoplasmic reticulum–mitochondria communication and Bid-mediated apoptosis. EMBO J. 24, 717–729 (2005).

Hayashi, T. & Su, T.P. Sigma-1 receptor chaperones at the ER-mitochondrion interface regulate Ca2+ signaling and cell survival. Cell 131, 596–610 (2007).

Szabadkai, G. et al. Chaperone-mediated coupling of endoplasmic reticulum and mitochondrial Ca2+ channels. J. Cell Biol. 175, 901–911 (2006).

Rizzuto, R. et al. Ca2+ transfer from the ER to mitochondria: when, how and why. Biochim. Biophys. Acta 1787, 1342–1351 (2009).

Palmer, A.E. & Tsien, R.Y. Measuring calcium signaling using genetically targetable fluorescent indicators. Nat. Protoc. 1, 1057–1065 (2006).

Rizzuto, R., De Stefani, D., Raffaello, A. & Mammucari, C. Mitochondria as sensors and regulators of calcium signalling. Nat. Rev. Mol. Cell Biol. 13, 566–578 (2012).

Csordás, G. et al. Structural and functional features and significance of the physical linkage between ER and mitochondria. J. Cell Biol. 174, 915–921 (2006).

De Stefani, D., Raffaello, A., Teardo, E., Szabo, I. & Rizzuto, R. A forty-kilodalton protein of the inner membrane is the mitochondrial calcium uniporter. Nature 476, 336–340 (2011).

Baughman, J.M. et al. Integrative genomics identifies MCU as an essential component of the mitochondrial calcium uniporter. Nature 476, 341–345 (2011).

Lynes, E.M. & Simmen, T. Urban planning of the endoplasmic reticulum (ER): how diverse mechanisms segregate the many functions of the ER. Biochim. Biophys. Acta 1813, 1893–1905 (2011).

Jheng, H.F. et al. Mitochondrial fission contributes to mitochondrial dysfunction and insulin resistance in skeletal muscle. Mol. Cell. Biol. 32, 309–319 (2012).

Bonnard, C. et al. Mitochondrial dysfunction results from oxidative stress in the skeletal muscle of diet-induced insulin-resistant mice. J. Clin. Invest. 118, 789–800 (2008).

Cárdenas, C. et al. Essential regulation of cell bioenergetics by constitutive InsP3 receptor Ca2+ transfer to mitochondria. Cell 142, 270–283 (2010).

Sebastián, D. et al. Mitofusin 2 (Mfn2) links mitochondrial and endoplasmic reticulum function with insulin signaling and is essential for normal glucose homeostasis. Proc. Natl. Acad. Sci. USA 109, 5523–5528 (2012).

Schneeberger, M. et al. Mitofusin 2 in POMC neurons connects ER stress with leptin resistance and energy imbalance. Cell 155, 172–187 (2013).

Ozcan, L. et al. Calcium signaling through CaMKII regulates hepatic glucose production in fasting and obesity. Cell Metab. 15, 739–751 (2012).

Wang, Y. et al. Inositol-1,4,5-trisphosphate receptor regulates hepatic gluconeogenesis in fasting and diabetes. Nature 485, 128–132 (2012).

Tubbs, E. et al. Mitochondria-associated endoplasmic reticulum membrane (MAM) integrity is required for insulin signaling and is implicated in hepatic insulin resistance. Diabetes 63, 3279–3294 (2014).

Sano, R. et al. GM1-ganglioside accumulation at the mitochondria-associated ER membranes links ER stress to Ca2+-dependent mitochondrial apoptosis. Mol. Cell 36, 500–511 (2009).

Area-Gomez, E. et al. Upregulated function of mitochondria-associated ER membranes in Alzheimer disease. EMBO J. 31, 4106–4123 (2012).

Weil, C. et al. Endoplasmic reticulum calcium release through ITPR2 channels leads to mitochondrial calcium accumulation and senescence. Nat. Commun. 5, 3792 (2014).

Bomfim, T.R. et al. An anti-diabetes agent protects the mouse brain from defective insulin signaling caused by Alzheimer's disease- associated Aβ oligomers. J. Clin. Invest. 122, 1339–1353 (2012).

Wieckowski, M.R., Giorgi, C., Lebiedzinska, M., Duszynski, J. & Pinton, P. Isolation of mitochondria-associated membranes and mitochondria from animal tissues and cells. Nat. Protoc. 4, 1582–1590 (2009).

Wu, M. et al. Multiparameter metabolic analysis reveals a close link between attenuated mitochondrial bioenergetic function and enhanced glycolysis dependency in human tumor cells. Am. J. Physiol. Cell Physiol. 292, C125–C136 (2007).

Csordás, G. et al. Imaging interorganelle contacts and local calcium dynamics at the ER-mitochondrial interface. Mol. Cell. 39, 121–132 (2010).

Furuhashi, M. et al. Treatment of diabetes and atherosclerosis by inhibiting fatty-acid–binding protein aP2. Nature 447, 959–965 (2007).

Rossetti, L. et al. Peripheral but not hepatic insulin resistance in mice with one disrupted allele of the glucose transporter type 4 (GLUT4) gene. J. Clin. Invest. 100, 1831–1839 (1997).
Acknowledgements
We are indebted to D. Clapham and N. Blair for their help in the Ca2+ imaging experiments and generously allowing the use of their laboratory facilities. We would like to thank M. Ericson, L. Trakimas and E. Benecchi for their assistance in electron microscopy and M. Strauss and L. Cameron for helping with the serial-section EM reconstruction and confocal microscopy, respectively. IP3R1 antibody was a gift from R. Wojcikiewicz. The Ca2+ FRET reporter was a gift from R. Tsien (University of California, San Diego). Linker plasmid was a gift from G. Hajnóczky (Thomas Jefferson University). PACS-2–specific antibody was a gift from G. Thomas (University of Pittsburgh). We thank A. Gimenez-Cassina for helping with some of the Seahorse experiments. We thank the anonymous reviewer of the manuscript for suggesting the experiments with PACS-2. We also want to thank L. Yang, S. Fu and E. Calay for their technical assistance. We extend a special thanks to K. Claiborn for critical reading and editing of the manuscript. This work was supported in part by the US National Institutes of Health (DK52539 and 1RC4-DK090942). A.P.A. is supported by PEW Charitable Trusts. B.M.P. is supported by Alfred Benzon Foundation (Denmark).
Ethics declarations
Competing interests
The authors declare no competing financial interests.
Supplementary information
About this article
Cite this article
Arruda, A., Pers, B., Parlakgül, G. et al. Chronic enrichment of hepatic endoplasmic reticulum–mitochondria contact leads to mitochondrial dysfunction in obesity. Nat Med 20, 1427–1435 (2014). https://doi.org/10.1038/nm.3735
Received:

Accepted:

Published:

Issue Date:

DOI: https://doi.org/10.1038/nm.3735