Abstract
An imbalance of tau isoforms containing either three or four microtubule-binding repeats causes frontotemporal dementia with parkinsonism linked to chromosome 17 (FTDP-17) in families with intronic mutations in the MAPT gene. Here we report equivalent imbalances at the mRNA and protein levels and increased total tau levels in the brains of subjects with Huntington's disease (HD) together with rod-like tau deposits along neuronal nuclei. These tau nuclear rods show an ordered filamentous ultrastructure and can be found filling the neuronal nuclear indentations previously reported in HD brains. Finally, alterations in serine/arginine-rich splicing factor-6 coincide with tau missplicing, and a role of tau in HD pathogenesis is evidenced by the attenuation of motor abnormalities of mutant HTT transgenic mice in tau knockout backgrounds.
Relevant articles
Open Access articles citing this article.
Dahyun Yu

,

Nicole Zarate

…

Rocio Gomez-Pastor

Acta Neuropathologica Communications Open Access 03 June 2022

Meihua Jin

,

Hiroki Shiwaku

…

Hitoshi Okazawa

Nature Communications Open Access 15 November 2021

Vega García-Escudero

,

Daniel Ruiz-Gabarre

…

Jesús Ávila

Acta Neuropathologica Open Access 02 May 2021
Access options
Subscribe to Journal
Get full journal access for 1 year
$99.00
only $8.25 per issue
All prices are NET prices.
VAT will be added later in the checkout.
Tax calculation will be finalised during checkout.
Buy article
Get time limited or full article access on ReadCube.
$32.00
All prices are NET prices.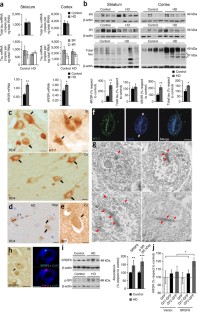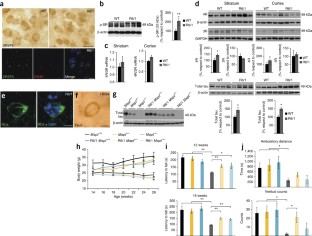 References
Lee, V.M., Goedert, M. & Trojanowski, J.Q. Annu. Rev. Neurosci. 24, 1121–1159 (2001).

Liu, F. & Gong, C.X. Mol. Neurodegener. 3, 8 (2008).

Hutton, M. et al. Nature 393, 702–705 (1998).

Huntington's Disease Collaborative Research Group. Cell 72, 971–983 (1993).

Nelson, D.L., Orr, H.T. & Warren, S.T. Neuron 77, 825–843 (2013).

Ranum, L.P. & Cooper, T.A. Annu. Rev. Neurosci. 29, 259–277 (2006).

Mykowska, A., Sobczak, K., Wojciechowska, M., Kozlowski, P. & Krzyzosiak, W.J. Nucleic Acids Res. 39, 8938–8951 (2011).

Sathasivam, K. et al. Proc. Natl. Acad. Sci. USA 110, 2366–2370 (2013).

Bots, G.T. & Bruyn, G.W. Acta Neuropathol. 55, 21–22 (1981).

Roos, R.A. & Bots, G.T. J. Neurol. Sci. 61, 37–47 (1983).

Takahashi, H. et al. Brain Res. 919, 12–19 (2001).

Evert, B.O. et al. Hum. Mol. Genet. 8, 1169–1176 (1999).

Díaz-Hernandez, M. et al. J. Neurosci. 23, 11653–11661 (2003).

Zander, C. et al. Hum. Mol. Genet. 10, 2569–2579 (2001).

Jensen, M.A., Wilkinson, J.E. & Krainer, A.R. Nat. Struct. Mol. Biol. 21, 189–197 (2014).

Yin, X. et al. J. Biol. Chem. 287, 30497–30506 (2012).

Kosik, K.S., Orecchio, L.D., Bakalis, S. & Neve, R.L. Neuron 2, 1389–1397 (1989).

Takuma, H., Arawaka, S. & Mori, H. Brain Res. Dev. Brain Res. 142, 121–127 (2003).

Rodriguez-Martin, T. et al. Hum. Mol. Genet. 18, 3266–3273 (2009).

Brunden, K.R., Trojanowski, J.Q. & Lee, V.M. Nat. Rev. Drug Discov. 8, 783–793 (2009).

Vonsattel, J.P. et al. J. Neuropathol. Exp. Neurol. 44, 559–577 (1985).

de Silva, R. et al. Neuropathol. Appl. Neurobiol. 29, 288–302 (2003).

Lasagna-Reeves, C.A. et al. FASEB J. 26, 1946–1959 (2012).

Mangiarini, L. et al. Cell 87, 493–506 (1996).

Dawson, H.N. et al. J. Cell Sci. 114, 1179–1187 (2001).

Yamamoto, A., Lucas, J.J. & Hen, R. Cell 101, 57–66 (2000).
Acknowledgements
We thank P. Gómez-Ramos for helpful suggestions on electron microscopy experiments and A. Rábano and E. Gelpí for advice on human sample analysis. We also thank A. Tomico, M. Lucas and the team at the CBMSO Genomics Facility for their excellent technical assistance, as well as members of the Lucas lab for helpful advice and critical reading of the manuscript. P. Davies (Albert Einstein University) provided the PHF-1 antibody to phosphorylated tau; M. Novak (Slovak Academy of Sciences) and C.M. Wischik (University of Aberdeen) provided the 7.51 antibody to total tau; R. Kayed (University of Texas) provided the T22 antibody to oligomeric tau; S. Finkbeiner (Gladstone Institute) provided Htt constructs comprising the N-terminal fragment of Htt with 17 or 72 CAG repeats fused to the EGFP; and A.R. Krainer (Cold Spring Harbor Laboratory) provided SRSF6 expression vector. This work was supported by Centro de Investigación Biomédica en Red de Enfermedades Neurodegenerativas (CiberNed–Instituto de Salud Carlos III) and by grants from Ministerio de Ciencia e Innovación (MICINN), Ministerio de Economía y Competitividad (MINECO), Comunidad Autónoma de Madrid, Fundación Ramón Areces and the Seventh Framework Programme of the European Commission (grant agreement 278486, project DEVELAGE). M.F.-N. was the recipient of a CSIC JAE-Pre research contract.
Ethics declarations
Competing interests
The authors declare no competing financial interests.
Supplementary information
About this article
Cite this article
Fernández-Nogales, M., Cabrera, J., Santos-Galindo, M. et al. Huntington's disease is a four-repeat tauopathy with tau nuclear rods. Nat Med 20, 881–885 (2014). https://doi.org/10.1038/nm.3617
Received:

Accepted:

Published:

Issue Date:

DOI: https://doi.org/10.1038/nm.3617