The cure and elimination of malaria caused by Plasmodium vivax is hindered by the threat of relapse infections from undetectable dormant forms of the parasite in the liver. In a new breakthrough, using a related parasite, Plasmodium cynomolgi, it has been shown that the small nongrowing forms of the parasite, termed hypnozoites, can be reactivated in primary simian hepatocytes that have been infected and maintained in culture for 40 days, providing a system to study this parasite form with the development of potential new antihypnozoite drugs in mind (pages 307–312).
Access options
Subscribe to Journal
Get full journal access for 1 year
$79.00
only $6.58 per issue
All prices are NET prices.
VAT will be added later in the checkout.
Tax calculation will be finalised during checkout.
Buy article
Get time limited or full article access on ReadCube.
$32.00
All prices are NET prices.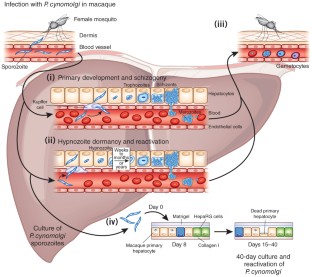 References
White, N.J. & Imwong, M. Adv. Parasitol. 80, 113–150 (2012).

Wells, T.N., Burrows, J.N. & Baird, J.K. Trends Parasitol. 26, 145–151 (2010).

Baird, K.J., Maguire, J.D. & Price, R.N. Adv. Parasitol. 80, 203–270 (2012).

Noulin, F. et al. Trends Parasitol. 29, 286–294 (2013).

Mazier, D. et al. Nature 307, 367–369 (1984).

March, S. et al. Cell Host Microbe 14, 104–115 (2013).

Galinski, M.R., Meyer, E.V. & Barnwell, J.W. Adv. Parasitol. 81, 1–26 (2013).

Dembélé, L. et al. Nat. Med. 20, 307–312 (2014).

Mota, M.M. et al. Science 291, 141–144 (2001).

Dembélé, L. et al. PLoS ONE 6, e18162 (2011).

Krotoski, W.A. Prog. Clin. Parasitol. 1, 1–19 (1989).

Schmidt, L.H. Am. J. Trop. Med. Hyg. 35, 1077–1099 (1986).
Ethics declarations
Competing interests
The authors declare no competing financial interests.
About this article
Cite this article
Barnwell, J., Galinski, M. Malarial liver parasites awaken in culture. Nat Med 20, 237–239 (2014). https://doi.org/10.1038/nm.3498
Published:

Issue Date:

DOI: https://doi.org/10.1038/nm.3498