Relevant articles
Open Access articles citing this article.
Torben-Tobias Kliesch

,

Jörn Dietz

…

Andreas Janshoff

Scientific Reports Open Access 21 September 2017
Access options
Subscribe to Journal
Get full journal access for 1 year
$99.00
only $8.25 per issue
All prices are NET prices.
VAT will be added later in the checkout.
Tax calculation will be finalised during checkout.
Buy article
Get time limited or full article access on ReadCube.
$32.00
All prices are NET prices.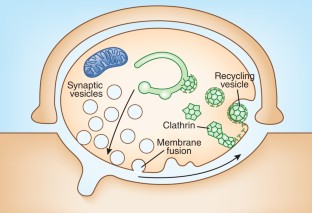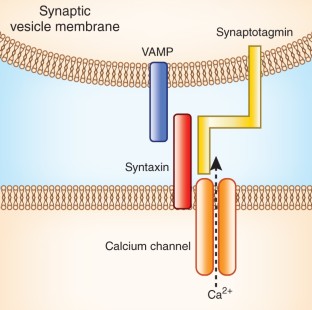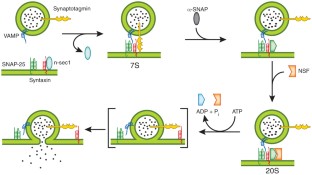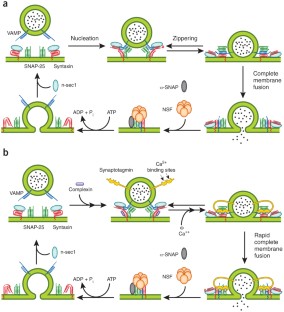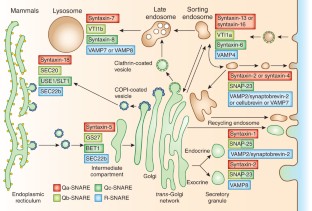 References
Heuser, J.E. & Reese, T.S. Evidence for recycling of synaptic vesicle membrane during neurotransmitter release at the frog neuromuscular junction. J. Cell Biol. 57, 315–344 (1973).

Hooper, J.E., Carlson, S.S. & Kelly, R.B. Antibodies to synaptic vesicles purified from narcine electric organ bind a subclass of mammalian nerve terminals. J. Cell Biol. 87, 104–113 (1980).

Trimble, W.S., Cowan, D.M. & Scheller, R.H. VAMP-1: A synaptic vesicle–associated integral membrane protein. Proc. Natl. Acad. Sci. USA 85, 4538–4542 (1988).

Bennett, M.K., Calakos, N. & Scheller, R.H. Syntaxin: a synaptic protein implicated in docking of synaptic vesicles at presynaptic active zones. Science 257, 255–259 (1992).

Söllner, T. et al. SNAP receptors implicated in vesicle targeting and fusion. Nature 362, 318–324 (1993).

Söllner, T., Bennett, M.K., Whiteheart, S.W., Scheller, R.H. & Rothman, J.E. A protein assembly-disassembly pathway in vitro that may correspond to sequential steps of synaptic vesicle docking, activation, and fusion. Cell 75, 409–418 (1993).

Misura, K.M., Scheller, R.H. & Weis, W.I. Three-dimensional structure of the neuronal-Sec1-syntaxin 1a complex. Nature 404, 355–362 (2000).

Lin, R.C. & Scheller, R.H. Structural organization of the synaptic exocytosis core complex. Neuron 19, 1087–1094 (1997).

Sutton, R.B., Fasshauer, D., Jahn, R. & Brunger, A.T. Crystal structure of a SNARE complex involved in synaptic exocytosis at 2.4 Å resolution. Nature 395, 347–353 (1998).

Hay, J.C. & Martin T.F. Resolution of regulated secretion into sequential MgATP-dependent and calcium-dependent stages mediated by distinct cytosolic proteins. J. Cell Biol. 119, 139–151 (1992).

Chen, Y.A., Scales, S.J., Patel, S.M., Doung, Y.C. & Scheller, R.H. SNARE complex formation is triggered by Ca2+ and drives membrane fusion. Cell 97, 165–74 (1999).

Südhof, T.C. A molecular machine for neurotransmitter release: synaptotagmin and beyond. Nat. Med. 19, 1227–1231 (2013).

Scales, S.J., Yoo, B.Y. & Scheller, R.H. The ionic layer is required for efficient dissociation of the SNARE complex by α-SNAP and NSF. Proc. Natl. Acad. Sci. USA 98, 14262–14267 (2001).

Hua, Y. & Scheller, R.H. Three SNARE complexes cooperate to mediate membrane fusion. Proc. Natl. Acad. Sci. USA 98, 8065–8070 (2001).

Bennett, M.K. et al. The syntaxin family of vesicular transport receptors. Cell 74, 863–873 (1993).

Hay, J.C., Chao, D.S., Kuo, C.S. & Scheller, R.H. Protein interactions regulating vesicle transport between the endoplasmic reticulum and Golgi apparatus in mammalian cells. Cell 89, 149–158 (1997).

Bock, J.B., Matern, H.T., Peden, A.A. & Scheller, R.H. A genomic perspective on membrane compartment organization. Nature 409, 839–841 (2001).

Scales, S.J. et al. SNAREs contribute to the specificity of membrane fusion. Neuron 26, 457–64 (2000).

McNew, J.A. et al. Compartmental specificity of cellular membrane fusion encoded in SNARE proteins. Nature 407, 153–159 (2000).

Bennett, M.K. & Scheller, R.H. The molecular machinery for secretion is conserved from yeast to neurons. Proc. Natl. Acad. Sci. USA 90, 2559–2563 (1993).
Acknowledgements
I would like to especially thank the many members of my laboratory group whom I have had the pleasure to work with over the years. I regret that all of your accomplishments could not be mentioned individually. Also, I would like to thank the others in this field who have made many important contributions too numerous to mention in this short Essay.
Ethics declarations
Competing interests
R.H.S. is employed by Genentech, Inc.
About this article
Cite this article
Scheller, R. In search of the molecular mechanism of intracellular membrane fusion and neurotransmitter release. Nat Med 19, 1232–1235 (2013). https://doi.org/10.1038/nm.3339
Published:

Issue Date:

DOI: https://doi.org/10.1038/nm.3339
This article is cited by
Chemical Research in Chinese Universities (2021)

Torben-Tobias Kliesch
Jörn Dietz
Andreas Janshoff

Scientific Reports (2017)