The fibroblast growth factor 21 (FGF21)–β-Klotho pathway orchestrates a switch to oxidative metabolism during fasting and starvation and has been implicated as a signal connecting nutrition, growth, reproduction and longevity. Two new studies in mice show that Fgf21 interacts directly with the brain circadian clock to coordinate activity and reproduction as part of the adaptation to fasting (pages 1147–1156).
Access options
Subscribe to Journal
Get full journal access for 1 year
$79.00
only $6.58 per issue
All prices are NET prices.
VAT will be added later in the checkout.
Tax calculation will be finalised during checkout.
Buy article
Get time limited or full article access on ReadCube.
$32.00
All prices are NET prices.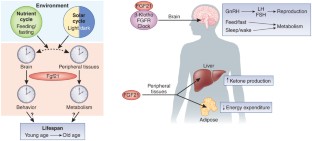 References
Kornmann, B., Schaad, O., Reinke, H., Saini, C. & Schibler, U. Cold Spring Harb. Symp. Quant. Biol. 72, 319–330 (2007).

Yamazaki, S. et al. Science 288, 682–685 (2000).

Gerber, A. et al. Cell 152, 492–503 (2013).

Bookout, A.L. et al. Nat. Med. 19, 1147–1152 (2013).

Owen, B.M. et al. Nat. Med. 19, 1153–1156 (2013).

Badman, M.K. et al. Cell Metab. 5, 426–437 (2007).

Inagaki, T. et al. Cell Metab. 5, 415–425 (2007).

Kharitonenkov, A. et al. J. Clin. Invest. 115, 1627–1635 (2005).

Ogawa, Y. et al. Proc. Natl. Acad. Sci. USA 104, 7432–7437 (2007).

Miller, B.H. et al. Curr. Biol. 14, 1367–1373 (2004).

Kalsbeek, A. et al. J. Biol. Rhythms 21, 458–469 (2006).

Ouyang, Y., Andersson, C.R., Kondo, T., Golden, S.S. & Johnson, C.H. Proc. Natl. Acad. Sci. USA 95, 8660–8664 (1998).

Dodd, A.N. et al. Science 309, 630–633 (2005).

Valentinuzzi, V.S., Scarbrough, K., Takahashi, J.S. & Turek, F.W. Am. J. Physiol. 273, R1957–R1964 (1997).

Zhang, Y. et al. eLife 1, e00065 (2012).
Ethics declarations
Competing interests
J.B. is a consultant for and is on the Speakers' Bureau at Merck. He owns stock in and is on the scientific advisory board at Reset Therapeutics. He is a consultant for Gerson Lehrman Group. He is also on the scientific advisory boards of Janssen Pharmaceuticals and Vanda Pharmaceuticals.
About this article
Cite this article
Bass, J. Forever (FGF) 21. Nat Med 19, 1090–1092 (2013). https://doi.org/10.1038/nm.3334
Published:

Issue Date:

DOI: https://doi.org/10.1038/nm.3334