A new study shows that the orphan nuclear receptor liver receptor homolog 1 (LRH-1) wires the postovulatory rise in progesterone production to progesterone-dependent preparation of the endometrium for pregnancy, a process termed decidualization. Lack of Lrh-1 activity in either the ovary or uterus has catastrophic consequences for reproduction in mice (pages 1061–1066).
Access options
Subscribe to Journal
Get full journal access for 1 year
$79.00
only $6.58 per issue
All prices are NET prices.
VAT will be added later in the checkout.
Tax calculation will be finalised during checkout.
Buy article
Get time limited or full article access on ReadCube.
$32.00
All prices are NET prices.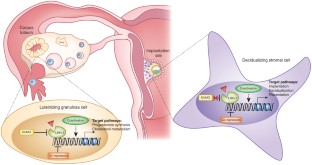 References
Corrigan, E. Click Liverpool http://www.clickliverpool.com/news/local-news/12908-real-hope-for-killer-womb-mums.html (2008).

Meis, P.J. et al. N. Engl. J. Med. 348, 2379–2385 (2003).

Zhang, C. et al. Nat. Med. 19, 1061–1066 (2013).

Burris, T.P., Busby, S.A. & Griffin, P.R. Chem. Biol. 19, 51–59 (2012).

Lee, J.M. et al. Nature 474, 506–510 (2011).

Duggavathi, R. et al. Genes Dev. 22, 1871–1876 (2008).

Nancy, P. et al. Science 336, 1317–1321 (2012).

Kajihara, T. et al. Mol. Endocrinol. 20, 2444–2455 (2006).

Mansouri-Attia, N. et al. Proc. Natl. Acad. Sci. USA 106, 5687–5692 (2009).

Teklenburg, G. et al. PLoS ONE 5, e10258 (2010).

Coste, A. et al. Proc. Natl. Acad. Sci. USA 104, 13098–13103 (2007).

Cloke, B. et al. Endocrinology 149, 4462–4474 (2008).

Jones, M.C. et al. Proc. Natl. Acad. Sci. USA 103, 16272–16277 (2006).

Musille, P.M. et al. Nat. Struct. Mol. Biol. 19, 532–537 (2012).
Ethics declarations
Competing interests
The authors declare no competing financial interests.
About this article
Cite this article
Brosens, J., Blanks, A. & Lucas, E. LRH-1: orphaned, adopted and needed for pregnancy. Nat Med 19, 968–969 (2013). https://doi.org/10.1038/nm.3271
Published:

Issue Date:

DOI: https://doi.org/10.1038/nm.3271