During resuscitation after cardiac arrest, a burst of reactive oxygen species (ROS) generated in mitochondria triggers a lethal cascade of events. Nitric oxide is known to be protective, but the mechanism is unknown. A new study shows that a mitochondria-targeted nitric oxide donor S-nitrosates the ND3 subunit of mitochondrial complex I, limiting its ability to generate ROS and protecting the heart against injury (pages 753–759).
Access options
Subscribe to Journal
Get full journal access for 1 year
$79.00
only $6.58 per issue
All prices are NET prices.
VAT will be added later in the checkout.
Tax calculation will be finalised during checkout.
Buy article
Get time limited or full article access on ReadCube.
$32.00
All prices are NET prices.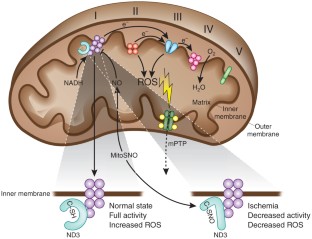 References
Chouchani, E.T. et al. Nat. Med. 19, 753–759 (2013).

Braunwald, E. & Kloner, R.A. J. Clin. Invest. 76, 1713–1719 (1985).

Ambrosio, G. et al. J. Biol. Chem. 268, 18532–18541 (1993).

Crompton, M. Biochem. J. 341, 233–249 (1999).

Giorgio, V. et al. Proc. Natl. Acad. Sci. USA 110, 5887–5892 (2013).

Schriewer, J.M., Peek, C.B., Bass, J. & Schumacker, P.T. J. Am. Heart Assoc. 2, e000159 (2013).

Jones, S.P. & Bolli, R. J. Mol. Cell Cardiol. 40, 16–23 (2006).

Iwase, H. et al. Free Radic. Biol. Med. 43, 590–599 (2007).
Ethics declarations
Competing interests
The author declares no competing financial interests.
About this article
Cite this article
Schumacker, P. Nitric oxide quenches the fire in heart mitochondria. Nat Med 19, 666–667 (2013). https://doi.org/10.1038/nm.3224
Published:

Issue Date:

DOI: https://doi.org/10.1038/nm.3224