The long-term behavioral deficits observed in depression are associated with altered spine synapses in specific neuronal circuits. A new study shows that chromatin remodeling decreases the expression of Ras-related C2 botulinum toxin substrate 1 (Rac1) and that the deficit in this small Rho GTPase is sufficient and necessary for altered spines and behavioral abnormalities in mice after social defeat (pages 337–344).
Access options
Subscribe to Journal
Get full journal access for 1 year
$79.00
only $6.58 per issue
All prices are NET prices.
VAT will be added later in the checkout.
Tax calculation will be finalised during checkout.
Buy article
Get time limited or full article access on ReadCube.
$32.00
All prices are NET prices.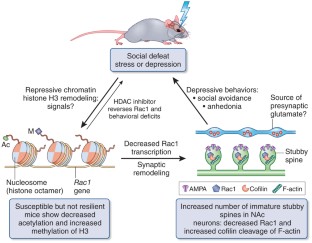 References
Duman, R.S. & Aghajanian, G.K. Science 338, 68–72 (2012).

McEwen, B., Eiland, L., Hunter, R.G. & Miller, M.M. Neuropharmacology 62, 3–12 (2012).

Morrison, J.H. & Baxter, M.G. Nat. Rev. Neurosci. 13, 240–250 (2012).

Kang, H.J. et al. Nat. Med. 18, 1413–1417 (2012).

Christoffel, D.J. et al. J. Neurosci. 31, 314–321 (2011a).

Golden, S. et al. Nat. Med. 19, 337–344 (2013).

Holtmaat, A. & Svoboda, K. Nat. Rev. Neurosci. 10, 647–658 (2009).

Kiraly, D.D. & Eipper-Mains, J. ACS Chem. Neurosci. 1, 348–365 (2010).

Vialou, V., Feng, J., Robison, A.J. & Nestler, E.J. Annu. Rev. Pharmacol. Toxicol. 53, 59–87 (2013).

Dietz, D.M. et al. Nat. Neurosci. 15, 891–896 (2012).

Chaudhury, D. et al. Nature 493, 532–536 (2013).
Ethics declarations
Competing interests
The author declares no competing financial interests.
About this article
Cite this article
Duman, R. Remodeling chromatin and synapses in depression. Nat Med 19, 267–268 (2013). https://doi.org/10.1038/nm.3125
Published:

Issue Date:

DOI: https://doi.org/10.1038/nm.3125
This article is cited by
Ying Wang
Wen-Yuan Li
Ling-Xiao Deng

Neuroscience Bulletin (2017)