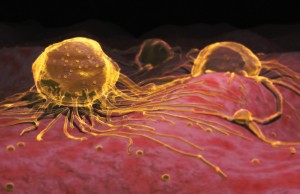 An miRNA network drives melanoma metastasis by blocking the newly uncovered role of apolipoprotein E (ApoE) as a suppressor of angiogenesis and cell invasion (Cell doi:10.1016/j.cell.2012.10.028).
Nora Pencheva et al. screened metastatic cells generated from human melanoma cell lines to identify miRNAs that were specifically upregulated. Three candidates—miR-1908, miR-199a-3p and miR199a-5p—showed metastatic potential in mice, and their increased expression correlated with the metastatic potential of human primary melanomas. Their collective or individual expression enhanced metastatic invasion, endothelial cell recruitment and angiogenesis, suggesting that these miRNAs have both cell-autonomous and non–cell-autonomous tumor effects. The authors then found that this miRNA network converges on two common targets—ApoE and the heat shock factor DNAJA4—which could explain its dual role in melanoma. ApoE secreted by cancer cells blocks invasion and endothelial cell recruitment by binding the receptors LRP1 in tumor cells and LRP8 in endothelial cells. As DNAJA4 upregulates ApoE, the miRNAs have two routes of limiting ApoE secretion, thus fostering metastasis.
Although further research is needed to investigate whether increasing ApoE expression can decrease metastatic disease, these findings suggest a potential new target to blunt metastasis and angiogenesis in melanoma and perhaps also in other cancer types.
About this article
Cite this article
Pola, C. Antitumor duality of ApoE. Nat Med 18, 1752 (2012). https://doi.org/10.1038/nm.3033
Published:

Issue Date:

DOI: https://doi.org/10.1038/nm.3033