Abstract
In contrast with many capillary beds, the glomerulus readily supports leukocyte recruitment. However, little is known regarding the actions of leukocytes following their recruitment to glomeruli. We used multiphoton confocal microscopy to examine leukocyte behavior in the glomerular microvasculature. In normal glomeruli, neutrophils and monocytes were retained in capillaries for several minutes, remaining static or migrating intravascularly. Induction of glomerular inflammation resulted in an increase in the duration of retention of static and migratory leukocytes. In response to immune complex deposition, both static and migratory neutrophils generated oxidants in inflamed glomeruli via a Mac-1–dependent mechanism. Our results describe a new paradigm for glomerular inflammation, suggesting that the major effect of acute inflammation is to increase the duration of leukocyte retention in the glomerulus. Moreover, these findings describe a previously unknown form of multicellular intravascular patrolling that involves both monocytes and neutrophils, which may underlie the susceptibility of the glomerulus to inflammation.
Your institute does not have access to this article
Relevant articles
Open Access articles citing this article.
Rebekah Tritz

,

Farlyn Z. Hudson

…

Brian K. Stansfield

Scientific Reports Open Access 21 December 2021

Milagros N. Wong

,

Pierre-Louis Tharaux

…

Victor G. Puelles

Cell and Tissue Research Open Access 28 August 2021

Lijing Kang

,

Huilin Yu

…

Bing-Qiao Zhao

Nature Communications Open Access 19 May 2020
Access options
Subscribe to Journal
Get full journal access for 1 year
$59.00
only $4.92 per issue
All prices are NET prices.
VAT will be added later in the checkout.
Tax calculation will be finalised during checkout.
Buy article
Get time limited or full article access on ReadCube.
$32.00
All prices are NET prices.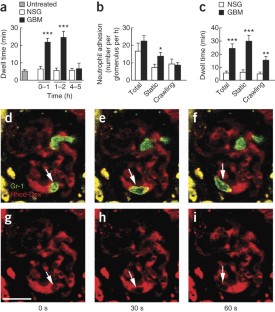 References
Cochrane, C.G., Unanue, E.R. & Dixon, F.J. A role of polymorphonuclear leukocytes and complement in nephrotoxic nephritis. J. Exp. Med. 122, 99–116 (1965).

Huang, X.R., Tipping, P.G., Shuo, L. & Holdsworth, S.R. Th1 responsiveness to nephritogenic antigens determines susceptibility to crescentic glomerulonephritis in mice. Kidney Int. 51, 94–103 (1997).

Tipping, P.G., Huang, X.R., Qi, M., Van, G.Y. & Tang, W.W. Crescentic glomerulonephritis in CD4- and CD8-deficient mice. Requirement for CD4 but not CD8 cells. Am. J. Pathol. 152, 1541–1548 (1998).

Duffield, J.S. et al. Conditional ablation of macrophages halts progression of crescentic glomerulonephritis. Am. J. Pathol. 167, 1207–1219 (2005).

Tipping, P.G., Huang, X.R., Berndt, M.C. & Holdsworth, S.R. A role for P selectin in complement-independent neutrophil-mediated glomerular injury. Kidney Int. 46, 79–88 (1994).

Tang, T. et al. A role for Mac-1 (CDIIb/CD18) in immune complex–stimulated neutrophil function in vivo: Mac-1 deficiency abrogates sustained Fcgamma receptor–dependent neutrophil adhesion and complement-dependent proteinuria in acute glomerulonephritis. J. Exp. Med. 186, 1853–1863 (1997).

Kuligowski, M.P., Kitching, A.R. & Hickey, M.J. Leukocyte recruitment to the inflamed glomerulus: a critical role for platelet-derived P-selectin in the absence of rolling. J. Immunol. 176, 6991–6999 (2006).

Massberg, S. et al. Platelet-endothelial cell interactions during ischemia/reperfusion: the role of P-selectin. Blood 92, 507–515 (1998).

Norman, M.U., Van De Velde, N.C., Timoshanko, J.R., Issekutz, A. & Hickey, M.J. Overlapping roles of endothelial selectins and vascular cell adhesion molecule 1 in immune complex–induced leukocyte recruitment in the cremasteric microvasculature. Am. J. Pathol. 163, 1491–1503 (2003).

Jung, U. & Ley, K. Regulation of E-selectin, P-selectin, and intercellular adhesion molecule 1 expression in mouse cremaster muscle vasculature. Microcirculation 4, 311–319 (1997).

Wong, J. et al. A minimal role for selectins in the recruitment of leukocytes into the inflamed liver microvasculature. J. Clin. Invest. 99, 2782–2790 (1997).

Downey, G.P., Worthen, G.S., Henson, P.M. & Hyde, D.M. Neutrophil sequestration and migration in localized pulmonary inflammation. Capillary localization and migration across the interalveolar septum. Am. Rev. Respir. Dis. 147, 168–176 (1993).

Kreisel, D. et al. In vivo two-photon imaging reveals monocyte-dependent neutrophil extravasation during pulmonary inflammation. Proc. Natl. Acad. Sci. USA 107, 18073–18078 (2010).

Mempel, T.R., Henrickson, S.E. & Von Andrian, U.H. T-cell priming by dendritic cells in lymph nodes occurs in three distinct phases. Nature 427, 154–159 (2004).

Matheu, M.P. et al. Imaging of effector memory T cells during a delayed-type hypersensitivity reaction and suppression by Kv1.3 channel block. Immunity 29, 602–614 (2008).

Geissmann, F. et al. Intravascular immune surveillance by CXCR6+ NKT cells patrolling liver sinusoids. PLoS Biol. 3, e113 (2005).

Auffray, C. et al. Monitoring of blood vessels and tissues by a population of monocytes with patrolling behavior. Science 317, 666–670 (2007).

Audoy-Rémus, J. et al. Rod-Shaped monocytes patrol the brain vasculature and give rise to perivascular macrophages under the influence of proinflammatory cytokines and angiopoietin-2. J. Neurosci. 28, 10187–10199 (2008).

Lee, W.Y. et al. An intravascular immune response to Borrelia burgdorferi involves Kupffer cells and iNKT cells. Nat. Immunol. 11, 295–302 (2010).

Kuligowski, M.P. et al. Antimyeloperoxidase antibodies rapidly induce alpha-4-integrin–dependent glomerular neutrophil adhesion. Blood 113, 6485–6494 (2009).

Devi, S. et al. Platelet recruitment to the inflamed glomerulus occurs via an alphaIIbbeta3/GPVI-dependent pathway. Am. J. Pathol. 177, 1131–1142 (2010).

Chiang, E.Y., Hidalgo, A., Chang, J. & Frenette, P.S. Imaging receptor microdomains on leukocyte subsets in live mice. Nat. Methods 4, 219–222 (2007).

Pippin, J.W. et al. Inducible rodent models of acquired podocyte diseases. Am. J. Physiol. Renal Physiol. 296, F213–F229 (2009).

Koshikawa, M. et al. Role of p38 mitogen-activated protein kinase activation in podocyte injury and proteinuria in experimental nephrotic syndrome. J. Am. Soc. Nephrol. 16, 2690–2701 (2005).

Kinugasa, S. et al. Selective albuminuria via podocyte albumin transport in puromycin nephrotic rats is attenuated by an inhibitor of NADPH oxidase. Kidney Int. 80, 1328–1338 (2011).

Smith, M.L., Olson, T.S. & Ley, K. CXCR2- and E-selectin–induced neutrophil arrest during inflammation in vivo. J. Exp. Med. 200, 935–939 (2004).

Sipos, A., Toma, I., Kang, J.J., Rosivall, L. & Peti-Peterdi, J. Advances in renal (patho)physiology using multiphoton microscopy. Kidney Int. 72, 1188–1191 (2007).

Boyce, N.W. & Holdsworth, S.R. Hydroxyl radical mediation of immune renal injury by desferrioxamine. Kidney Int. 30, 813–817 (1986).

Odobasic, D., Kitching, A.R., Semple, T.J. & Holdsworth, S.R. Endogenous myeloperoxidase promotes neutrophil-mediated renal injury, but attenuates T cell immunity inducing crescentic glomerulonephritis. J. Am. Soc. Nephrol. 18, 760–770 (2007).

Jackman, K.A. et al. Reduction of cerebral infarct volume by apocynin requires pretreatment and is absent in Nox2-deficient mice. Br. J. Pharmacol. 156, 680–688 (2009).

Chen, Z. et al. Decreased neointimal formation in Nox2-deficient mice reveals a direct role for NADPH oxidase in the response to arterial injury. Proc. Natl. Acad. Sci. USA 101, 13014–13019 (2004).

Phillipson, M. et al. Intraluminal crawling of neutrophils to emigration sites: a molecularly distinct process from adhesion in the recruitment cascade. J. Exp. Med. 203, 2569–2575 (2006).

McDonald, B. et al. Intravascular danger signals guide neutrophils to sites of sterile inflammation. Science 330, 362–366 (2010).

Kitching, A.R., Holdsworth, S.R. & Tipping, P.G. Crescentic glomerulonephritis—a manifestation of a nephritogenic Th1 response? Histol. Histopathol. 15, 993–1003 (2000).

Summers, S.A. et al. Th1 and Th17 cells induce proliferative glomerulonephritis. J. Am. Soc. Nephrol. 20, 2518–2524 (2009).

Dapino, P., Dallegri, F., Ottonello, L. & Sacchetti, C. Induction of neutrophil respiratory burst by tumour necrosis factor-alpha; priming effect of solid-phase fibronectin and intervention of CD11b-CD18 integrins. Clin. Exp. Immunol. 94, 533–538 (1993).

Zhou, M.J. & Brown, E.J. CR3 (Mac-1, alpha M beta 2, CD11b/CD18) and Fc gamma RIII cooperate in generation of a neutrophil respiratory burst: requirement for Fc gamma RIII and tyrosine phosphorylation. J. Cell Biol. 125, 1407–1416 (1994).

Faust, N., Varas, F., Kelly, L.M., Heck, S. & Graf, T. Insertion of enhanced green fluorescent protein into the lysozyme gene creates mice with green fluorescent granulocytes and macrophages. Blood 96, 719–726 (2000).

Snelgrove, S.L. et al. Renal dendritic cells adopt a pro-inflammatory phenotype in obstructive uropathy to activate T cells, but do not directly contribute to fibrosis. Am. J. Pathol. 180, 91–103 (2011).

Bu, X. et al. Systemic administration of naked plasmid encoding HGF attenuates puromycin aminonucleoside–induced damage of murine glomerular podocytes. Am. J. Physiol. Renal Physiol. 301, F784–F792 (2011).

Dunne, J.L., Ballantyne, C.M., Beaudet, A.L. & Ley, K. Control of leukocyte rolling velocity in TNF-alpha–induced inflammation by LFA-1 and Mac-1. Blood 99, 336–341 (2002).
Acknowledgements
The authors gratefully acknowledge the assistance of J. Peti-Peterdi for advice on intravital imaging of the kidney, T. Graf (Center for Genomic Regulation) for LysM-eGFP mice, M. Tymms and E. Williams for assistance with fluorochrome labeling, D.-B. Borza (Vanderbilt University School of Medicine) for providing 8D1 monoclonal antibody, and C. Lo for technical assistance. This work was supported by a National Health and Medical Research Council (Australia) Program grant (#334067), a National Health and Medical Research Council (Australia) Project grant (#606564) and a Genzyme Renal Innovations Program Project grant. M.J.H. is a National Health and Medical Research Council (Australia) Senior Research Fellow.
Ethics declarations
Competing interests
The authors declare no competing financial interests.
Supplementary information
About this article
Cite this article
Devi, S., Li, A., Westhorpe, C. et al. Multiphoton imaging reveals a new leukocyte recruitment paradigm in the glomerulus. Nat Med 19, 107–112 (2013). https://doi.org/10.1038/nm.3024
Received:

Accepted:

Published:

Issue Date:

DOI: https://doi.org/10.1038/nm.3024