Delayed blood count recovery is a major cause of morbidity and mortality in people undergoing stem cell transplantation or intensive chemotherapy. Treatment with hematopoietic growth factors can accelerate hematopoiesis, but prolonged cytopenias still occur. A new study shows that inhibition of dipeptidylpeptidase IV augments the activity of certain hematopoietic growth factors, providing a new approach to potentially treat cytopenias (pages 1786–1796).
Access options
Subscribe to Journal
Get full journal access for 1 year
$59.00
only $4.92 per issue
All prices are NET prices.
VAT will be added later in the checkout.
Tax calculation will be finalised during checkout.
Rent or Buy article
Get time limited or full article access on ReadCube.
from$8.99
All prices are NET prices.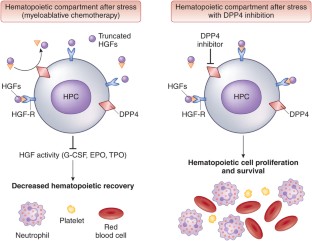 References
1

Mauch, P. et al. Int. J. Radiat. Oncol. Biol. Phys. 31, 1319–1339 (1995).

2

Kuderer, N.M. et al. J. Clin. Oncol. 25, 3158–3167 (2007).

3

Broxmeyer, H.E. et al. Nat. Med. 18, 1786–1796 (2012).

4

Lieschke, G.J. et al. Blood 84, 1737–1746 (1994).

5

Wu, H. et al. Cell 83, 59–67 (1995).

6

de Sauvage, F.J. et al. J. Exp. Med. 183, 651–656 (1996).

7

Lambeir, A.M. et al. J. Biol. Chem. 10, 29839–29845 (2001).

8

Christopherson, K.W. II et al. Science 305, 1000–1003 (2004).

9

Bohlius, J. et al. Lancet 373, 1532–1542 (2009).

10

Ahren, B. Expert Opin. Emerg. Drugs 13, 593–607 (2008).
Ethics declarations
Competing interests
The authors declare no competing financial interests.
About this article
Cite this article
Hsu, YM., Link, D. Enhancing hematopoietic growth factor performance. Nat Med 18, 1740–1741 (2012). https://doi.org/10.1038/nm.3022
Further reading
Marta Vilalta

,

Marjan Rafat

,

Amato J. Giaccia

&

Edward E. Graves

Cell Reports (2014)