Many mechanisms can contribute to complex diseases such as metabolic diseases; thus, combination therapies may be required to target individual underlying pathological mechanisms. A new study combines glucagon-like peptide-1 (GLP1) and estrogen in a single molecule, allowing selective targeting of this conjugate to cells that express the GLP1 receptor. This strategy improves the metabolic profile of obese mice without the adverse side effects associated with estrogen therapy (pages 1847–1856).
Access options
Subscribe to Journal
Get full journal access for 1 year
$59.00
only $4.92 per issue
All prices are NET prices.
VAT will be added later in the checkout.
Tax calculation will be finalised during checkout.
Rent or Buy article
Get time limited or full article access on ReadCube.
from$8.99
All prices are NET prices.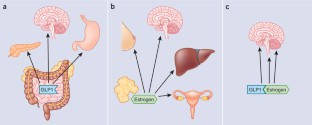 References
1

Finan, B. et al. Nat. Med. 18, 1847–1856 (2012).

2

Dietrich, M.O. & Horvath, T.L. Nat. Rev. Drug Discov. 11, 675–691 (2012).

3

Zhang, Y. et al. Nature 372, 425–432 (1994).

4

Halaas, J.L. et al. Science 269, 543–546 (1995).

5

Dietrich, M.O. & Horvath, T.L. Eur. J. Neurosci. 30, 1688–1696 (2009).

6

Gao, Q. & Horvath, T.L. Am. J. Physiol. Endocrinol. Metab. 294, E817–E826 (2008).

7

Kalra, S.P. et al. Endocr. Rev. 20, 68–100 (1999).

8

Gao, Q. et al. Nat. Med. 13, 89–94 (2007).

9

Pinto, S. et al. Science 304, 110–115 (2004).

10

Dietrich, M.O. et al. Nat. Neurosci. 15, 1108–1110 (2012).
Ethics declarations
Competing interests
The authors declare no competing financial interests.
About this article
Cite this article
Dietrich, M., Horvath, T. A marriage made to last in drug design. Nat Med 18, 1737–1738 (2012). https://doi.org/10.1038/nm.3018
Further reading
Miguel López

&

Manuel Tena-Sempere

Pharmacology & Therapeutics (2017)

Trends in Pharmacological Sciences (2015)