Abstract
The previously observed supraclavicular depot of brown adipose tissue (BAT) in adult humans was commonly believed to be the equivalent of the interscapular thermogenic organ of small mammals. This view was recently disputed1 on the basis of the demonstration that this depot consists of beige (also called brite) brown adipocytes, a newly identified type of brown adipocyte that is distinct from the classical brown adipocytes that make up the interscapular thermogenic organs of other mammals. A combination of high-resolution imaging techniques and histological and biochemical analyses showed evidence for an anatomically distinguishable interscapular BAT (iBAT) depot in human infants that consists of classical brown adipocytes, a cell type that has so far not been shown to exist in humans. On the basis of these findings, we conclude that infants, similarly to rodents, have the bona fide iBAT thermogenic organ consisting of classical brown adipocytes that is essential for the survival of small mammals in a cold environment.
Relevant articles
Open Access articles citing this article.
Sujun Yan

,

Xiaoling Zhou

…

Xiangwei Gao

Nature Communications Open Access 13 March 2023

Marina Nikolic

,

Jovana Novakovic

…

Vladimir Jakovljevic

Diabetology & Metabolic Syndrome Open Access 23 November 2022
Access options
Subscribe to this journal
Receive 12 print issues and online access
$189.00 per year
only $15.75 per issue
Rent or buy this article
Get just this article for as long as you need it
$39.95
Prices may be subject to local taxes which are calculated during checkout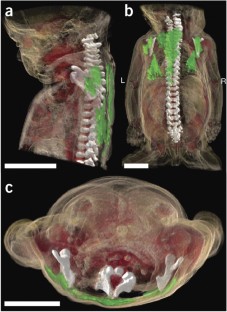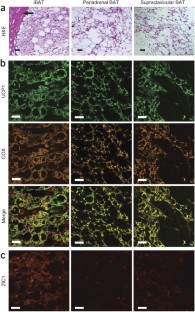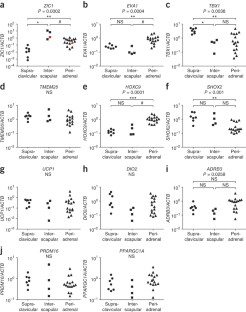 References
Wu, J. et al. Beige adipocytes are a distinct type of thermogenic fat cell in mouse and human. Cell 150, 366–376 (2012).

Nedergaard, J., Bengtsson, T. & Cannon, B. Unexpected evidence for active brown adipose tissue in adult humans. Am. J. Physiol. Endocrinol. Metab. 293, E444–E452 (2007).

Cypess, A.M. et al. Identification and importance of brown adipose tissue in adult humans. N. Engl. J. Med. 360, 1509–1517 (2009).

van Marken Lichtenbelt, W.D. et al. Cold-activated brown adipose tissue in healthy men. N. Engl. J. Med. 360, 1500–1508 (2009).

Virtanen, K.A. et al. Functional brown adipose tissue in healthy adults. N. Engl. J. Med. 360, 1518–1525 (2009).

Lee, P., Greenfield, J.R., Ho, K.K. & Fulham, M.J. A critical appraisal of the prevalence and metabolic significance of brown adipose tissue in adult humans. Am. J. Physiol. Endocrinol. Metab. 299, E601–E606 (2010).

Ouellet, V. et al. Outdoor temperature, age, sex, body mass index, and diabetic status determine the prevalence, mass, and glucose-uptake activity of 18F-FDG–detected BAT in humans. J. Clin. Endocrinol. Metab. 96, 192–199 (2011).

Pfannenberg, C. et al. Impact of age on the relationships of brown adipose tissue with sex and adiposity in humans. Diabetes 59, 1789–1793 (2010).

Cousin, B. et al. Occurrence of brown adipocytes in rat white adipose tissue: molecular and morphological characterization. J. Cell Sci. 103, 931–942 (1992).

Guerra, C., Koza, R.A., Yamashita, H., Walsh, K. & Kozak, L.P. Emergence of brown adipocytes in white fat in mice is under genetic control. Effects on body weight and adiposity. J. Clin. Invest. 102, 412–420 (1998).

Seale, P. et al. PRDM16 controls a brown fat/skeletal muscle switch. Nature 454, 961–967 (2008).

Atit, R. et al. β-catenin activation is necessary and sufficient to specify the dorsal dermal fate in the mouse. Dev. Biol. 296, 164–176 (2006).

Gupta, R.K. et al. Zfp423 expression identifies committed preadipocytes and localizes to adipose endothelial and perivascular cells. Cell Metab. 15, 230–239 (2012).

Lee, Y.H., Petkova, A.P., Mottillo, E.P. & Granneman, J.G. In vivo identification of bipotential adipocyte progenitors recruited by βa3-adrenoceptor activation and high-fat feeding. Cell Metab. 15, 480–491 (2012).

Tran, K.V. et al. The vascular endothelium of the adipose tissue gives rise to both white and brown fat cells. Cell Metab. 15, 222–229 (2012).

Cannon, B. & Nedergaard, J. Cell biology: neither brown nor white. Nature 488, 286–287 (2012).

Aherne, W. & Hull, D. Brown adipose tissue and heat production in the newborn infant. J. Pathol. Bacteriol. 91, 223–234 (1966).

Heaton, J.M. The distribution of brown adipose tissue in the human. J. Anat. 112, 35–39 (1972).

Hu, H.H., Tovar, J.P., Pavlova, Z., Smith, M.L. & Gilsanz, V. Unequivocal identification of brown adipose tissue in a human infant. J. Magn. Reson. Imaging 35, 938–942 (2012).

Waldén, T.B., Hansen, I.R., Timmons, J.A., Cannon, B. & Nedergaard, J. Recruited vs. nonrecruited molecular signatures of brown, "brite," and white adipose tissues. Am. J. Physiol. Endocrinol. Metab. 302, E19–E31 (2012).

Houstěk, J. et al. Type II iodothyronine 5′-deiodinase and uncoupling protein in brown adipose tissue of human newborns. J. Clin. Endocrinol. Metab. 77, 382–387 (1993).

Orava, J. et al. Different metabolic responses of human brown adipose tissue to activation by cold and insulin. Cell Metab. 14, 272–279 (2011).

Dixon, W.T. Simple proton spectroscopic imaging. Radiology 153, 189–194 (1984).

Rydell, J. et al. Phase sensitive reconstruction for water/fat separation in MR imaging using inverse gradient. Med. Image Comput. Comput. Assist. Interv. 10, 210–218 (2007).

Dahlqvist Leinhard, O. et al. Quantitative abdominal fat estimation using MRI. Proc. Int. Conf. Pattern Recognition 1–4 (2008).

Romu, T., Borga, M. & Dahlqvist Leinhard, O. MANA—multi scale adaptive normalized averaging. Proc. Int. Symp. Biomedical Imaging 361–364 (2011).

Malmberg, F., Lindblad, J. & Nyström, I. Sub-pixel segmentation with the Image Foresting transform. Combinatorial Image Analysis: Proc. 13th Int. Workshop, IWCIA'09, Playa del Carmen, Mexico, November 24–27, 2009 5852, 201–211 (2009).
Acknowledgements
This work was supported by grants to S.E. from the Swedish Research Council (grant numbers 2009-2590 and 2010-3281), The Knut and Alice Wallenberg Foundation, Sahlgrenska's University Hospital (LUA-ALF), EU grants (HEALTH-F2-2011-278373; DIABAT), The IngaBritt and Arne Lundgren Foundation, The Söderberg Foundation, The King Gustaf V and Queen Victoria Freemason Foundation and the Swedish Foundation for Strategic Research through the Center for Cardiovascular and Metabolic Research. M.J.B. was supported by a postdoctoral fellowship from the Fritz Thyssen Stiftung. We thank B. Mauracher (Medizinische Klinik und Poliklinik IV, Klinikum der LMU) for excellent technical assistance and acknowledge the Centre for Cellular Imaging and the Genomics Core Facility at Sahlgrenska Academy for technical assistance and use of equipment. We also acknowledge assistance from J. Kilberg and P. Quick (radiology technicians at CMIV) and J. Berge, E. Edston and H. Bengtsson (forensic pathologists) at the National Board of Forensic Medicine, Linköping Division, Department of Forensic Medicine, Linköping.
Ethics declarations
Competing interests
S.E. is shareholder and consultant to Ember Therapeutics.
Supplementary information
About this article
Cite this article
Lidell, M., Betz, M., Leinhard, O. et al. Evidence for two types of brown adipose tissue in humans. Nat Med 19, 631–634 (2013). https://doi.org/10.1038/nm.3017
Received:

Accepted:

Published:

Issue Date:

DOI: https://doi.org/10.1038/nm.3017