There is a growing appreciation of the importance of circadian regulation in energy homeostasis, and the dysregulation of the circadian clock has been associated with obesity and metabolic abnormalities. A new study shows that adipocyte-specific deletion of a core circadian clock gene, Arntl (Bmal1), in mice shifts the timing of their feeding behavior, resulting in obesity (pages 1768–1777).
Access options
Subscribe to Journal
Get full journal access for 1 year
$59.00
only $4.92 per issue
All prices are NET prices.
VAT will be added later in the checkout.
Tax calculation will be finalised during checkout.
Rent or Buy article
Get time limited or full article access on ReadCube.
from$8.99
All prices are NET prices.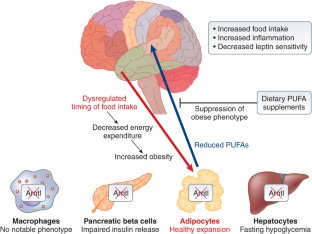 References
1

Lin, Y.C., Hsiao, T.J. & Chen, P.C. Chronobiol. Int. 26, 740–755 (2009).

2

Ellingsen, T., Bener, A. & Gehani, A.A. J. R. Soc. Promot. Health 127, 265–267 (2007).

3

Van Cauter, E. Diabet. Med. 28, 1455–1462 (2011).

4

Lamia, K.A., Storch, K.F. & Weitz, C.J. Proc. Natl. Acad. Sci. USA 105, 15172–15177 (2008).

5

Marcheva, B. et al. Nature 466, 627–631 (2010).

6

Paschos, G.K. et al. Nat. Med. 18, 1768–1777 (2012).

7

Hatori, M. et al. Cell Metab. 15, 848–860 (2012).

8

Sun, K., Kusminski, C.M. & Scherer, P.E. J. Clin. Invest. 121, 2094–2101 (2011).
Acknowledgements
The authors are supported by the US National Institutes of Health (grants R01-DK55758 and P01DK088761-01 to P.E.S.). I.W.A. was also supported by a fellowship from the Throne-Holst Foundation and the Swedish Research Council (2006-3931) and by a VINNMER fellowship from the VINNOVA Foundation.
Ethics declarations
Competing interests
The authors declare no competing financial interests.
About this article
Cite this article
Asterholm, I., Scherer, P. Metabolic jet lag when the fat clock is out of sync. Nat Med 18, 1738–1740 (2012). https://doi.org/10.1038/nm.3010
Further reading
Anthony H. Tsang

,

Isa Kolbe

,

Julia Seemann

&

Henrik Oster

Hormone Molecular Biology and Clinical Investigation (2014)

Enrique Fuentes-Mattei

,

Guermarie Velazquez-Torres

,

Liem Phan

,

Fanmao Zhang

,

Ping-Chieh Chou

,

Ji-Hyun Shin

,

Hyun Ho Choi

,

Jiun-Sheng Chen

,

Ruiying Zhao

,

Jian Chen

,

Chris Gully

,

Colin Carlock

,

Yuan Qi

,

Ya Zhang

,

Yun Wu

,

Francisco J. Esteva

,

Yongde Luo

,

Wallace L. McKeehan

,

Joe Ensor

,

Gabriel N. Hortobagyi

,

Lajos Pusztai

,

W. Fraser Symmans

,

Mong-Hong Lee

&

Sai-Ching Jim Yeung

JNCI: Journal of the National Cancer Institute (2014)