Abstract
The ability of the human immune system to respond to vaccination declines with age. We identified an age-associated defect in T cell receptor (TCR)-induced extracellular signal–regulated kinase (ERK) phosphorylation in naive CD4+ T cells, whereas other signals, such as ζ chain–associated protein kinase 70 (ZAP70) and phospholipase C-γ1 phosphorylation, were not impaired. The defective ERK signaling was caused by the dual specific phosphatase 6 (DUSP6), whose protein expression increased with age due to a decline in repression by miR-181a. Reconstitution of miR-181a lowered DUSP6 expression in naive CD4+ T cells in elderly individuals. DUSP6 repression using miR-181a or specific siRNA and DUSP6 inhibition by the allosteric inhibitor (E)-2-benzylidene-3-(cyclohexylamino)-2,3-dihydro-1H-inden-1-one improved CD4+ T cell responses, as seen by increased expression of activation markers, improved proliferation and supported preferential T helper type 1 cell differentiation. DUSP6 is a potential intervention target for restoring T cell responses in the elderly, which may augment the effectiveness of vaccination.
Relevant articles
Open Access articles citing this article.
Norihide Jo

,

Yu Hidaka

…

Yoko Hamazaki

Nature Aging Open Access 12 January 2023

Mingxuan Chi

,

Zijun Tian

…

Chi Liu

Immunity & Ageing Open Access 16 November 2022

Xiaohai Zhou

,

Chenyang Zhang

…

Jing-Wei Xiong

Nature Communications Open Access 05 November 2022
Access options
Subscribe to this journal
Receive 12 print issues and online access
$189.00 per year
only $15.75 per issue
Rent or buy this article
Get just this article for as long as you need it
$39.95
Prices may be subject to local taxes which are calculated during checkout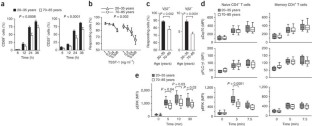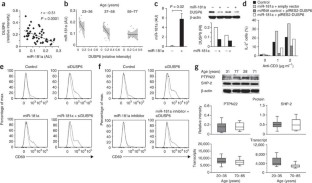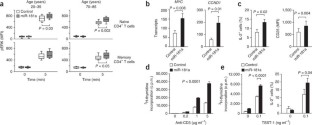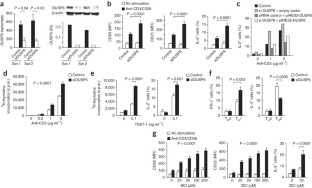 References
Weng, N.P. Aging of the immune system: how much can the adaptive immune system adapt? Immunity 24, 495–499 (2006).

Hakim, F.T. & Gress, R.E. Immunosenescence: deficits in adaptive immunity in the elderly. Tissue Antigens 70, 179–189 (2007).

Thompson, W.W. et al. Mortality associated with influenza and respiratory syncytial virus in the United States. J. Am. Med. Assoc. 289, 179–186 (2003).

Targonski, P.V., Jacobson, R.M. & Poland, G.A. Immunosenescence: role and measurement in influenza vaccine response among the elderly. Vaccine 25, 3066–3069 (2007).

Nichol, K.L., Nordin, J.D., Nelson, D.B., Mullooly, J.P. & Hak, E. Effectiveness of influenza vaccine in the community-dwelling elderly. N. Engl. J. Med. 357, 1373–1381 (2007).

Nikolich-Zugich, J., Slifka, M.K. & Messaoudi, I. The many important facets of T-cell repertoire diversity. Nat. Rev. Immunol. 4, 123–132 (2004).

Haynes, B.F., Markert, M.L., Sempowski, G.D., Patel, D.D. & Hale, L.P. The role of the thymus in immune reconstitution in aging, bone marrow transplantation, and HIV-1 infection. Annu. Rev. Immunol. 18, 529–560 (2000).

Sauce, D. et al. Evidence of premature immune aging in patients thymectomized during early childhood. J. Clin. Invest. 119, 3070–3078 (2009).

Czesnikiewicz-Guzik, M. et al. T cell subset–specific susceptibility to aging. Clin. Immunol. 127, 107–118 (2008).

Naylor, K. et al. The influence of age on T cell generation and TCR diversity. J. Immunol. 174, 7446–7452 (2005).

Goronzy, J.J. & Weyand, C.M. T cell development and receptor diversity during aging. Curr. Opin. Immunol. 17, 468–475 (2005).

Tsukamoto, H. et al. Age-associated increase in lifespan of naive CD4 T cells contributes to T-cell homeostasis but facilitates development of functional defects. Proc. Natl. Acad. Sci. USA 106, 18333–18338 (2009).

Macallan, D.C. et al. Rapid turnover of effector-memory CD4+ T cells in healthy humans. J. Exp. Med. 200, 255–260 (2004).

Hodes, R.J., Hathcock, K.S. & Weng, N.P. Telomeres in T and B cells. Nat. Rev. Immunol. 2, 699–706 (2002).

Weng, N.P., Akbar, A.N. & Goronzy, J. CD28− T cells: their role in the age-associated decline of immune function. Trends Immunol. 30, 306–312 (2009).

Goronzy, J.J., Li, G., Yu, M. & Weyand, C.M. Signaling pathways in aged T cell—A reflection of T cell differentiation, cell senescence and host environment. Semin. Immunol. (in the press) (2012).

Berg, L.J. Strength of T cell receptor signaling strikes again. Immunity 31, 529–531 (2009).

Altan-Bonnet, G. & Germain, R.N. Modeling T cell antigen discrimination based on feedback control of digital ERK responses. PLoS Biol. 3, e356 (2005).

Li, Q.J. et al. miR-181a is an intrinsic modulator of T cell sensitivity and selection. Cell 129, 147–161 (2007).

Bettini, M.L. & Kersh, G.J. MAP kinase phosphatase activity sets the threshold for thymocyte positive selection. Proc. Natl. Acad. Sci. USA 104, 16257–16262 (2007).

Guan, K.L. & Butch, E. Isolation and characterization of a novel dual specific phosphatase, HVH2, which selectively dephosphorylates the mitogen-activated protein kinase. J. Biol. Chem. 270, 7197–7203 (1995).

Zhang, Y. et al. Regulation of innate and adaptive immune responses by MAP kinase phosphatase 5. Nature 430, 793–797 (2004).

Miller, R.A., Garcia, G., Kirk, C.J. & Witkowski, J.M. Early activation defects in T lymphocytes from aged mice. Immunol. Rev. 160, 79–90 (1997).

Molina, G. et al. Zebrafish chemical screening reveals an inhibitor of Dusp6 that expands cardiac cell lineages. Nat. Chem. Biol. 5, 680–687 (2009).

Yager, E.J. et al. Age-associated decline in T cell repertoire diversity leads to holes in the repertoire and impaired immunity to influenza virus. J. Exp. Med. 205, 711–723 (2008).

Cicin-Sain, L. et al. Loss of naive T cells and repertoire constriction predict poor response to vaccination in old primates. J. Immunol. 184, 6739–6745 (2010).

Clambey, E.T., van Dyk, L.F., Kappler, J.W. & Marrack, P. Non-malignant clonal expansions of CD8+ memory T cells in aged individuals. Immunol. Rev. 205, 170–189 (2005).

Messaoudi, I., Lemaoult, J., Guevara-Patino, J.A., Metzner, B.M. & Nikolich-Zugich, J. Age-related CD8 T cell clonal expansions constrict CD8 T cell repertoire and have the potential to impair immune defense. J. Exp. Med. 200, 1347–1358 (2004).

Saurwein-Teissl, M. et al. Lack of antibody production following immunization in old age: association with CD8+CD28− T cell clonal expansions and an imbalance in the production of TH1 and TH2 cytokines. J. Immunol. 168, 5893–5899 (2002).

Goronzy, J.J. et al. Value of immunological markers in predicting responsiveness to influenza vaccination in elderly individuals. J. Virol. 75, 12182–12187 (2001).

Goronzy, J.J., Lee, W.W. & Weyand, C.M. Aging and T-cell diversity. Exp. Gerontol. 42, 400–406 (2007).

Sadighi Akha, A.A. & Miller, R.A. Signal transduction in the aging immune system. Curr. Opin. Immunol. 17, 486–491 (2005).

Gorgas, G., Butch, E.R., Guan, K.L. & Miller, R.A. Diminished activation of the MAP kinase pathway in CD3-stimulated T lymphocytes from old mice. Mech. Ageing Dev. 94, 71–83 (1997).

Ledbetter, J.A. et al. Signal transduction through CD4 receptors: stimulatory vs. inhibitory activity is regulated by CD4 proximity to the CD3/T cell receptor. Eur. J. Immunol. 18, 525–532 (1988).

Grossmann, A., Ledbetter, J.A. & Rabinovitch, P.S. Reduced proliferation in T lymphocytes in aged humans is predominantly in the CD8+ subset, and is unrelated to defects in transmembrane signaling which are predominantly in the CD4+ subset. Exp. Cell Res. 180, 367–382 (1989).

Lee, W.W. et al. Age-dependent signature of metallothionein expression in primary CD4 T cell responses is due to sustained zinc signaling. Rejuvenation Res. 11, 1001–1011 (2008).

Boyman, O., Letourneau, S., Krieg, C. & Sprent, J. Homeostatic proliferation and survival of naive and memory T cells. Eur. J. Immunol. 39, 2088–2094 (2009).

Aspinall, R., Del Giudice, G., Effros, R.B., Grubeck-Loebenstein, B. & Sambhara, S. Challenges for vaccination in the elderly. Immun. Ageing 4, 9 (2007).

Khurana, S. et al. Vaccines with MF59 adjuvant expand the antibody repertoire to target protective sites of pandemic avian H5N1 influenza virus. Sci. Transl. Med. 2, 15ra15 (2010).

Del Giudice, G. et al. An MF59-adjuvanted inactivated influenza vaccine containing A/Panama/1999 (H3N2) induced broader serological protection against heterovariant influenza virus strain A/Fujian/2002 than a subunit and a split influenza vaccine. Vaccine 24, 3063–3065 (2006).

Galli, G. et al. Adjuvanted H5N1 vaccine induces early CD4+ T cell response that predicts long-term persistence of protective antibody levels. Proc. Natl. Acad. Sci. USA 106, 3877–3882 (2009).

Couch, R.B. et al. Safety and immunogenicity of a high dosage trivalent influenza vaccine among elderly subjects. Vaccine 25, 7656–7663 (2007).

Oxman, M.N. et al. A vaccine to prevent herpes zoster and postherpetic neuralgia in older adults. N. Engl. J. Med. 352, 2271–2284 (2005).
Acknowledgements
J.J.G. was supported by US National Institutes of Health grants U19 AI090019, R01 AG015043 and U19 AI057266, and C.M.W. was supported by US National Institutes of Health grants R01 AR042527, R01 EY011916, R01 AI044142 and PO1 HL058000. Antibody to PTPN22 was a gift from A.C. Chan (Genentech).
Ethics declarations
Competing interests
The authors declare no competing financial interests.
Supplementary information
About this article
Cite this article
Li, G., Yu, M., Lee, WW. et al. Decline in miR-181a expression with age impairs T cell receptor sensitivity by increasing DUSP6 activity. Nat Med 18, 1518–1524 (2012). https://doi.org/10.1038/nm.2963
Received:

Accepted:

Published:

Issue Date:

DOI: https://doi.org/10.1038/nm.2963