Abstract
Interleukin-25 (IL-25) is a cytokine associated with allergy and asthma that functions to promote type 2 immune responses at mucosal epithelial surfaces and serves to protect against helminth parasitic infections in the intestinal tract. This study identifies the IL-25 receptor, IL-17RB, as a key mediator of both innate and adaptive pulmonary type 2 immune responses. Allergen exposure upregulated IL-25 and induced type 2 cytokine production in a previously undescribed granulocytic population, termed type 2 myeloid (T2M) cells. Il17rb−/− mice showed reduced lung pathology after chronic allergen exposure and decreased type 2 cytokine production in T2M cells and CD4+ T lymphocytes. Airway instillation of IL-25 induced IL-4 and IL-13 production in T2M cells, demonstrating their importance in eliciting T cell–independent inflammation. The adoptive transfer of T2M cells reconstituted IL-25–mediated responses in Il17rb−/− mice. High-dose dexamethasone treatment did not reduce the IL-25–induced T2M pulmonary response. Finally, a similar IL-4– and IL-13–producing granulocytic population was identified in peripheral blood of human subjects with asthma. These data establish IL-25 and its receptor IL-17RB as targets for innate and adaptive immune responses in chronic allergic airway disease and identify T2M cells as a new steroid-resistant cell population.
Relevant articles
Open Access articles citing this article.
Xiefang Yuan

,

Junyi Wang

…

Guoping Li

Scientific Reports Open Access 21 May 2018

Irma Mahmutovic Persson

,

Hamid Akbarshahi

…

Lena Uller

Journal of Translational Medicine Open Access 16 February 2016
Access options
Subscribe to this journal
Receive 12 print issues and online access
$209.00 per year
only $17.42 per issue
Rent or buy this article
Prices vary by article type
from$1.95
to$39.95
Prices may be subject to local taxes which are calculated during checkout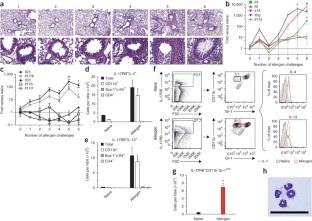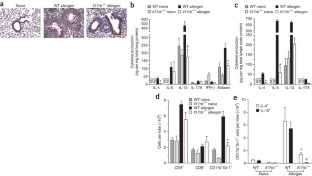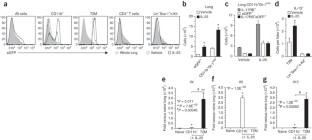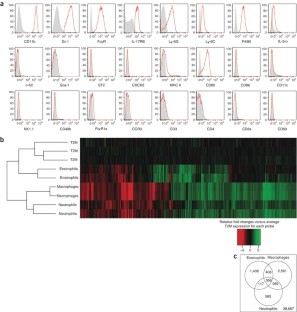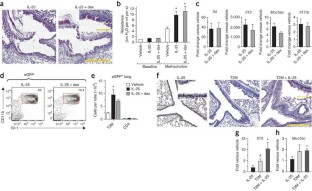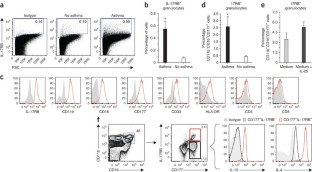 Accession codes
Accessions
Gene Expression Omnibus
References
Wang, W., Li, J.J., Foster, P.S., Hansbro, P.M. & Yang, M. Potential therapeutic targets for steroid-resistant asthma. Curr. Drug Targets 11, 957–970 (2010).

Ogawa, Y. & Calhoun, W.J. Phenotypic characterization of severe asthma. Curr. Opin. Pulm. Med. 16, 48–54 (2010).

Adcock, I.M., Ford, P.A., Bhavsar, P., Ahmad, T. & Chung, K.F. Steroid resistance in asthma: mechanisms and treatment options. Curr. Allergy Asthma Rep. 8, 171–178 (2008).

Fort, M.M. et al. IL-25 induces IL-4, IL-5, and IL-13 and TH2-associated pathologies in vivo. Immunity 15, 985–995 (2001).

Fallon, P.G. et al. Identification of an interleukin (IL)-25–dependent cell population that provides IL-4, IL-5, and IL-13 at the onset of helminth expulsion. J. Exp. Med. 203, 1105–1116 (2006).

Tamachi, T. et al. IL-25 enhances allergic airway inflammation by amplifying a TH2 cell–dependent pathway in mice. J. Allergy Clin. Immunol. 118, 606–614 (2006).

Dolgachev, V., Petersen, B.C., Budelsky, A.L., Berlin, A.A. & Lukacs, N.W. Pulmonary IL-17E (IL-25) production and IL-17RB+ myeloid cell-derived TH2 cytokine production are dependent upon stem cell factor–induced responses during chronic allergic pulmonary disease. J. Immunol. 183, 5705–5715 (2009).

Terrier, B. et al. IL-25: a cytokine linking eosinophils and adaptative immunity in Churg-Strauss syndrome. Blood 116, 4523–4531 (2010).

Sharkhuu, T. et al. Mechanism of interleukin-25 (IL-17E)–induced pulmonary inflammation and airways hyper-reactivity. Clin. Exp. Allergy 36, 1575–1583 (2006).

Rickel, E.A. et al. Identification of functional roles for both IL-17RB and IL-17RA in mediating IL-25–induced activities. J. Immunol. 181, 4299–4310 (2008).

Lee, J. et al. IL-17E, a novel proinflammatory ligand for the IL-17 receptor homolog IL-17Rh1. J. Biol. Chem. 276, 1660–1664 (2001).

Claudio, E. et al. The adaptor protein CIKS/Act1 is essential for IL-25–mediated allergic airway inflammation. J. Immunol. 182, 1617–1630 (2009).

Swaidani, S. et al. The critical role of epithelial-derived Act1 in IL-17– and IL-25–mediated pulmonary inflammation. J. Immunol. 182, 1631–1640 (2009).

Wong, C.K., Li, P.W. & Lam, C.W. Intracellular JNK, p38 MAPK and NF-κB regulate IL-25 induced release of cytokines and chemokines from costimulated T helper lymphocytes. Immunol. Lett. 112, 82–91 (2007).

Maezawa, Y. et al. Involvement of TNF receptor–associated factor 6 in IL-25 receptor signaling. J. Immunol. 176, 1013–1018 (2006).

Wang, Y.H. et al. IL-25 augments type 2 immune responses by enhancing the expansion and functions of TSLP-DC–activated TH2 memory cells. J. Exp. Med. 204, 1837–1847 (2007).

Stock, P., Lombardi, V., Kohlrautz, V. & Akbari, O. Induction of airway hyperreactivity by IL-25 is dependent on a subset of invariant NKT cells expressing IL-17RB. J. Immunol. 182, 5116–5122 (2009).

Moro, K. et al. Innate production of TH2 cytokines by adipose tissue-associated c-Kit+Sca-1+ lymphoid cells. Nature 463, 540–544 (2010).

Neill, D.R. et al. Nuocytes represent a new innate effector leukocyte that mediates type-2 immunity. Nature 464, 1367–1370 (2010).

Saenz, S.A. et al. IL25 elicits a multipotent progenitor cell population that promotes TH2 cytokine responses. Nature 464, 1362–1366 (2010).

Corrigan, C.J. et al. Allergen-induced expression of IL-25 and IL-25 receptor in atopic asthmatic airways and late-phase cutaneous responses. J. Allergy Clin. Immunol. 128, 116–124 (2011).

Angkasekwinai, P. et al. Interleukin 25 promotes the initiation of proallergic type 2 responses. J. Exp. Med. 204, 1509–1517 (2007).

Ballantyne, S.J. et al. Blocking IL-25 prevents airway hyperresponsiveness in allergic asthma. J. Allergy Clin. Immunol. 120, 1324–1331 (2007).

Wang, H. et al. Allergen challenge of peripheral blood mononuclear cells from patients with seasonal allergic rhinitis increases IL-17RB, which regulates basophil apoptosis and degranulation. Clin. Exp. Allergy 40, 1194–1202 (2010).

Jung, J.S. et al. Association of IL-17RB gene polymorphism with asthma. Chest 135, 1173–1180 (2009).

Voehringer, D., Reese, T.A., Huang, X., Shinkai, K. & Locksley, R.M. Type 2 immunity is controlled by IL-4/IL-13 expression in hematopoietic non-eosinophil cells of the innate immune system. J. Exp. Med. 203, 1435–1446 (2006).

Mjösberg, J.M. et al. Human IL-25– and IL-33–responsive type 2 innate lymphoid cells are defined by expression of CRTH2 and CD161. Nat. Immunol. 12, 1055–1062 (2011).

Paul, W.E. Interleukin-4 production by FcɛR+ cells. Skin Pharmacol. 4 (suppl. 1), 8–14 (1991).

Seder, R.A. et al. Production of interleukin-4 and other cytokines following stimulation of mast cell lines and in vivo mast cells/basophils. Int. Arch. Allergy Appl. Immunol. 94, 137–140 (1991).

van Panhuys, N. et al. Basophils are the major producers of IL-4 during primary helminth infection. J. Immunol. 186, 2719–2728 (2011).

Torrero, M.N., Hubner, M.P., Larson, D., Karasuyama, H. & Mitre, E. Basophils amplify type 2 immune responses, but do not serve a protective role, during chronic infection of mice with the filarial nematode Litomosoides sigmodontis. J. Immunol. 185, 7426–7434 (2010).

Steinfelder, S. et al. The major component in schistosome eggs responsible for conditioning dendritic cells for TH2 polarization is a T2 ribonuclease (omega-1). J. Exp. Med. 206, 1681–1690 (2009).

Yoshimoto, T. et al. Basophils contribute to TH2-IgE responses in vivo via IL-4 production and presentation of peptide-MHC class II complexes to CD4+ T cells. Nat. Immunol. 10, 706–712 (2009).

Perrigoue, J.G. et al. MHC class II–dependent basophil-CD4+ T cell interactions promote T(H)2 cytokine-dependent immunity. Nat. Immunol. 10, 697–705 (2009).

Wang, H.B., Ghiran, I., Matthaei, K. & Weller, P.F. Airway eosinophils: allergic inflammation recruited professional antigen-presenting cells. J. Immunol. 179, 7585–7592 (2007).

Bandeira-Melo, C. et al. IL-16 promotes leukotriene C4 and IL-4 release from human eosinophils via CD4- and autocrine CCR3-chemokine-mediated signaling. J. Immunol. 168, 4756–4763 (2002).

Holtzman, M.J. et al. Immune pathways for translating viral infection into chronic airway disease. Adv. Immunol. 102, 245–276 (2009).

Kim, E.Y. et al. Persistent activation of an innate immune response translates respiratory viral infection into chronic lung disease. Nat. Med. 14, 633–640 (2008).

Peranzoni, E. et al. Myeloid-derived suppressor cell heterogeneity and subset definition. Curr. Opin. Immunol. 22, 238–244 (2010).

Gabrilovich, D.I. & Nagaraj, S. Myeloid-derived suppressor cells as regulators of the immune system. Nat. Rev. Immunol. 9, 162–174 (2009).

Garley, M., Jablonska, E., Grabowska, S.Z. & Piotrowski, L. IL-17 family cytokines in neutrophils of patients with oral epithelial squamous cell carcinoma. Neoplasma 56, 96–100 (2009).

Hansbro, P.M., Kaiko, G.E. & Foster, P.S. Cytokine/anti-cytokine therapy—novel treatments for asthma? Br. J. Pharmacol. 163, 81–95 (2011).

Bullens, D.M. et al. IL-17 mRNA in sputum of asthmatic patients: linking T cell driven inflammation and granulocytic influx? Respir. Res. 7, 135 (2006).

Drews, A.C. et al. Neutrophilic airway inflammation is a main feature of induced sputum in nonatopic asthmatic children. Allergy 64, 1597–1601 (2009).

Kikuchi, S., Nagata, M., Kikuchi, I., Hagiwara, K. & Kanazawa, M. Association between neutrophilic and eosinophilic inflammation in patients with severe persistent asthma. Int. Arch. Allergy Immunol. 137 (suppl. 1), 7–11 (2005).

Fukakusa, M. et al. Oral corticosteroids decrease eosinophil and CC chemokine expression but increase neutrophil, IL-8, and IFN-γ–inducible protein 10 expression in asthmatic airway mucosa. J. Allergy Clin. Immunol. 115, 280–286 (2005).

Lindén, A., Hoshino, H. & Laan, M. Airway neutrophils and interleukin-17. Eur. Respir. J. 15, 973–977 (2000).

Jatakanon, A. et al. Neutrophilic inflammation in severe persistent asthma. Am. J. Respir. Crit. Care Med. 160, 1532–1539 (1999).

Vazquez-Tello, A. et al. Induction of glucocorticoid receptor-β expression in epithelial cells of asthmatic airways by T-helper type 17 cytokines. Clin. Exp. Allergy 40, 1312–1322 (2010).

McKinley, L. et al. TH17 cells mediate steroid-resistant airway inflammation and airway hyperresponsiveness in mice. J. Immunol. 181, 4089–4097 (2008).

Kaiko, G.E., Phipps, S., Angkasekwinai, P., Dong, C. & Foster, P.S. NK Cell deficiency predisposes to viral-induced TH2-type allergic inflammation via epithelial-derived IL-25. J. Immunol. 185, 4681–4690 (2010).

Berlin, A.A., Hogaboam, C.M. & Lukacs, N.W. Inhibition of SCF attenuates peribronchial remodeling in chronic cockroach allergen–induced asthma. Lab. Invest. 86, 557–565 (2006).

Campbell, E.M., Kunkel, S.L., Strieter, R.M. & Lukacs, N.W. Temporal role of chemokines in a murine model of cockroach allergen–induced airway hyperreactivity and eosinophilia. J. Immunol. 161, 7047–7053 (1998).

Campbell, E., Hogaboam, C., Lincoln, P. & Lukacs, N.W. Stem cell factor–induced airway hyperreactivity in allergic and normal mice. Am. J. Pathol. 154, 1259–1265 (1999).

Lukacs, N.W. et al. Respiratory virus–induced TLR7 activation controls IL-17–associated increased mucus via IL-23 regulation. J. Immunol. 185, 2231–2239 (2010).

Kallal, L.E., Hartigan, A.J., Hogaboam, C.M., Schaller, M.A. & Lukacs, N.W. Inefficient lymph node sensitization during respiratory viral infection promotes IL-17–mediated lung pathology. J. Immunol. 185, 4137–4147 (2010).

Smit, J.J. et al. The balance between plasmacytoid DC versus conventional DC determines pulmonary immunity to virus infections. PLoS One 3, e1720 (2008).
Acknowledgements
We thank J. Connett for comments on the manuscript, K. Augusztiny for valuable insight and perspective, members of the Lukacs, Kunkel and Hogaboam labs for many helpful discussions, and the University of Michigan Flow Cytometry and DNA Sequencing Cores for technical assistance. This work was supported by US National Institutes of Health grants R01 HL05178 and R01 HL036302 (to N.W.L.) and National Institute of General Medical Studies grant 3T32GM007863-31S1 (to the University of Michigan Medical Scientist Training Program and B.C.P.). Il17rb−/− mice were provided by A.L. Budelsky (Amgen).
Ethics declarations
Competing interests
The authors declare no competing financial interests.
Supplementary information
Supplementary Figures 1–7, Supplementary Table 1 and Supplementary Methods (PDF 6355 kb)
About this article
Cite this article
Petersen, B., Budelsky, A., Baptist, A. et al. Interleukin-25 induces type 2 cytokine production in a steroid-resistant interleukin-17RB+ myeloid population that exacerbates asthmatic pathology. Nat Med 18, 751–758 (2012). https://doi.org/10.1038/nm.2735
Received:

Accepted:

Published:

Issue Date:

DOI: https://doi.org/10.1038/nm.2735