Vitamin E is commonly taken as a dietary supplement because it has been shown to have cardioprotective effects. However, its effects on bone metabolism are unknown. A new study in mice shows that α-tocopherol, the main isoform of vitamin E, stimulates bone osteoclast fusion independently of its antioxidant activity, resulting in increased bone resorption (pages 589–594).
Access options
Subscribe to Journal
Get full journal access for 1 year
$59.00
only $4.92 per issue
All prices are NET prices.
VAT will be added later in the checkout.
Tax calculation will be finalised during checkout.
Rent or Buy article
Get time limited or full article access on ReadCube.
from$8.99
All prices are NET prices.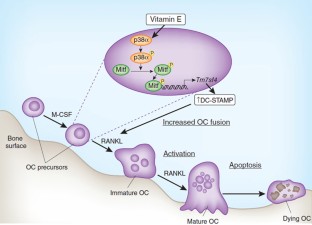 References
1

Ahmadieh, H. & Arabi, A. Nutr. Rev. 69, 584–598 (2011).

2

Gao, X., Wilde, P.E., Lichtenstein, A.H., Bermudez, O.I. & Tucker, K.L. J. Nutr. 136, 1021–1026 (2006).

3

Institute of Medicine, Food and Nutrition Board. Dietary Reference Intakes: Vitamin C, Vitamin E, Selenium, and Carotenoids (National Academy Press, Washington, DC, 2000).

4

Sandhu, S.K. & Hampson, G. J. Clin. Pathol. 64, 1042–1050 (2011).

5

Lee, J.H. et al. J. Biol. Chem. 284, 13725–13734 (2009).

6

Soeta, S., Higuchi, M., Yoshimura, I., Itoh, R., Kimura, N. & Aamsaki, H. J. Vet. Med. Sci. 72, 951–957 (2010).

7

Maniam, S., Mohamed, N., Shuid, A.N. & Soelaiman, I.N. Clin. Pharmacol. Toxicol. 103, 55–60 (2008).

8

Pasco, J.A. et al. J. Womens Health (Larchmt) 15, 295–300 (2006).

9

Zhang, J., Munger, R., West, N.A., Cutler, R.D. & Wengreen, J.H. Am. J. Epidemiol. 163, 9–17 (2006).

10

Hamidi, M.S., Corey, P.N. & Cheung, A.M. J. Bone Miner. Res. published online, doi: 10.1002/jbmr.1566 (2012).

11

Fujita, K. et al. Nat. Med. 18, 589–594 (2012).

12

Yagi, M., Miyamoto, T., Toyama, Y. & Suda, T. J. Bone Miner. Metab. 24, 355–358 (2006).
Ethics declarations
Competing interests
The author declares no competing financial interests.
About this article
Cite this article
Roodman, G. Vitamin E: good for the heart, bad for the bones?. Nat Med 18, 491–492 (2012). https://doi.org/10.1038/nm.2718
Further reading
José M. Mata-Granados

,

Rafael Cuenca-Acebedo

,

María Dolores Luque de Castro

&

José M. Quesada Gómez

Journal of Bone and Mineral Metabolism (2013)