The discovery that skin cells from an adult human can be reprogrammed back to their embryonic stage and then differentiated to produce neuron-like cells in culture opens an opportunity to study disease pathogenesis and screen potential therapeutic drugs. A new study provides an example of this approach for the neuropsychiatric disorder Timothy syndrome (pages 1657–1662).
Access options
Subscribe to Journal
Get full journal access for 1 year
$79.00
only $6.58 per issue
All prices are NET prices.
VAT will be added later in the checkout.
Tax calculation will be finalised during checkout.
Buy article
Get time limited or full article access on ReadCube.
$32.00
All prices are NET prices.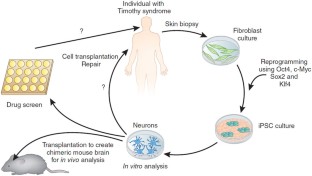 References
Breunig, J.J., Haydar, T.F. & Rakic, P. Neuron 70, 614–625 (2011).

Takahashi, K., Okita, K., Nakagawa, M. & Yamanaka, S. Nat. Protoc. 2, 3081–3089 (2007).

Park, I.H. et al. Cell 134, 877–886 (2008).

Maherali, N. et al. Cell Stem Cell 1, 55–70 (2007).

Brennand, K.J. et al. Nature 473, 221–225 (2011).

Apostolou, E. & Hochedlinger, K. Nature 474, 165–166 (2011).

Paşca, S.P. et al. Nat. Med. 17, 1657–1662 (2011).

Casanova, M.F., El-Baz, A., Vanbogaert, E., Narahari, P. & Switala, A. Brain Pathol. 20, 451–458 (2010).

Hardan, A.Y. et al. Psychiatry Res. Neuroimaging 174, 57–61 (2009).

Raznahan, A. Cereb. Cortex 20, 1332–1340 (2010).

Rakic, P. Nat. Rev. Neurosci. 10, 724–735 (2009).

Kang, H.J. et al. Nature 478, 483–489 (2011).
Ethics declarations
Competing interests
The authors declare no competing financial interests.
About this article
Cite this article
Huttner, A., Rakic, P. Diagnosis in a dish: your skin can help your brain. Nat Med 17, 1558–1559 (2011). https://doi.org/10.1038/nm.2599
Published:

Issue Date:

DOI: https://doi.org/10.1038/nm.2599
This article is cited by
Molecular Psychiatry (2013)