BRCA1 germline mutations lead to an increased risk of breast and ovarian cancer, but the mechanisms by which the product of this gene functions as a tumor suppressor have remained elusive. Now, analysis of a missense BRCA1 variant shows that it can epigenetically regulate an miRNA implicated in cancer, providing new mechanistic insights (pages 1275–1282).
Access options
Subscribe to Journal
Get full journal access for 1 year
$79.00
only $6.58 per issue
All prices are NET prices.
VAT will be added later in the checkout.
Tax calculation will be finalised during checkout.
Buy article
Get time limited or full article access on ReadCube.
$32.00
All prices are NET prices.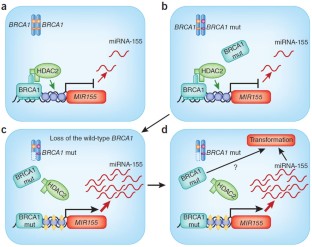 References
Ford, D. et al. Am. J. Hum. Genet. 62, 676–689 (1998).

Narod, S.A. & Foulkes, W.D. Nat. Rev. Cancer 4, 665–676 (2004).

Atchley, D.P. et al. J. Clin. Oncol. 26, 4282–4288 (2008).

Lee, M.S. et al. Cancer Res. 70, 4880–4890 (2010).

Morris, J.R. et al. Hum. Mol. Genet. 15, 599–606 (2006).

Chang, S., Biswas, K., Martin, B.K., Stauffer, S. & Sharan, S.K. J. Clin. Invest. 119, 3160–3171 (2009).

Chang, S. et al. Nat. Med. 17, 1275–1282 (2011).

Lovelock, P.K. et al. Breast Cancer Res. 9, R82 (2007).

O'Connell, R.M. et al. J. Exp. Med. 205, 585–594 (2008).

Costinean, S. et al. Blood 114, 1374–1382 (2009).
Ethics declarations
Competing interests
The authors declare no competing financial interests.
About this article
Cite this article
Velkova, A., Monteiro, A. Epigenetic tumor suppression by BRCA1. Nat Med 17, 1183–1185 (2011). https://doi.org/10.1038/nm.2493
Published:

Issue Date:

DOI: https://doi.org/10.1038/nm.2493