Abstract
Obesity-related hypertension has become an epidemic health problem and a major risk factor for the development of cardiovascular disease (CVD). Recent research on the pathophysiology of obesity has implicated a role for the hypothalamus in the pathogenesis of this condition1,2,3. However, it remains unknown whether the often-seen coupling of hypertension with obesity can also be explained by hypothalamic dysfunction, despite the emerging appreciation that many forms of hypertension are neurogenic in origin4,5,6,7,8,9,10,11,12,13. Our studies here revealed that acute activation of the proinflammatory protein nuclear factor κB (NF-κB) and its upstream activator IκB kinase-β (IKK-β, encoded by Ikbkb) in the mediobasal hypothalamus rapidly elevated blood pressure in mice independently of obesity. This form of hypothalamic inflammation-induced hypertension involved the sympathetic upregulation of hemodynamics and was reversed by sympathetic suppression. Loss-of-function studies further showed that NF-κB inhibition in the mediobasal hypothalamus counteracted obesity-related hypertension in a manner that was dissociable from changes in body weight. In addition, we found that pro-opiomelanocortin (POMC) neurons were crucial for the hypertensive effects of the activation of hypothalamic IKK-β and NF-κB, which underlie obesity-related hypertension. In conclusion, obesity-associated activation of IKK-β and NF-κB in the mediobasal hypothalamus—particularly in the hypothalamic POMC neurons—is a primary pathogenic link between obesity and hypertension. Breaking this pathogenic link may represent an avenue for controlling obesity-related hypertension and CVD without requiring obesity control.
Relevant articles
Open Access articles citing this article.
David C. Ensminger

,

Nicholas D. Wheeler

…

Noah T. Ashley

Scientific Reports Open Access 30 August 2022

Md Habibur Rahman

,

Anup Bhusal

…

Kyoungho Suk

Nature Communications Open Access 20 November 2020
Access options
Subscribe to Journal
Get full journal access for 1 year
$79.00
only $6.58 per issue
All prices are NET prices.
VAT will be added later in the checkout.
Tax calculation will be finalised during checkout.
Buy article
Get time limited or full article access on ReadCube.
$32.00
All prices are NET prices.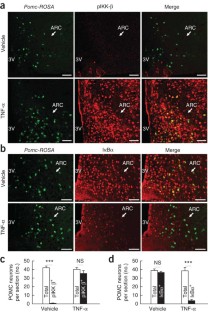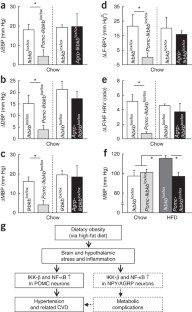 References
Schwartz, M.W. & Porte, D. Jr. Diabetes, obesity, and the brain. Science 307, 375–379 (2005).

Münzberg, H. & Myers, M.G. Jr. Molecular and anatomical determinants of central leptin resistance. Nat. Neurosci. 8, 566–570 (2005).

Howard, J.K. & Flier, J.S. Attenuation of leptin and insulin signaling by SOCS proteins. Trends Endocrinol. Metab. 17, 365–371 (2006).

Osborn, J.W., Fink, G.D., Sved, A.F., Toney, G.M. & Raizada, M.K. Circulating angiotensin II and dietary salt: converging signals for neurogenic hypertension. Curr. Hypertens. Rep. 9, 228–235 (2007).

Veerasingham, S.J. & Raizada, M.K. Brain renin-angiotensin system dysfunction in hypertension: recent advances and perspectives. Br. J. Pharmacol. 139, 191–202 (2003).

Veerasingham, S.J., Sellers, K.W. & Raizada, M.K. Functional genomics as an emerging strategy for the investigation of central mechanisms in experimental hypertension. Prog. Biophys. Mol. Biol. 84, 107–123 (2004).

Campese, V.M. et al. Reactive oxygen species stimulate central and peripheral sympathetic nervous system activity. Am. J. Physiol. Heart Circ. Physiol. 287, H695–H703 (2004).

Guyenet, P.G. The sympathetic control of blood pressure. Nat. Rev. Neurosci. 7, 335–346 (2006).

Wofford, M.R. & Hall, J.E. Pathophysiology and treatment of obesity hypertension. Curr. Pharm. Des. 10, 3621–3637 (2004).

Dampney, R.A. et al. Long-term regulation of arterial blood pressure by hypothalamic nuclei: some critical questions. Clin. Exp. Pharmacol. Physiol. 32, 419–425 (2005).

Haynes, W.G. Role of leptin in obesity-related hypertension. Exp. Physiol. 90, 683–688 (2005).

Rahmouni, K., Correia, M.L., Haynes, W.G. & Mark, A.L. Obesity-associated hypertension: new insights into mechanisms. Hypertension 45, 9–14 (2005).

Hall, J.E. et al. Obesity-induced hypertension: role of sympathetic nervous system, leptin, and melanocortins. J. Biol. Chem. 285, 17271–17276 (2010).

Shoelson, S.E. & Goldfine, A.B. Getting away from glucose: fanning the flames of obesity-induced inflammation. Nat. Med. 15, 373–374 (2009).

Hotamisligil, G.S. Inflammation and metabolic disorders. Nature 444, 860–867 (2006).

Lehrke, M. & Lazar, M.A. Inflamed about obesity. Nat. Med. 10, 126–127 (2004).

Petersen, K.F. & Shulman, G.I. Etiology of insulin resistance. Am. J. Med. 119, S10–S16 (2006).

Berg, A.H. & Scherer, P.E. Adipose tissue, inflammation and cardiovascular disease. Circ. Res. 96, 939–949 (2005).

Muoio, D.M. & Newgard, C.B. Obesity-related derangements in metabolic regulation. Annu. Rev. Biochem. 75, 367–401 (2006).

Schenk, S., Saberi, M. & Olefsky, J.M. Insulin sensitivity: modulation by nutrients and inflammation. J. Clin. Invest. 118, 2992–3002 (2008).

Duan, S.Z., Usher, M.G. & Mortensen, R.M. PPARs: the vasculature, inflammation and hypertension. Curr. Opin. Nephrol. Hypertens. 18, 128–133 (2009).

Harrison, D.G., Guzik, T.J., Goronzy, J. & Weyand, C. Is hypertension an immunologic disease? Curr. Cardiol. Rep. 10, 464–469 (2008).

Savoia, C. & Schiffrin, E.L. Inflammation in hypertension. Curr. Opin. Nephrol. Hypertens. 15, 152–158 (2006).

Shoelson, S.E., Lee, J. & Goldfine, A.B. Inflammation and insulin resistance. J. Clin. Invest. 116, 1793–1801 (2006).

Cai, D. NFkappaB-mediated metabolic inflammation in peripheral tissues versus central nervous system. Cell Cycle 8, 2542–2548 (2009).

Zhang, X. et al. Hypothalamic IKKβ/NF-κB and ER stress link overnutrition to energy imbalance and obesity. Cell 135, 61–73 (2008).

Kleinridders, A. et al. MyD88 signaling in the CNS is required for development of fatty acid-induced leptin resistance and diet-induced obesity. Cell Metab. 10, 249–259 (2009).

Posey, K.A. et al. Hypothalamic proinflammatory lipid accumulation, inflammation, and insulin resistance in rats fed a high-fat diet. Am. J. Physiol. Endocrinol. Metab. 296, E1003–E1012 (2009).

Goncalves, A.C. et al. Diabetic hypertensive leptin receptor-deficient db/db mice develop cardioregulatory autonomic dysfunction. Hypertension 53, 387–392 (2009).

Hayden, M.S. & Ghosh, S. Shared principles in NF-κB signaling. Cell 132, 344–362 (2008).

Hoffmann, A. & Baltimore, D. Circuitry of nuclear factor κB signaling. Immunol. Rev. 210, 171–186 (2006).

Vallabhapurapu, S. & Karin, M. Regulation and function of NF-κB transcription factors in the immune system. Annu. Rev. Immunol. 27, 693–733 (2009).

Li, Q. & Verma, I.M. NF-κB regulation in the immune system. Nat. Rev. Immunol. 2, 725–734 (2002).

Faustman, D. & Davis, M. TNF receptor 2 pathway: drug target for autoimmune diseases. Nat. Rev. Drug Discov. 9, 482–493 (2010).

Xu, A.W. et al. PI3K integrates the action of insulin and leptin on hypothalamic neurons. J. Clin. Invest. 115, 951–958 (2005).

Kuo, J.J., da Silva, A.A., Tallam, L.S. & Hall, J.E. Role of adrenergic activity in pressor responses to chronic melanocortin receptor activation. Hypertension 43, 370–375 (2004).

Greenfield, J.R. et al. Modulation of blood pressure by central melanocortinergic pathways. N. Engl. J. Med. 360, 44–52 (2009).

Tallam, L.S., Stec, D.E., Willis, M.A., da Silva, A.A. & Hall, J.E. Melanocortin-4 receptor–deficient mice are not hypertensive or salt-sensitive despite obesity, hyperinsulinemia, and hyperleptinemia. Hypertension 46, 326–332 (2005).

Farah, V.M., Joaquim, L.F., Bernatova, I. & Morris, M. Acute and chronic stress influence blood pressure variability in mice. Physiol. Behav. 83, 135–142 (2004).
Acknowledgements
We thank G. Barsh and A. Xu for Pomc-Cre and Agrp-Cre mice. This study was supported by US National Institutes of Health grants (RO1 DK078750 and RO1 AG 031774) (D.C.) and by an American Diabetes Association Junior Faculty Award (1-07-JF-09) (D.C.).
Ethics declarations
Competing interests
The authors declare no competing financial interests.
Supplementary information
About this article
Cite this article
Purkayastha, S., Zhang, G. & Cai, D. Uncoupling the mechanisms of obesity and hypertension by targeting hypothalamic IKK-β and NF-κB. Nat Med 17, 883–887 (2011). https://doi.org/10.1038/nm.2372
Received:

Accepted:

Published:

Issue Date:

DOI: https://doi.org/10.1038/nm.2372