Abstract
Bitter taste receptors (TAS2Rs) on the tongue probably evolved to evoke signals for avoiding ingestion of plant toxins. We found expression of TAS2Rs on human airway smooth muscle (ASM) and considered these to be avoidance receptors for inhalants that, when activated, lead to ASM contraction and bronchospasm. TAS2R agonists such as saccharin, chloroquine and denatonium evoked increased intracellular calcium ([Ca2+]i) in ASM in a Gβγ–, phospholipase Cβ (PLCβ)- and inositol trisphosphate (IP3) receptor–dependent manner, which would be expected to evoke contraction. Paradoxically, bitter tastants caused relaxation of isolated ASM and dilation of airways that was threefold greater than that elicited by β-adrenergic receptor agonists. The relaxation induced by TAS2Rs is associated with a localized [Ca2+]i response at the cell membrane, which opens large-conductance Ca2+-activated K+ (BKCa) channels, leading to ASM membrane hyperpolarization. Inhaled bitter tastants decreased airway obstruction in a mouse model of asthma. Given the need for efficacious bronchodilators for treating obstructive lung diseases, this pathway can be exploited for therapy with the thousands of known synthetic and naturally occurring bitter tastants.
Relevant articles
Open Access articles citing this article.
Wen Kang

,

Yiwen Wang

…

Sijing Xie

Stem Cell Research & Therapy Open Access 28 July 2022

Donghwa Kim

,

Alina Tokmakova

…

Stephen B. Liggett

Molecular Diagnosis & Therapy Open Access 20 May 2022

Kamila Tuzim

&

Agnieszka Korolczuk

Journal of Translational Medicine Open Access 21 October 2021
Access options
Subscribe to this journal
Receive 12 print issues and online access
$189.00 per year
only $15.75 per issue
Rent or buy this article
Get just this article for as long as you need it
$39.95
Prices may be subject to local taxes which are calculated during checkout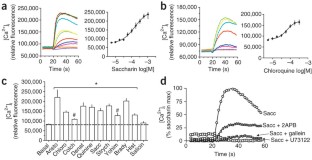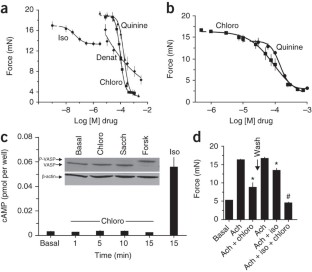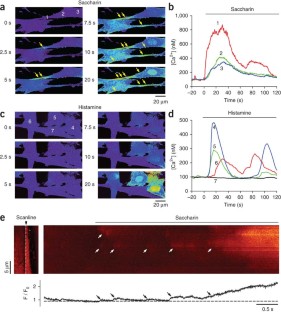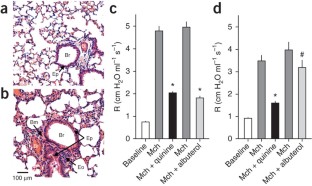 References
Vignola, A.M., Bonsignore, G., Chanez, P. & Bousquet, J. Fatal Asthma 139–155 (Marcel Dekker, New York, 1998).

Billington, C.K. & Penn, R.B. Signaling and regulation of G protein–coupled receptors in airway smooth muscle. Respir. Res. 4, 2–24 (2003).

Green, S.A. & Liggett, S.B. The Genetics of Asthma 67–90 (Marcel Dekker, New York, 1996).

Drazen, J.M., Silverman, E.K. & Lee, T.H. Heterogeneity of therapeutic responses in asthma. Br. Med. Bull. 56, 1054–1070 (2000).

Malmstrom, K. et al. Oral montelukast, inhaled beclomethasone and placebo for chronic asthma. A randomized, controlled trial. Montelukast/Beclomethasone Study Group. Ann. Intern. Med. 130, 487–495 (1999).

Einstein, R. et al. Alternative splicing of the G protein–coupled receptor superfamily in human airway smooth muscle diversifies the complement of receptors. Proc. Natl. Acad. Sci. USA 105, 5230–5235 (2008).

Misior, A.M. et al. Glucocorticoid- and protein kinase A–dependent transcriptome regulation in airway smooth muscle. Am. J. Respir. Cell Mol. Biol. 41, 24–39 (2009).

Bossé, Y., Maghni, K. & Hudson, T.J. 1α,25-dihydroxy-vitamin D3 stimulation of bronchial smooth muscle cells induces autocrine, contractility and remodeling processes. Physiol. Genomics 29, 161–168 (2007).

Meyerhof, W. Elucidation of mammalian bitter taste. Rev. Physiol. Biochem. Pharmacol. 154, 37–72 (2005).

Meyerhof, W. et al. The molecular receptive ranges of human TAS2R bitter taste receptors. Chem. Senses 35, 157–170 (2010).

Chandrashekar, J. et al. T2Rs function as bitter taste receptors. Cell 100, 703–711 (2000).

Adler, E. et al. A novel family of mammalian taste receptors. Cell 100, 693–702 (2000).

Chandrashekar, J., Hoon, M.A., Ryba, N.J. & Zuker, C.S. The receptors and cells for mammalian taste. Nature 444, 288–294 (2006).

Lombardo, L.J. & Balmes, J.R. Occupational asthma: a review. Environ. Health Perspect. 108 Suppl 4, 697–704 (2000).

An, S.S., Fabry, B., Trepat, X., Wang, N. & Fredberg, J.J. Do biophysical properties of the airway smooth muscle in culture predict airway hyperresponsiveness? Am. J. Respir. Cell Mol. Biol. 35, 55–64 (2006).

Martin, G. et al. Interleukin-4 activates large-conductance, calcium-activated potassium (BKCa) channels in human airway smooth muscle cells. Exp. Physiol. 93, 908–918 (2008).

Morin, C., Sirois, M., Echave, V., Gomes, M.M. & Rousseau, E. Functional effects of 20-HETE on human bronchi: hyperpolarization and relaxation due to BKCa channel activation. Am. J. Physiol. Lung Cell. Mol. Physiol. 293, L1037–L1044 (2007).

Kotlikoff, M.I. & Kamm, K.E. Molecular mechanisms of β-adrenergic relaxation of airway smooth muscle. Annu. Rev. Physiol. 58, 115–141 (1996).

Baxter, D.F. et al. A novel membrane potential-sensitive fluorescent dye improves cell-based assays for ion channels. J. Biomol. Screen. 7, 79–85 (2002).

Fakler, B. & Adelman, J.P. Control of KCa channels by calcium nano/microdomains. Neuron 59, 873–881 (2008).

Shah, A.S., Ben Shahar, Y., Moninger, T.O., Kline, J.N. & Welsh, M.J. Motile cilia of human airway epithelia are chemosensory. Science 325, 1131–1134 (2009).

Finger, T.E. et al. Solitary chemoreceptor cells in the nasal cavity serve as sentinels of respiration. Proc. Natl. Acad. Sci. USA 100, 8981–8986 (2003).

Brockhoff, A., Behrens, M., Massarotti, A., Appendino, G. & Meyerhof, W. Broad tuning of the human bitter taste receptor hTAS2R46 to various sesquiterpene lactones, clerodane and labdane diterpenoids, strychnine and denatonium. J. Agric. Food Chem. 55, 6236–6243 (2007).

Sbarbati, A. et al. Acyl homoserine lactones induce early response in the airway. Anat. Rec. (Hoboken) 292, 439–448 (2009).

Panebra, A., Schwarb, M.R., Glinka, C.B. & Liggett, S.B. Heterogeneity of transcription factor expression and regulation in human airway epithelial and smooth muscle cells. Am. J. Physiol. Lung Cell Mol. Physiol. 293, L453–L462 (2007).

Liggett, S.B. et al. Altered patterns of agonist-stimulated cAMP accumulation in cells expressing mutant β2-adrenergic receptors lacking phosphorylation sites. Mol. Pharmacol. 36, 641–646 (1989).

McGraw, D.W. et al. Airway smooth muscle prostaglandin-EP1 receptors directly modulate β2-adrenergic receptors within a unique heterodimeric complex. J. Clin. Invest. 116, 1400–1409 (2006).

Yang, X.R. et al. Multiple ryanodine receptor subtypes and heterogeneous ryanodine receptor-gated Ca2+ stores in pulmonary arterial smooth muscle cells. Am. J. Physiol. Lung Cell. Mol. Physiol. 289, L338–L348 (2005).

Zhang, W.M. et al. ET-1 activates Ca2+ sparks in PASMC: local Ca2+ signaling between inositol trisphosphate and ryanodine receptors. Am. J. Physiol. Lung Cell. Mol. Physiol. 285, L680–L690 (2003).

Cheng, H., Lederer, W.J. & Cannell, M.B. Calcium sparks: elementary events underlying excitation-contraction coupling in heart muscle. Science 262, 740–744 (1993).

Small, K.M. et al. Polymorphisms of the cardiac presynaptic α2C adrenergic receptors: diverse intragenic variability with haplotype-specific functional effects. Proc. Natl. Acad. Sci. USA 101, 13020–13025 (2004).

Livak, K.J. & Schmittgen, T.D. Analysis of relative gene expression data using real-time quantitative PCR and the 2(–ΔΔC t) method. Methods 25, 402–408 (2001).

McGraw, D.W. et al. Crosstalk between Gi and Gq/Gs pathways in airway smooth muscle regulates bronchial contractility and relaxation. J. Clin. Invest. 117, 1391–1398 (2007).
Acknowledgements
This work was supported by US National Heart, Lung, and Blood Institute grants HL104119 (to W.C.H.W.), HL045967 and HL071609 (to S.B.L.), HL071835 and HL075134 (to J.S.K.S.) and HL087560 (to D.A.D.).
Ethics declarations
Competing interests
The authors declare no competing financial interests.
Supplementary information
About this article
Cite this article
Deshpande, D., Wang, W., McIlmoyle, E. et al. Bitter taste receptors on airway smooth muscle bronchodilate by localized calcium signaling and reverse obstruction. Nat Med 16, 1299–1304 (2010). https://doi.org/10.1038/nm.2237
Received:

Accepted:

Published:

Issue Date:

DOI: https://doi.org/10.1038/nm.2237