Abstract
Migraine with aura is a common, debilitating, recurrent headache disorder associated with transient and reversible focal neurological symptoms1. A role has been suggested for the two-pore domain (K2P) potassium channel, TWIK-related spinal cord potassium channel (TRESK, encoded by KCNK18), in pain pathways and general anaesthesia2. We therefore examined whether TRESK is involved in migraine by screening the KCNK18 gene in subjects diagnosed with migraine. Here we report a frameshift mutation, F139WfsX24, which segregates perfectly with typical migraine with aura in a large pedigree. We also identified prominent TRESK expression in migraine-salient areas such as the trigeminal ganglion. Functional characterization of this mutation demonstrates that it causes a complete loss of TRESK function and that the mutant subunit suppresses wild-type channel function through a dominant-negative effect, thus explaining the dominant penetrance of this allele. These results therefore support a role for TRESK in the pathogenesis of typical migraine with aura and further support the role of this channel as a potential therapeutic target.
Relevant articles
Open Access articles citing this article.
Arnaud Landra-Willm

,

Ameya Karapurkar

…

Guillaume Sandoz

Nature Communications Open Access 01 March 2023

Lou Grangeon

,

Kristin Sophie Lange

…

Anne Ducros

The Journal of Headache and Pain Open Access 20 February 2023

Hilal Eren Gozel

,

Kıvanç Kök

…

Sadrettin Pence

Scientific Reports Open Access 29 September 2021
Access options
Subscribe to this journal
Receive 12 print issues and online access
$209.00 per year
only $17.42 per issue
Rent or buy this article
Prices vary by article type
from$1.95
to$39.95
Prices may be subject to local taxes which are calculated during checkout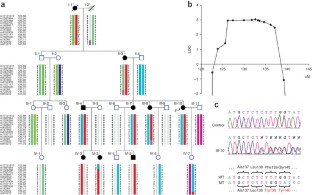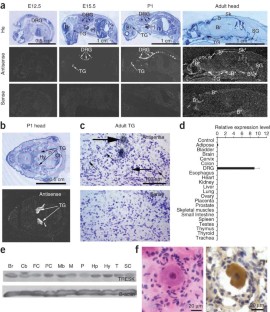 References
Lipton, R.B., Stewart, W.F., Diamond, S., Diamond, M.L. & Reed, M. Prevalence and burden of migraine in the United States: data from the American Migraine Study II. Headache 41, 646–657 (2001).

Huang, D.Y., Yu, B.W. & Fan, Q.W. Roles of TRESK, a novel two-pore domain K+ channel, in pain pathway and general anesthesia. Neurosci. Bull. 24, 166–172 (2008).

Bolay, H. et al. Intrinsic brain activity triggers trigeminal meningeal afferents in a migraine model. Nat. Med. 8, 136–142 (2002).

Zhang, X. et al. Activation of meningeal nociceptors by cortical spreading depression: implications for migraine with aura. J. Neurosci. 30, 8807–8814 (2010).

Iadecola, C. From CSD to headache: a long and winding road. Nat. Med. 8, 110–112 (2002).

De Fusco, M. et al. Haploinsufficiency of ATP1A2 encoding the Na+/K+ pump α2 subunit associated with familial hemiplegic migraine type 2. Nat. Genet. 33, 192–196 (2003).

Dichgans, M. et al. Mutation in the neuronal voltage-gated sodium channel SCN1A in familial hemiplegic migraine. Lancet 366, 371–377 (2005).

Ophoff, R.A. et al. Familial hemiplegic migraine and episodic ataxia type-2 are caused by mutations in the Ca2+ channel gene CACNL1A4. Cell 87, 543–552 (1996).

de Vries, B., Frants, R.R., Ferrari, M.D. & van den Maagdenberg, A.M. Molecular genetics of migraine. Hum. Genet. 126, 115–132 (2009).

Ramagopalan, S.V., Ramscar, N.E. & Cader, M.Z. Molecular mechanisms of migraine? J. Neurol. 254, 1629–1635 (2007).

Enyedi, P. & Czirjak, G. Molecular background of leak K+ currents: two-pore domain potassium channels. Physiol. Rev. 90, 559–605 (2010).

Czirják, G., Toth, Z.E. & Enyedi, P. The two-pore domain K+ channel, TRESK, is activated by the cytoplasmic calcium signal through calcineurin. J. Biol. Chem. 279, 18550–18558 (2004).

Mathie, A. Neuronal two-pore-domain potassium channels and their regulation by G protein–coupled receptors. J. Physiol. (Lond.) 578, 377–385 (2007).

Smith, H.S. Calcineurin as a nociceptor modulator. Pain Physician 12, E309–E318 (2009).

Czirják, G. & Enyedi, P. Targeting of calcineurin to an NFAT-like docking site is required for the calcium-dependent activation of the background K+ channel, TRESK. J. Biol. Chem. 281, 14677–14682 (2006).

Liu, C., Au, J.D., Zou, H.L., Cotten, J.F. & Yost, C.S. Potent activation of the human tandem pore domain K channel TRESK with clinical concentrations of volatile anesthetics. Anesth. Analg. 99, 1715–1722 (2004).

Piper, R.D. & Lambert, G.A. Inhalational anesthetics inhibit spreading depression: relevance to migraine. Cephalalgia 16, 87–92 (1996).

Cader, Z.M. et al. Significant linkage to migraine with aura on chromosome 11q24. Hum. Mol. Genet. 12, 2511–2517 (2003).

Abecasis, G.R., Cherny, S.S., Cookson, W.O. & Cardon, L.R. Merlin—rapid analysis of dense genetic maps using sparse gene flow trees. Nat. Genet. 30, 97–101 (2002).

Sano, Y. et al. A novel two-pore domain K+ channel, TRESK, is localized in the spinal cord. J. Biol. Chem. 278, 27406–27412 (2003).

Yoo, S. et al. Regional expression of the anesthetic-activated potassium channel TRESK in the rat nervous system. Neurosci. Lett. 465, 79–84 (2009).

Dobler, T. et al. TRESK two-pore-domain K+ channels constitute a significant component of background potassium currents in murine dorsal root ganglion neurones. J. Physiol. (Lond.) 585, 867–879 (2007).

Wuttke, T.V. et al. Peripheral nerve hyperexcitability due to dominant-negative KCNQ2 mutations. Neurology 69, 2045–2053 (2007).

Zerr, P., Adelman, J.P. & Maylie, J. Episodic ataxia mutations in Kv1.1 alter potassium channel function by dominant negative effects or haploinsufficiency. J. Neurosci. 18, 2842–2848 (1998).

London, B. et al. Long QT and ventricular arrhythmias in transgenic mice expressing the N terminus and first transmembrane segment of a voltage-gated potassium channel. Proc. Natl. Acad. Sci. USA 95, 2926–2931 (1998).

Barel, O. et al. Maternally inherited Birk Barel mental retardation dysmorphism syndrome caused by a mutation in the genomically imprinted potassium channel KCNK9. Am. J. Hum. Genet. 83, 193–199 (2008).

Ferrari, U. et al. Calcineurin inhibitor–induced headache: clinical characteristics and possible mechanisms. Headache 45, 211–214 (2005).

Lemos, C. et al. Familial clustering of migraine: further evidence from a Portuguese study. Headache 49, 404–411 (2009).

Colson, N.J., Lea, R.A., Quinlan, S., MacMillan, J. & Griffiths, L.R. Investigation of hormone receptor genes in migraine. Neurogenetics 6, 17–23 (2005).

The International Classification of Headache Disorders. 2nd edition. Cephalalgia 24 Suppl 1, 9–160 (2004).
Acknowledgements
We thank the subjects and their families for participating in the study and M.K. Charles, M. Albanese, M. Imbeau, A. Anton, S. Meilleur and F. Fernandez for technical assistance. Funding was kindly provided by Genome Canada, Genome Quebec, Emerillon Therapeutics, the Wellcome Trust and Pfizer. M.Z.C. was supported by the Medical Research Council (UK). J.-F.P. was supported by an industrial postdoctoral fellowship from the Natural Sciences and Engineering Research Council of Canada.
Ethics declarations
Competing interests
The authors declare no competing financial interests.
Supplementary information
About this article
Cite this article
Lafrenière, R., Cader, M., Poulin, JF. et al. A dominant-negative mutation in the TRESK potassium channel is linked to familial migraine with aura. Nat Med 16, 1157–1160 (2010). https://doi.org/10.1038/nm.2216
Received:

Accepted:

Published:

Issue Date:

DOI: https://doi.org/10.1038/nm.2216