Abstract
Brain metastasis frequently occurs in individuals with cancer and is often fatal. We used multiphoton laser scanning microscopy to image the single steps of metastasis formation in real time. Thus, it was possible to track the fate of individual metastasizing cancer cells in vivo in relation to blood vessels deep in the mouse brain over minutes to months. The essential steps in this model were arrest at vascular branch points, early extravasation, persistent close contacts to microvessels and perivascular growth by vessel cooption (melanoma) or early angiogenesis (lung cancer). Inefficient steps differed between the tumor types. Long-term dormancy was only observed for single perivascular cancer cells, some of which moved continuously. Vascular endothelial growth factor-A (VEGF-A) inhibition induced long-term dormancy of lung cancer micrometastases by preventing angiogenic growth to macrometastases. The ability to image the establishment of brain metastases in vivo provides new insights into their evolution and response to therapies.
Your institute does not have access to this article
Relevant articles
Open Access articles citing this article.
Victor O. Oria

,

Hongyi Zhang

…

Lucia B. Jilaveanu

Cellular and Molecular Life Sciences Open Access 23 June 2022

Lucia Borriello

,

Anouchka Coste

…

David Entenberg

Nature Communications Open Access 02 February 2022
Access options
Subscribe to Journal
Get full journal access for 1 year
$59.00
only $4.92 per issue
All prices are NET prices.
VAT will be added later in the checkout.
Tax calculation will be finalised during checkout.
Buy article
Get time limited or full article access on ReadCube.
$32.00
All prices are NET prices.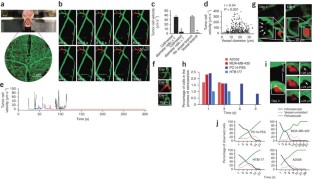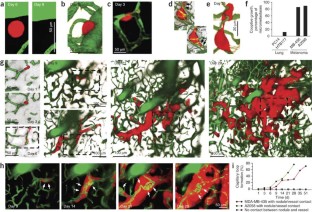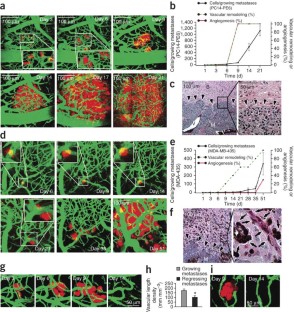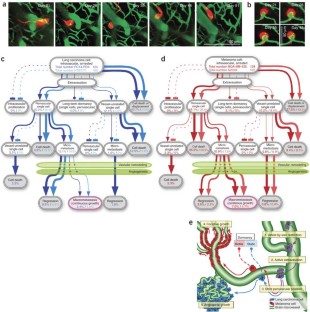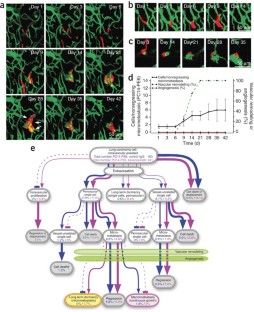 References
Steeg, P.S. Tumor metastasis: mechanistic insights and clinical challenges. Nat. Med. 12, 895–904 (2006).

Palmieri, D., Chambers, A.F., Felding-Habermann, B., Huang, S. & Steeg, P.S. The biology of metastasis to a sanctuary site. Clin. Cancer Res. 13, 1656–1662 (2007).

Wyckoff, J.B., Jones, J.G., Condeelis, J.S. & Segall, J.E. A critical step in metastasis: in vivo analysis of intravasation at the primary tumor. Cancer Res. 60, 2504–2511 (2000).

Chambers, A.F., Groom, A.C. & MacDonald, I.C. Dissemination and growth of cancer cells in metastatic sites. Nat. Rev. Cancer 2, 563–572 (2002).

Al-Mehdi, A.B. et al. Intravascular origin of metastasis from the proliferation of endothelium-attached tumor cells: a new model for metastasis. Nat. Med. 6, 100–102 (2000).

Yamauchi, K. et al. Development of real-time subcellular dynamic multicolor imaging of cancer-cell trafficking in live mice with a variable-magnification whole-mouse imaging system. Cancer Res. 66, 4208–4214 (2006).

Ito, S. et al. Real-time observation of micrometastasis formation in the living mouse liver using a green fluorescent protein gene-tagged rat tongue carcinoma cell line. Int. J. Cancer 93, 212–217 (2001).

Kedrin, D. et al. Intravital imaging of metastatic behavior through a mammary imaging window. Nat. Methods 5, 1019–1021 (2008).

Fidler, I.J., Yano, S., Zhang, R.D., Fujimaki, T. & Bucana, C.D. The seed and soil hypothesis: vascularisation and brain metastases. Lancet Oncol. 3, 53–57 (2002).

Seitz, G. et al. Imaging of cell trafficking and metastases of paediatric rhabdomyosarcoma. Cell Prolif. 41, 365–374 (2008).

Leenders, W.P. et al. Antiangiogenic therapy of cerebral melanoma metastases results in sustained tumor progression via vessel co-option. Clin. Cancer Res. 10, 6222–6230 (2004).

Luzzi, K.J. et al. Multistep nature of metastatic inefficiency: dormancy of solitary cells after successful extravasation and limited survival of early micrometastases. Am. J. Pathol. 153, 865–873 (1998).

Brown, E.B. et al. In vivo measurement of gene expression, angiogenesis and physiological function in tumors using multiphoton laser scanning microscopy. Nat. Med. 7, 864–868 (2001).

Winkler, F. et al. Kinetics of vascular normalization by VEGFR2 blockade governs brain tumor response to radiation: role of oxygenation, angiopoietin-1 and matrix metalloproteinases. Cancer Cell 6, 553–563 (2004).

Helmchen, F. & Denk, W. Deep tissue two-photon microscopy. Nat. Methods 2, 932–940 (2005).

Hoffman, R.M. Advantages of multi-color fluorescent proteins for whole-body and in vivo cellular imaging. J. Biomed. Opt. 10, 41202 (2005).

Rae, J.M., Creighton, C.J., Meck, J.M., Haddad, B.R. & Johnson, M.D. MDA-MB-435 cells are derived from M14 melanoma cells—a loss for breast cancer, but a boon for melanoma research. Breast Cancer Res. Treat. 104, 13–19 (2007).

Döme, B., Timar, J. & Paku, S. A novel concept of glomeruloid body formation in experimental cerebral metastases. J. Neuropathol. Exp. Neurol. 62, 655–661 (2003).

Townson, J.L. & Chambers, A.F. Dormancy of solitary metastatic cells. Cell Cycle 5, 1744–1750 (2006).

Scherbarth, S. & Orr, F.W. Intravital videomicroscopic evidence for regulation of metastasis by the hepatic microvasculature: effects of interleukin-1α on metastasis and the location of B16F1 melanoma cell arrest. Cancer Res. 57, 4105–4110 (1997).

Wood, S. Pathogenesis of metastasis formation observed in vivo in the rabbit ear chamber. AMA Arch. Pathol. 66, 550–568 (1958).

Kawaguchi, T., Tobai, S. & Nakamura, K. Extravascular migration of tumor cells in the brain: an electron microscopic study. Invasion Metastasis 2, 40–50 (1982).

Chambers, A.F., MacDonald, I.C., Schmidt, E.E., Morris, V.L. & Groom, A.C. Clinical targets for anti-metastasis therapy. Adv. Cancer Res. 79, 91–121 (2000).

Koop, S. et al. Fate of melanoma cells entering the microcirculation: over 80% survive and extravasate. Cancer Res. 55, 2520–2523 (1995).

Holash, J. et al. Vessel cooption, regression, and growth in tumors mediated by angiopoietins and VEGF. Science 284, 1994–1998 (1999).

Calabrese, C. et al. A perivascular niche for brain tumor stem cells. Cancer Cell 11, 69–82 (2007).

Yano, S. et al. Expression of vascular endothelial growth factor is necessary but not sufficient for production and growth of brain metastasis. Cancer Res. 60, 4959–4967 (2000).

Küsters, B. et al. Vascular endothelial growth factor-A(165) induces progression of melanoma brain metastases without induction of sprouting angiogenesis. Cancer Res. 62, 341–345 (2002).

Küsters, B. et al. Micronodular transformation as a novel mechanism of VEGF-A–induced metastasis. Oncogene 26, 5808–5815 (2007).

Weis, S., Cui, J., Barnes, L. & Cheresh, D. Endothelial barrier disruption by VEGF-mediated Src activity potentiates tumor cell extravasation and metastasis. J. Cell Biol. 167, 223–229 (2004).

Holmgren, L., O'Reilly, M.S. & Folkman, J. Dormancy of micrometastases: balanced proliferation and apoptosis in the presence of angiogenesis suppression. Nat. Med. 1, 149–153 (1995).

Bouvet, M. et al. In vivo color-coded imaging of the interaction of colon cancer cells and splenocytes in the formation of liver metastases. Cancer Res. 66, 11293–11297 (2006).

Ramaswamy, S., Ross, K.N., Lander, E.S. & Golub, T.R. A molecular signature of metastasis in primary solid tumors. Nat. Genet. 33, 49–54 (2003).

Kaye, A.H. & Laws, E.R. Brain Tumors: An Encyclopedic Approach. Ch. 49, 999–1026 (Churchill Livingstone, London, 2001).

Fidler, I.J. & Talmadge, J.E. Evidence that intravenously derived murine pulmonary melanoma metastases can originate from the expansion of a single tumor cell. Cancer Res. 46, 5167–5171 (1986).

Sellappan, S et al. Lineage infidelity of MDA-MB-435 cells: expression of melanocyte proteins in a breast cancer cell line. Cancer Res. 64, 3479–3485 (2004).

Schackert, G., Price, J.E., Bucana, C.D. & Fidler, I.J. Unique patterns of brain metastasis produced by different human carcinomas in athymic nude mice. Int. J. Cancer 44, 892–897 (1989).
Acknowledgements
F.W. and J.H. received funding for this work from the German Cancer Foundation (Deutsche Kebshilfe), and F.W. received a grant from the German Research Foundation (Deutsche Forschungsgemeinschaft; WI1930/4-1). J.H. received additional funding from the German Federal Ministry of Education and Research (Bundesministerium für Bildung und Forschung) and German Federal Ministry of Economics and Technology (Bundesministerium für Wirtschaft und Technologie) (16IN0675; 13N10171; 13N9268). Y.K. received a research grant from the Hypatia Foundation. We wish to thank C. Eggert for her excellent technical assistance, A. Ullrich, W. Hiddemann, R. Jain and U. Koedel for helpful discussions, K. Ogston for editing the manuscript and G. Mitteregger for her supervision of the animal facility. The PC14-PE6 human lung cancer cell line was kindly provided by I.J. Fidler, MD Anderson Cancer Center.
Supplementary information
About this article
Cite this article
Kienast, Y., von Baumgarten, L., Fuhrmann, M. et al. Real-time imaging reveals the single steps of brain metastasis formation. Nat Med 16, 116–122 (2010). https://doi.org/10.1038/nm.2072
Received:

Accepted:

Published:

Issue Date:

DOI: https://doi.org/10.1038/nm.2072