Abstract
Central nervous system nutrient sensing and afferent endocrine signaling have been established as parallel systems communicating metabolic status and energy availability in vertebrates. The only afferent endocrine signal known to require modification with a fatty acid side chain is the orexigenic hormone ghrelin. We find that the ghrelin O-acyl transferase (GOAT), which is essential for ghrelin acylation, is regulated by nutrient availability, depends on specific dietary lipids as acylation substrates and links ingested lipids to energy expenditure and body fat mass. These data implicate the ghrelin-GOAT system as a signaling pathway that alerts the central nervous system to the presence of dietary calories, rather than to their absence as is commonly accepted.
This is a preview of subscription content
Access options
Subscribe to Journal
Get full journal access for 1 year
$59.00
only $4.92 per issue
All prices are NET prices.
VAT will be added later in the checkout.
Tax calculation will be finalised during checkout.
Rent or Buy article
Get time limited or full article access on ReadCube.
from$8.99
All prices are NET prices.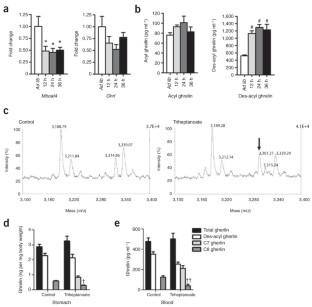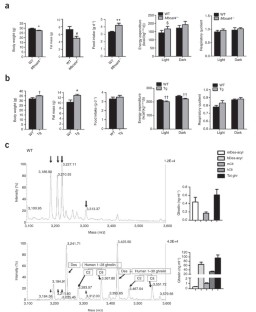 References
1

Obici, S. et al. J. Clin. Invest. 108, 1079–1085 (2001).

2

Schwartz, M.W., Woods, S.C., Porte, D. Jr., Seeley, R.J. & Baskin, D.G. Nature 404, 661–671 (2000).

3

Cao, H. et al. Cell 134, 933–944 (2008).

4

Gillum, M.P. et al. Cell 135, 813–824 (2008).

5

Kojima, M. et al. Nature 402, 656–660 (1999).

6

López, M. et al. Cell Metab. 7, 389–399 (2008).

7

Tschöp, M., Smiley, D.L. & Heiman, M.L. Nature 407, 908–913 (2000).

8

Kamegai, J. et al. Diabetes 50, 2438–2443 (2001).

9

Tschöp, M. et al. J. Endocrinol. Invest. 24, RC19–RC21 (2001).

10

Gutierrez, J.A. et al. Proc. Natl. Acad. Sci. USA 105, 6320–6325 (2008).

11

Yang, J., Brown, M.S., Liang, G., Grishin, N.V. & Goldstein, J.L. Cell 132, 387–396 (2008).

12

Nishi, Y. et al. Endocrinology 146, 2255–2264 (2005).

13

Drazen, D.L., Vahl, T.P., D'Alessio, D.A., Seeley, R.J. & Woods, S.C. Endocrinology 147, 23–30 (2006).

14

Liu, J. et al. J. Clin. Endocrinol. Metab. 93, 1980–1987 (2008).

15

Dole, V.P. & Rizack, M.A. J. Lipid Res. 2, 90–91 (1961).

16

Schwartz, G.J. et al. Cell Metab. 8, 281–288 (2008).

17

Zurier, R.B., Campbell, R.G., Hashim, S.A. & Van Itallie, T.B. N. Engl. J. Med. 274, 490–493 (1966).

18

Prior, I.A., Davidson, F., Salmond, C.E. & Czochanska, Z. Am. J. Clin. Nutr. 34, 1552–1561 (1981).

19

Pfluger, P.T. et al. Am. J. Physiol. Gastrointest. Liver Physiol. 294, G610–G618 (2008).

20

Gauna, C. et al. Am. J. Physiol. Endocrinol. Metab. 293, E697–E704 (2007).
Acknowledgements
We would like to thank J.E. Baker, B. Berger and J. Holland for their outstanding technical support. This manuscript was supported by the Leibniz Graduate College (H.K.) and by the US National Institutes of Health/National Institute of Diabetes and Digestive and Kidney Diseases Grant R01-DK069987 (to M.H.T.).
Ethics declarations
Competing interests
J.A.G., P.J.S., T.A.C., J.A.W., J.E.H. and M.L.H. are employees and stock holders of the Eli Lilly Company.
Supplementary information
About this article
Cite this article
Kirchner, H., Gutierrez, J., Solenberg, P. et al. GOAT links dietary lipids with the endocrine control of energy balance. Nat Med 15, 741–745 (2009). https://doi.org/10.1038/nm.1997
Received:

Accepted:

Published:

Issue Date: