Abstract
Nonobese diabetic (NOD) mice provide an excellent model of type 1 diabetes. The genetic contribution to this disease is complex, with more than 20 loci implicated in diabetes onset. One of the challenges for researchers using the NOD mouse model (and, indeed, other models of spontaneous autoimmune disease) has been the high density of sequence variation within candidate chromosomal segments. Furthermore, the scope for analyzing many putative disease loci via gene targeting has been hampered by the lack of NOD embryonic stem (ES) cells. We describe here the derivation of NOD ES cell lines capable of generating chimeric mice after stable genetic modification. These NOD ES cell lines also show efficient germline transmission, with offspring developing diabetes. The availability of these cells will not only enable the dissection of closely linked loci and the role they have in the onset of type 1 diabetes but also facilitate the generation of new transgenics.
Access options
Subscribe to Journal
Get full journal access for 1 year
$225.00
only $18.75 per issue
All prices are NET prices.
VAT will be added later in the checkout.
Rent or Buy article
Get time limited or full article access on ReadCube.
from$8.99
All prices are NET prices.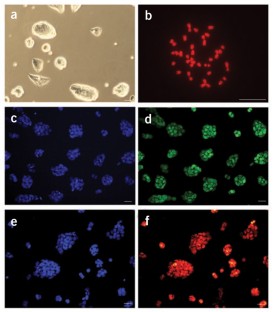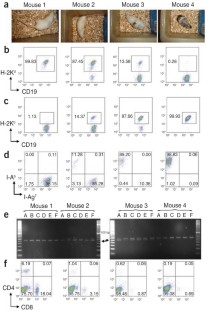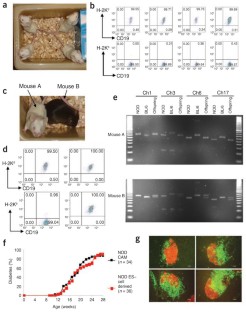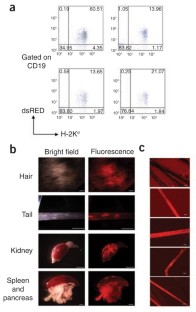 References
1

Redondo, M.J., Fain, P.R. & Eisenbarth, G.S. Genetics of type 1A diabetes. Recent Prog. Horm. Res. 56, 69–89 (2001).

2

Kikutani, H. & Makino, S. The murine autoimmune diabetes model: NOD and related strains. Adv. Immunol. 51, 285–322 (1992).

3

Wicker, L.S., Todd, J.A. & Peterson, L.B. Genetic control of autoimmune diabetes in the NOD mouse. Annu. Rev. Immunol. 13, 179–200 (1995).

4

Serreze, D.V. & Leiter, E.H. Genes and cellular requirements for autoimmune diabetes susceptibility in nonobese diabetic mice. Curr. Dir. Autoimmun. 4, 31–67 (2001).

5

Brook, F.A. et al. The derivation of highly germline-competent embryonic stem cells containing NOD-derived genome. Diabetes 52, 205–208 (2003).

6

Nagafuchi, S. et al. Establishment of an embryonic stem (ES) cell line derived from a non-obese diabetic (NOD) mouse: in vivo differentiation into lymphocytes and potential for germ line transmission. FEBS Lett. 455, 101–104 (1999).

7

Yang, W. et al. Pluripotin combined with LIF greatly promotes the derivation of ES cell lines from refractory strains. Stem Cells 27, 383–389 (2009).

8

Arai, S., Minjares, C., Nagafuchi, S. & Miyazaki, T. Improved experimental procedures for achieving efficient germ line transmission of nonobese diabetic (NOD)-derived embryonic stem cells. Exp. Diabesity Res. 5, 219–226 (2004).

9

Ying, Q.L. et al. The ground state of embryonic stem cell self-renewal. Nature 453, 519–523 (2008).

10

Buehr, M. et al. Capture of authentic embryonic stem cells from rat blastocysts. Cell 135, 1287–1298 (2008).

11

Silva, J. & Smith, A. Capturing pluripotency. Cell 132, 532–536 (2008).

12

Li, P. et al. Germline competent embryonic stem cells derived from rat blastocysts. Cell 135, 1299–1310 (2008).

13

Solter, D. & Knowles, B.B. Immunosurgery of mouse blastocyst. Proc. Natl. Acad. Sci. USA 72, 5099–5102 (1975).

14

McClive, P.J. & Sinclair, A.H. Rapid DNA extraction and PCR-sexing of mouse embryos. Mol. Reprod. Dev. 60, 225–226 (2001).

15

Bradley, A., Evans, M., Kaufman, M.H. & Robertson, E. Formation of germ-line chimaeras from embryo-derived teratocarcinoma cell lines. Nature 309, 255–256 (1984).

16

Brode, S., Raine, T., Zaccone, P. & Cooke, A. Cyclophosphamide-induced type-1 diabetes in the NOD Mouse is associated with a reduction in CD4+CD25+Foxp3+ regulatory T cells. J. Immunol 177, 6603–6612 (2006).

17

Guo, G. et al. Klf4 reverts developmentally programmed restriction of ground state pluripotency. Development 136, 1063–1069 (2009).

18

Wang, W. et al. Chromosomal transposition of PiggyBac in mouse embryonic stem cells. Proc. Natl. Acad. Sci. USA 105, 9290–9295 (2008).

19

Ying, Q.L., Stavridis, M., Griffiths, D., Li, M. & Smith, A. Conversion of embryonic stem cells into neuroectodermal precursors in adherent monoculture. Nat. Biotechnol. 21, 183–186 (2003).
Acknowledgements
We would like to thank G. Guo (Wellcome Trust Centre for Stem Cell Research) for providing the PiggyBac DsRED vector used in our studies, R. Zamoyska (University of Edinburgh) for the FITC-labeled antibody to H-2Kb and K. Tomonari (Fukui Medical School) for the KT3 antibody. We thank N. Holmes and J. Cooke for careful reading of our manuscript. We thank C. Bland and Y. Sawyer for technical assistance. We are grateful to the Wellcome Trust and the Medical Research Council for supporting this research.
Supplementary information
About this article
Cite this article
Nichols, J., Jones, K., Phillips, J. et al. Validated germline-competent embryonic stem cell lines from nonobese diabetic mice. Nat Med 15, 814–818 (2009). https://doi.org/10.1038/nm.1996
Received:

Accepted:

Published:

Issue Date: