Abstract
Although there have been major advances in the treatment of rheumatoid arthritis with the advent of biological agents, the mechanisms that drive cytokine production and sustain disease chronicity remain unknown. Tenascin-C (encoded by Tnc) is an extracellular matrix glycoprotein specifically expressed at areas of inflammation and tissue damage in inflamed rheumatoid joints. Here we show that mice that do not express tenascin-C show rapid resolution of acute joint inflammation and are protected from erosive arthritis. Intra-articular injection of tenascin-C promotes joint inflammation in vivo in mice, and addition of exogenous tenascin-C induces cytokine synthesis in explant cultures from inflamed synovia of individuals with rheumatoid arthritis. Moreover, in human macrophages and fibroblasts from synovia of individuals with rheumatoid arthritis, tenascin-C induces synthesis of proinflammatory cytokines via activation of Toll-like receptor 4 (TLR4). Thus, we have identified tenascin-C as a novel endogenous activator of TLR4-mediated immunity that mediates persistent synovial inflammation and tissue destruction in arthritic joint disease.
Relevant articles
Open Access articles citing this article.
Jinyun Zhao

,

Yi Sun

…

Chunyue Duan

Molecular Medicine Open Access 05 September 2023

Qionghong Xie

,

Min Zhang

…

Chuan-Ming Hao

Cell Death & Disease Open Access 15 December 2022

Isaac Francos-Quijorna

,

Marina Sánchez-Petidier

…

Elizabeth J. Bradbury

Nature Communications Open Access 25 May 2022
Access options
Subscribe to this journal
Receive 12 print issues and online access
$209.00 per year
only $17.42 per issue
Rent or buy this article
Prices vary by article type
from$1.95
to$39.95
Prices may be subject to local taxes which are calculated during checkout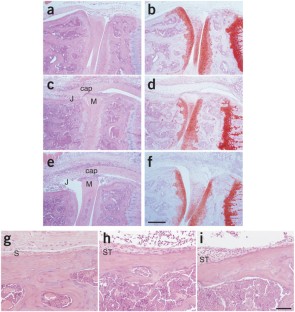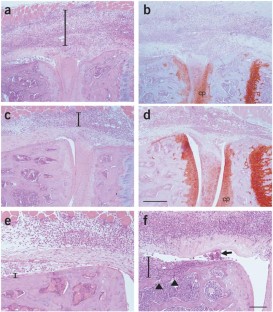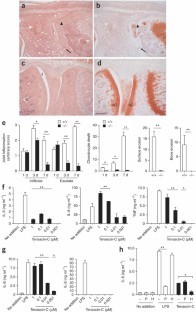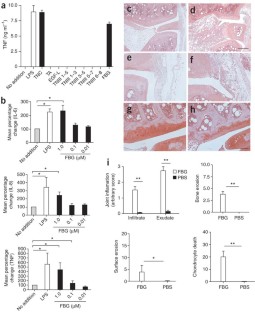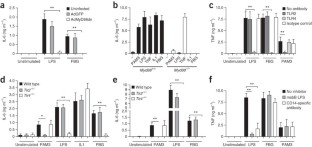 References
Smolen, J.S. & Maini, R.N. Interleukin-6: a new therapeutic target. Arthritis Res. Ther. 8 Suppl 2, S5 (2006).

Williams, R.O., Paleolog, E. & Feldmann, M. Cytokine inhibitors in rheumatoid arthritis and other autoimmune diseases. Curr. Opin. Pharmacol. 7, 412–417 (2007).

Brentano, F., Kyburz, D., Schorr, O., Gay, R. & Gay, S. The role of Toll-like receptor signalling in the pathogenesis of arthritis. Cell. Immunol. 233, 90–96 (2005).

O'Neill, L.A. Primer: Toll-like receptor signaling pathways—what do rheumatologists need to know? Nat. Clin. Pract. Rheumatol. 4, 319–327 (2008).

Matzinger, P. The danger model: a renewed sense of self. Science 296, 301–305 (2002).

Bianchi, M.E. DAMPs, PAMPs and alarmins: all we need to know about danger. J. Leukoc. Biol. 81, 1–5 (2007).

Gordon, S. Pattern recognition receptors: doubling up for the innate immune response. Cell 111, 927–930 (2002).

Medzhitov, R. & Janeway, C.A. Jr. Decoding the patterns of self and nonself by the innate immune system. Science 296, 298–300 (2002).

Radstake, T.R. et al. Expression of Toll-like receptors 2 and 4 in rheumatoid synovial tissue and regulation by proinflammatory cytokines interleukin-12 and interleukin-18 via interferon-γ. Arthritis Rheum. 50, 3856–3865 (2004).

Roelofs, M.F. et al. The expression of Toll-like receptors 3 and 7 in rheumatoid arthritis synovium is increased and costimulation of Toll-like receptors 3, 4, and 7/8 results in synergistic cytokine production by dendritic cells. Arthritis Rheum. 52, 2313–2322 (2005).

Sacre, S.M. et al. The Toll-like receptor adaptor proteins MyD88 and Mal/TIRAP contribute to the inflammatory and destructive processes in a human model of rheumatoid arthritis. Am. J. Pathol. 170, 518–525 (2007).

Sacre, S.M. et al. Inhibitors of TLR8 reduce TNF production from human rheumatoid synovial membrane cultures. J. Immunol. 181, 8002–8009 (2008).

Choe, J.Y., Crain, B., Wu, S.R. & Corr, M. Interleukin 1 receptor dependence of serum transferred arthritis can be circumvented by Toll-like receptor 4 signaling. J. Exp. Med. 197, 537–542 (2003).

Lee, E.K., Kang, S.M., Paik, D.J., Kim, J.M. & Youn, J. Essential roles of Toll-like receptor-4 signaling in arthritis induced by type II collagen antibody and LPS. Int. Immunol. 17, 325–333 (2005).

Abdollahi-Roodsaz, S. et al. Inhibition of Toll-like receptor 4 breaks the inflammatory loop in autoimmune destructive arthritis. Arthritis Rheum. 56, 2957–2967 (2007).

Vanags, D. et al. Therapeutic efficacy and safety of chaperonin 10 in patients with rheumatoid arthritis: a double-blind randomised trial. Lancet 368, 855–863 (2006).

Chiquet-Ehrismann, R. & Chiquet, M. Tenascins: regulation and putative functions during pathological stress. J. Pathol. 200, 488–499 (2003).

Cutolo, M., Picasso, M., Ponassi, M., Sun, M.Z. & Balza, E. Tenascin and fibronectin distribution in human normal and pathological synovium. J. Rheumatol. 19, 1439–1447 (1992).

McCachren, S.S. & Lightner, V.A. Expression of human tenascin in synovitis and its regulation by interleukin-1. Arthritis Rheum. 35, 1185–1196 (1992).

Salter, D.M. Tenascin is increased in cartilage and synovium from arthritic knees. Br. J. Rheumatol. 32, 780–786 (1993).

Chevalier, X., Groult, N., Larget-Piet, B., Zardi, L. & Hornebeck, W. Tenascin distribution in articular cartilage from normal subjects and from patients with osteoarthritis and rheumatoid arthritis. Arthritis Rheum. 37, 1013–1022 (1994).

Hasegawa, M. et al. Expression of large tenascin-C splice variants in synovial fluid of patients with rheumatoid arthritis. J. Orthop. Res. 25, 563–568 (2007).

Orend, G. Potential oncogenic action of tenascin-C in tumorigenesis. Int. J. Biochem. Cell Biol. 37, 1066–1083 (2005).

Brackertz, D., Mitchell, G.F. & Mackay, I.R. Antigen-induced arthritis in mice. I. Induction of arthritis in various strains of mice. Arthritis Rheum. 20, 841–850 (1977).

Brennan, F.M., Chantry, D., Jackson, A., Maini, R. & Feldmann, M. Inhibitory effect of TNF α antibodies on synovial cell interleukin-1 production in rheumatoid arthritis. Lancet 2, 244–247 (1989).

Fitzgerald, K.A., Rowe, D.C. & Golenbock, D.T. Endotoxin recognition and signal transduction by the TLR4/MD2-complex. Microbes Infect. 6, 1361–1367 (2004).

Jiang, Z. et al. CD14 is required for MyD88-independent LPS signaling. Nat. Immunol. 6, 565–570 (2005).

Coats, S.R., Do, C.T., Karimi-Naser, L.M., Braham, P.H. & Darveau, R.P. Antagonistic lipopolysaccharides block E. coli lipopolysaccharide function at human TLR4 via interaction with the human MD-2 lipopolysaccharide binding site. Cell. Microbiol. 9, 1191–1202 (2007).

Siri, A. et al. Human tenascin: primary structure, pre-mRNA splicing patterns and localization of the epitopes recognized by two monoclonal antibodies. Nucleic Acids Res. 19, 525–531 (1991).

Gondokaryono, S.P. et al. The extra domain A of fibronectin stimulates murine mast cells via toll-like receptor 4. J. Leukoc. Biol. 82, 657–665 (2007).

Taylor, K.R. et al. Recognition of hyaluronan released in sterile injury involves a unique receptor complex dependent on Toll-like receptor 4, CD44, and MD-2. J. Biol. Chem. 282, 18265–18275 (2007).

Kim, H.M. et al. Crystal structure of the TLR4–MD-2 complex with bound endotoxin antagonist Eritoran. Cell 130, 906–917 (2007).

Schaefer, L. et al. The matrix component biglycan is proinflammatory and signals through Toll-like receptors 4 and 2 in macrophages. J. Clin. Invest. 115, 2223–2233 (2005).

Foell, D., Wittkowski, H. & Roth, J. Mechanisms of disease: a 'DAMP' view of inflammatory arthritis. Nat. Clin. Pract. Rheumatol. 3, 382–390 (2007).

Taniguchi, N. et al. High mobility group box chromosomal protein 1 plays a role in the pathogenesis of rheumatoid arthritis as a novel cytokine. Arthritis Rheum. 48, 971–981 (2003).

Pullerits, R. et al. High mobility group box chromosomal protein 1, a DNA binding cytokine, induces arthritis. Arthritis Rheum. 48, 1693–1700 (2003).

Kokkola, R. et al. Successful treatment of collagen-induced arthritis in mice and rats by targeting extracellular high mobility group box chromosomal protein 1 activity. Arthritis Rheum. 48, 2052–2058 (2003).

Gutowski, N.J., Newcombe, J. & Cuzner, M.L. Tenascin-R and C in multiple sclerosis lesions: relevance to extracellular matrix remodelling. Neuropathol. Appl. Neurobiol. 25, 207–214 (1999).

Amin, K. et al. Inflammation and structural changes in the airways of patients with primary Sjogren's syndrome. Respir. Med. 95, 904–910 (2001).

Loots, M.A. et al. Differences in cellular infiltrate and extracellular matrix of chronic diabetic and venous ulcers versus acute wounds. J. Invest. Dermatol. 111, 850–857 (1998).

Keystone, E.C., Schorlemmer, H.U., Pope, C. & Allison, A.C. Zymosan-induced arthritis: a model of chronic proliferative arthritis following activation of the alternative pathway of complement. Arthritis Rheum. 20, 1396–1401 (1977).

van Lent, P.L. et al. Fcγ receptors directly mediate cartilage, but not bone, destruction in murine antigen-induced arthritis: uncoupling of cartilage damage from bone erosion and joint inflammation. Arthritis Rheum. 54, 3868–3877 (2006).
Acknowledgements
This paper is dedicated to B. Foxwell, an inspirational colleague and a good friend, who will be sadly missed. We thank R. Best for processing tissue, D. Essex for immunohistology and C. ffrench-Constant (University of Edinburgh) for the gift of the Tnc−/− mice. This work was funded by the Arthritis Research Campaign, The Kennedy Institute of Rheumatology Trustees and a UK Medical Research Council New Investigators Research Grant awarded to K.M. We are also grateful for support from the UK National Institute for Health Research Biomedical Research Centre funding scheme. G.O. was supported by Institut National du Cancer–Institut National de la Santé et de la Recherche Médicale and a Contrat d'interface with the Hospital Hautepierre.
Supplementary information
About this article
Cite this article
Midwood, K., Sacre, S., Piccinini, A. et al. Tenascin-C is an endogenous activator of Toll-like receptor 4 that is essential for maintaining inflammation in arthritic joint disease. Nat Med 15, 774–780 (2009). https://doi.org/10.1038/nm.1987
Received:

Accepted:

Published:

Issue Date:

DOI: https://doi.org/10.1038/nm.1987