Abstract
Although the transforming growth factor-β (TGF-β) pathway has been implicated in breast cancer metastasis, its in vivo dynamics and temporal-spatial involvement in organ-specific metastasis have not been investigated. Here we engineered a xenograft model system with a conditional control of the TGF-β–SMAD signaling pathway and a dual-luciferase reporter system for tracing both metastatic burden and TGF-β signaling activity in vivo. Strong TGF-β signaling in osteolytic bone lesions is suppressed directly by genetic and pharmacological disruption of the TGF-β–SMAD pathway and indirectly by inhibition of osteoclast function with bisphosphonates. Notably, disruption of TGF-β signaling early in metastasis can substantially reduce metastasis burden but becomes less effective when bone lesions are well established. Our in vivo system for real-time manipulation and detection of TGF-β signaling provides a proof of principle for using similar strategies to analyze the in vivo dynamics of other metastasis-associated signaling pathways and will expedite the development and characterization of therapeutic agents.
Relevant articles
Open Access articles citing this article.
Jiacheng Huang

,

Lele Zhang

…

Yiting Qiao

Signal Transduction and Targeted Therapy Open Access 23 April 2021

Boyan Wang

,

Yi Wang

…

Andy Peng Xiang

Stem Cell Research & Therapy Open Access 18 January 2021

Manni Wang

,

Fan Xia

…

Xiawei Wei

Bone Research Open Access 29 July 2020
Access options
Subscribe to Journal
Get full journal access for 1 year
$79.00
only $6.58 per issue
All prices are NET prices.
VAT will be added later in the checkout.
Tax calculation will be finalised during checkout.
Buy article
Get time limited or full article access on ReadCube.
$32.00
All prices are NET prices.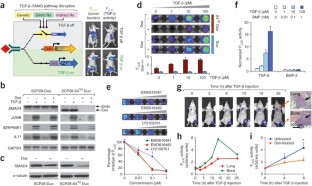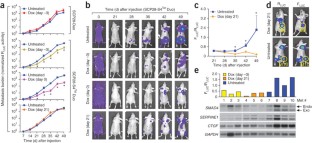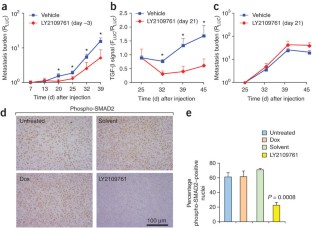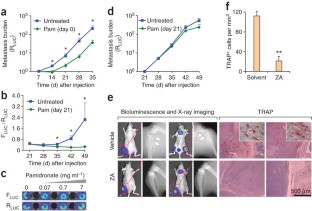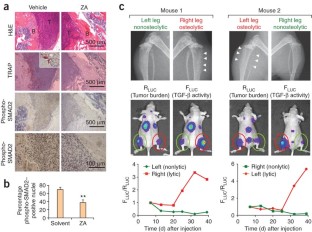 References
Yingling, J.M., Blanchard, K.L. & Sawyer, J.S. Development of TGF-β signalling inhibitors for cancer therapy. Nat. Rev. Drug Discov. 3, 1011–1022 (2004).

Bierie, B. & Moses, H.L. Tumour microenvironment: TGF-β: the molecular Jekyll and Hyde of cancer. Nat. Rev. Cancer 6, 506–520 (2006).

Dumont, N. & Arteaga, C.L. Targeting the TGF-β signaling network in human neoplasia. Cancer Cell 3, 531–536 (2003).

Massagué, J. TGF-β in cancer. Cell 134, 215–230 (2008).

Yin, J.J. et al. TGF-β signaling blockade inhibits PTHrP secretion by breast cancer cells and bone metastases development. J. Clin. Invest. 103, 197–206 (1999).

Padua, D. et al. TGF-β primes breast tumors for lung metastasis seeding through angiopoietin-like 4. Cell 133, 66–77 (2008).

Kang, Y. et al. Breast cancer bone metastasis mediated by the Smad tumor suppressor pathway. Proc. Natl. Acad. Sci. USA 102, 13909–13914 (2005).

Muraoka-Cook, R.S. et al. Activated type I TGF-β receptor kinase enhances the survival of mammary epithelial cells and accelerates tumor progression. Oncogene 25, 3408–3423 (2006).

Mundy, G.R. Metastasis to bone: causes, consequences and therapeutic opportunities. Nat. Rev. Cancer 2, 584–593 (2002).

Roodman, G.D. Mechanisms of bone metastasis. N. Engl. J. Med. 350, 1655–1664 (2004).

Guise, T.A. et al. Molecular mechanisms of breast cancer metastases to bone. Clin. Breast Cancer 5 Suppl, S46–S53 (2005).

Pfeilschifter, J. & Mundy, G.R. Modulation of type β transforming growth factor activity in bone cultures by osteotropic hormones. Proc. Natl. Acad. Sci. USA 84, 2024–2028 (1987).

Dallas, S.L., Rosser, J.L., Mundy, G.R. & Bonewald, L.F. Proteolysis of latent transforming growth factor-β (TGF-β)-binding protein-1 by osteoclasts. A cellular mechanism for release of TGF-β from bone matrix. J. Biol. Chem. 277, 21352–21360 (2002).

Kang, Y. et al. A multigenic program mediating breast cancer metastasis to bone. Cancer Cell 3, 537–549 (2003).

Minn, A.J. et al. Distinct organ-specific metastatic potential of individual breast cancer cells and primary tumors. J. Clin. Invest. 115, 44–55 (2005).

Zawel, L. et al. Human SMAD3 and SMAD4 are sequence-specific transcription activators. Mol. Cell 1, 611–617 (1998).

Lin, A.H., Luo, J., Mondshein, L.H., ten Dijke, P., Vivien, D., Contag, C.H. & Wyss-Coray, T. Global analysis of Smad2/3-dependent TGF-β signaling in living mice reveals prominent tissue-specific responses to injury. J. Immunol. 175, 547–554 (2005).

Melisi, D. et al. LY2109761, a novel transforming growth factor β receptor type I and type II dual inhibitor, as a therapeutic approach to suppressing pancreatic cancer metastasis. Mol. Cancer Ther. 7, 829–840 (2008).

Li, H.Y. et al. Optimization of a dihydropyrrolopyrazole series of transforming growth factor-β type I receptor kinase domain inhibitors: discovery of an orally bioavailable transforming growth factor-β receptor type I inhibitor as antitumor agent. J. Med. Chem. 51, 2302–2306 (2008).

Russell, R.G. et al. Bisphosphonates: an update on mechanisms of action and how these relate to clinical efficacy. Ann. NY Acad. Sci. 1117, 209–257 (2007).

Gross, S. & Piwnica-Worms, D. Spying on cancer: molecular imaging in vivo with genetically encoded reporters. Cancer Cell 7, 5–15 (2005).

Gelovani Tjuvajev, J. & Blasberg, R.G. In vivo imaging of molecular-genetic targets for cancer therapy. Cancer Cell 3, 327–332 (2003).

Deroose, C.M. et al. Multimodality imaging of tumor xenografts and metastases in mice with combined small-animal PET, small-animal CT and bioluminescence imaging. J. Nucl. Med. 48, 295–303 (2007).

Hoffman, R.M. Imaging cancer dynamics in vivo at the tumor and cellular level with fluorescent proteins. Clin. Exp. Metastasis 26, 345–355 (2009).

Fritz, V. et al. Micro-CT combined with bioluminescence imaging: a dynamic approach to detect early tumor-bone interaction in a tumor osteolysis murine model. Bone 40, 1032–1040 (2007).

Body, J.J.D.I., Lichinitzer, M., Lazarev, A., Pecherstorfer, M., Bell, R., Tripathy, D. & Bergstrom, B. Oral ibandronate reduces the risk of skeletal complications in breast cancer patients with metastatic bone disease: results from two randomised, placebo-controlled phase III studies. Br. J. Cancer 90, 1133–1137 (2004).

Tripathy, D., Lichinitzer, M., Lazarev, A., MacLachlan, S.A., Apffelstaedt, J., Budde, M., Bergstrom, B. & MF 4434 Study Group. Oral ibandronate for the treatment of metastatic bone disease in breast cancer: efficacy and safety results from a randomized, double-blind, placebo-controlled trial. Ann. Oncol. 15, 743–750 (2004).

El-Abdaimi, K. et al. Pamidronate prevents the development of skeletal metastasis in nude mice transplanted with human breast cancer cells by reducing tumor burden within bone. Int. J. Oncol. 22, 883–890 (2003).

van der Pluijm, G. et al. Interference with the microenvironmental support impairs the de novo formation of bone metastases in vivo. Cancer Res. 65, 7682–7690 (2005).

Coleman, R.E., Purohit, O.P., Vinholes, J.J. & Zekri, J. High dose pamidronate. Cancer 80, 1686–1690 (1997).

Coleman, R. On the horizon: can bisphosphonates prevent bone metastases? Breast 16 Suppl 3, S21–S27 (2007).

Diel, I.J. et al. Reduction in new metastases in breast cancer with adjuvant clodronate treatment. N. Engl. J. Med. 339, 357–363 (1998).

Ray, P., De, A., Min, J.J., Tsien, R.Y. & Gambhir, S.S. Imaging tri-fusion multimodality reporter gene expression in living subjects. Cancer Res. 64, 1323–1330 (2004).

Voorhoeve, P.M. & Agami, R. The tumor-suppressive functions of the human INK4A locus. Cancer Cell 4, 311–319 (2003).

Reynisdóttir, I., Polyak, K., Iavarone, A. & Massagué, J. Kip/Cip and Ink4 Cdk inhibitors cooperate to induce cell cycle arrest in response to TGF-β. Genes Dev. 9, 1831–1845 (1995).
Acknowledgements
We thank members of the Kang laboratory for insightful discussions and technical suggestions, J. Yingling (Eli Lilly and Company) for the TGF-β receptor I kinase inhibitor and suggestions for the manuscript, S. Gambhir (Stanford University) for triple-reporter plasmids, R. Agami (The Netherlands Cancer Institute) for pRS-GFP, T. Guise and K. Mohammad for technical advice in bone histology and G. Hu for statistical support. Y.K. is a Champalimaud Investigator funded by a Department of Defense Era of Hope Scholar Award and grants from the American Cancer Society, the Susan G. Komen Foundation and the New Jersey Commission on Cancer Research. M.K. is supported by a predoctoral fellowship from the Department of Defense Breast Cancer Research Program.
Supplementary information
About this article
Cite this article
Korpal, M., Yan, J., Lu, X. et al. Imaging transforming growth factor-β signaling dynamics and therapeutic response in breast cancer bone metastasis. Nat Med 15, 960–966 (2009). https://doi.org/10.1038/nm.1943
Received:

Accepted:

Published:

Issue Date:

DOI: https://doi.org/10.1038/nm.1943