Abstract
Blockade of mineralocorticoid receptor has been shown to improve the clinical outcomes of proteinuric kidney diseases1,2. However, little is known about the regulation of mineralocorticoid receptor–dependent transcriptional activity in renal disease. Here we identify a new role for Rac1, a member of the Rho family GTPases, as a potent activator of mineralocorticoid receptor signal transduction both in vitro and in vivo. Transient transfection assays in HEK 293 cells revealed that constitutively active Rac1 (CA-Rac1) enhanced mineralocorticoid receptor–dependent reporter activity, which was accompanied by increased nuclear translocation of mineralocorticoid receptor. CA-Rac1 facilitated mineralocorticoid receptor nuclear accumulation also in podocytes via p21-activated kinase phosphorylation. In mice lacking Rho GDP-dissociation inhibitor-α (Arhgdia−/− mice)3, renal abnormalities, including heavy albuminuria and podocyte damage, were associated with increased Rac1 (but not RhoA) and mineralocorticoid receptor signaling in the kidney, without alteration in systemic aldosterone status. Pharmacological intervention with a Rac-specific small-molecule inhibitor4,5 diminished mineralocorticoid receptor overactivity and renal damage in this model. Furthermore, albuminuria and histological changes in Arhgdia−/− mice were suppressed by mineralocorticoid receptor blockade, confirming the pathological role of Rac1-mineralocorticoid receptor interaction. Our results provide evidence that signaling cross-talk between Rac1 and mineralocorticoid receptor modulates mineralocorticoid receptor activity and identify Rac1 as a therapeutic target for chronic kidney disease.
Relevant articles
Open Access articles citing this article.
Nobuhiro Ayuzawa

,

Mitsuhiro Nishimoto

…

Toshiro Fujita

Scientific Reports Open Access 24 November 2022

Babatunde S. Olasege

,

Laercio R. Porto-Neto

…

Marina R. S. Fortes

BMC Genomics Open Access 05 October 2022

Hongmei Zhang

,

Bin Zhu

…

Yongjun Wang

BMC Nephrology Open Access 05 March 2022
Access options
Subscribe to Journal
Get full journal access for 1 year
$79.00
only $6.58 per issue
All prices are NET prices.
VAT will be added later in the checkout.
Tax calculation will be finalised during checkout.
Buy article
Get time limited or full article access on ReadCube.
$32.00
All prices are NET prices.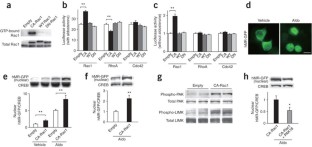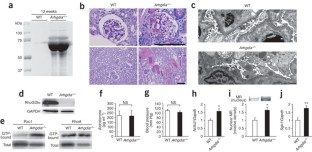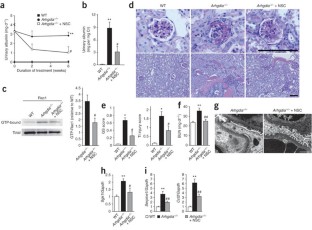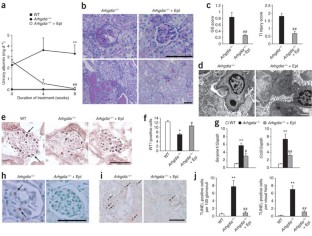 References
Chrysostomou, A. & Becker, G. Spironolactone in addition to ACE inhibition to reduce proteinuria in patients with chronic renal disease. N. Engl. J. Med. 345, 925–926 (2001).

Williams, G.H. et al. Efficacy of eplerenone versus enalapril as monotherapy in systemic hypertension. Am. J. Cardiol. 93, 990–996 (2004).

Togawa, A. et al. Progressive impairment of kidneys and reproductive organs in mice lacking Rho GDIalpha. Oncogene 18, 5373–5380 (1999).

Gao, Y., Dickerson, J.B., Guo, F., Zheng, J. & Zheng, Y. Rational design and characterization of a Rac GTPase–specific small molecule inhibitor. Proc. Natl Acad. Sci. USA 101, 7618–7623 (2004).

Cancelas, J.A. et al. Rac GTPases differentially integrate signals regulating hematopoietic stem cell localization. Nat. Med. 11, 886–891 (2005).

Kato, S. et al. Activation of the estrogen receptor through phosphorylation by mitogen-activated protein kinase. Science 270, 1491–1494 (1995).

Tronche, F. et al. Glucocorticoid receptor function in hepatocytes is essential to promote postnatal body growth. Genes Dev. 18, 492–497 (2004).

Takai, Y., Sasaki, T. & Matozaki, T. Small GTP-binding proteins. Physiol. Rev. 81, 153–208 (2001).

Tzima, E. et al. Activation of Rac1 by shear stress in endothelial cells mediates both cytoskeletal reorganization and effects on gene expression. EMBO J. 21, 6791–6800 (2002).

Rubino, D. et al. Characterization of Brx, a novel Dbl family member that modulates estrogen receptor action. Oncogene 16, 2513–2526 (1998).

Su, L.F., Knoblauch, R. & Garabedian, M.J. Rho GTPases as modulators of the estrogen receptor transcriptional response. J. Biol. Chem. 276, 3231–3237 (2001).

Kino, T. et al. Rho family Guanine nucleotide exchange factor Brx couples extracellular signals to the glucocorticoid signaling system. J. Biol. Chem. 281, 9118–9126 (2006).

Le Menuet, D. et al. Alteration of cardiac and renal functions in transgenic mice overexpressing human mineralocorticoid receptor. J. Biol. Chem. 276, 38911–38920 (2001).

Massaad, C., Houard, N., Lombes, M. & Barouki, R. Modulation of human mineralocorticoid receptor function by protein kinase A. Mol. Endocrinol. 13, 57–65 (1999).

Funder, J.W. Is aldosterone bad for the heart? Trends Endocrinol. Metab. 15, 139–142 (2004).

Nagase, M., Matsui, H., Shibata, S., Gotoda, T. & Fujita, T. Salt-induced nephropathy in obese spontaneously hypertensive rats via paradoxical activation of the mineralocorticoid receptor: role of oxidative stress. Hypertension 50, 877–883 (2007).

Burridge, K. & Wennerberg, K. Rho and Rac take center stage. Cell 116, 167–179 (2004).

Edwards, D.C., Sanders, L.C., Bokoch, G.M. & Gill, G.N. Activation of LIM-kinase by Pak1 couples Rac/Cdc42 GTPase signalling to actin cytoskeletal dynamics. Nat. Cell Biol. 1, 253–259 (1999).

Wang, R.A., Mazumdar, A., Vadlamudi, R.K. & Kumar, R. P21-activated kinase-1 phosphorylates and transactivates estrogen receptor-alpha and promotes hyperplasia in mammary epithelium. EMBO J. 21, 5437–5447 (2002).

Zhao, L. et al. Role of p21-activated kinase pathway defects in the cognitive deficits of Alzheimer disease. Nat. Neurosci. 9, 234–242 (2006).

Shibata, S., Nagase, M. & Fujita, T. Fluvastatin ameliorates podocyte injury in proteinuric rats via modulation of excessive Rho signaling. J. Am. Soc. Nephrol. 17, 754–764 (2006).

Shibata, S., Nagase, M., Yoshida, S., Kawachi, H. & Fujita, T. Podocyte as the target for aldosterone: roles of oxidative stress and Sgk1. Hypertension 49, 355–364 (2007).

Nagase, M. et al. Podocyte injury underlies the glomerulopathy of Dahl salt-hypertensive rats and is reversed by aldosterone blocker. Hypertension 47, 1084–1093 (2006).

Brown, N.J. et al. Aldosterone modulates plasminogen activator inhibitor-1 and glomerulosclerosis in vivo. Kidney Int. 58, 1219–1227 (2000).

Niranjan, T. et al. The Notch pathway in podocytes plays a role in the development of glomerular disease. Nat. Med. 14, 290–298 (2008).

Isermann, B. et al. Activated protein C protects against diabetic nephropathy by inhibiting endothelial and podocyte apoptosis. Nat. Med. 13, 1349–1358 (2007).

Pitt, B. & Leopold, J.A. A role for mineralocorticoid receptor blockade in the prevention of apoptosis. J. Mol. Cell. Cardiol. 39, 415–417 (2005).

Wu, X. et al. Rac1 activation controls nuclear localization ofβ-catenin during canonical Wnt signaling. Cell 133, 340–353 (2008).

Liu, W.F., Nelson, C.M., Tan, J.L. & Chen, C.S. Cadherins, RhoA and Rac1 are differentially required for stretch-mediated proliferation in endothelial versus smooth muscle cells. Circ. Res. 101, e44–e52 (2007).

Takenaka, T., Forster, H., De Micheli, A. & Epstein, M. Impaired myogenic responsiveness of renal microvessels in Dahl salt-sensitive rats. Circ. Res. 71, 471–480 (1992).

Eto, N. et al. Podocyte protection by darbepoetin: preservation of the cytoskeleton and nephrin expression. Kidney Int. 72, 455–463 (2007).

Komuro, R., Sasaki, T., Takaishi, K., Orita, S. & Takai, Y. Involvement of Rho and Rac small G proteins and Rho GDI in Ca2+-dependent exocytosis from PC12 cells. Genes Cells 1, 943–951 (1996).

Diekmann, D. et al. Bcr encodes a GTPase-activating protein for p21rac. Nature 351, 400–402 (1991).

Iida, T. et al. Functional modulation of the mineralocorticoid receptor by cis-diamminedichloroplatinum (II). Kidney Int. 58, 1450–1460 (2000).
Acknowledgements
We are grateful to S. Fukuda for help in electron microscopic analysis. We thank Pfizer for providing eplerenone and Asahi Kasei Pharma for providing fasudil.
Supplementary information
About this article
Cite this article
Shibata, S., Nagase, M., Yoshida, S. et al. Modification of mineralocorticoid receptor function by Rac1 GTPase: implication in proteinuric kidney disease. Nat Med 14, 1370–1376 (2008). https://doi.org/10.1038/nm.1879
Received:

Accepted:

Published:

Issue Date:

DOI: https://doi.org/10.1038/nm.1879