Interdisciplinary mentorship must evolve to keep pace with innovative programmes, argues Katherine Mackey.
More than ever, scientists are working across disciplines. Addressing and analysing climate change, sustainable development and genomic data requires unusual and interdisciplinary approaches. As problems and solutions co-evolve in unexpected ways, skill sets must evolve too — as must mentorship. Mentors should work to bring early-career scholars up to speed on issues such as funding structures and communication styles tailored to interdisciplinary efforts — and protégés should be proactive.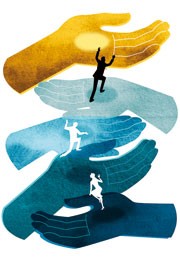 Interdisciplinary work often takes root in an established department. Scholars must function in the existing framework, even when the goals, timelines and deliverables of the research differ. So when the research grows into its own programme, the first scholars to seek tenure in it will have no mentors who have navigated the same process. As early-career researchers attempt to break new ground, they must seek the few interdisciplinary mentors who can help them to find their bearings.
Young scholars should cast a wide net. Mentors from other disciplines may provide fresh perspectives, and their enthusiasm for collaborating can build an early-career researcher's confidence. But interdisciplinary scholars still need strong mentors in their own programmes, who are sensitive to extra-departmental obligations and can help them to keep pace with deadlines and degree or tenure requirements.
To ensure that their protégés get used to the culture of multiple disciplines, mentors should help students to identify and forge collaborations with other experts. This might include arranging training in different laboratories or universities, to build networks from which interdisciplinary progress can grow.
Logistics set interdisciplinary mentorship apart. For students, the need for course work and training in both a disciplinary department and an interdisciplinary programme can double early-stage time commitments and delay dissertation projects. It is essential for advisers and committee members to communicate with the student and each other to prioritize training objectives.
Early-career researchers on the tenure track face more serious challenges: owing to lack of precedent, institutional variability and multidisciplinary tenure committees, expectations may not be well established. How many first-authored papers should be written per year? By when should the first grant be funded? How many courses should be developed and/or taught each year? All of these milestones can vary between disciplines.
Committee or department chairs should issue annual progress reports to ensure that a scientist's research goals mesh with the department's needs. This gives the scholar a chance to adapt their research early on, to include angles or activities that the department values.
The challenge isn't just about understanding benchmarks, but also about finding ways to receive credit for unusual, difficult-to-evaluate work such as science-policy statements, decision-support systems and outreach tools. And it may not be clear whether or how extra-departmental courses, multi-authored projects or shared graduate students (who gets credit for mentoring them?) will count towards tenure requirements.
Mentors can clarify how these achievements will be 'scored' during the tenure process. And they should strive to help protégés to understand the opinions and expectations of committee members by, for example, facilitating discussions about how progress is charted.
As interdisciplinary scholars look for innovative solutions, their mentors must also develop innovative approaches. This will help the protégés to enrich their education and earn useful degrees — and chart a course towards a successful career.
About this article
Cite this article
Mackey, K. Advising on the edge. Nature 490, 301 (2012) doi:10.1038/nj7419-301a
Comments
By submitting a comment you agree to abide by our Terms and Community Guidelines. If you find something abusive or that does not comply with our terms or guidelines please flag it as inappropriate.