In its first ten years, the US National Postdoctoral Association has helped to raise the profile of postdocs. But championing their cause still presents challenges.

Before Alyson Reed became head of the US National Postdoctoral Association (NPA), she had only the vaguest ideas about what a postdoctoral researcher does.
Reed was hardly alone. After she took the job as the NPA's inaugural executive director in 2003, she learned that few outside science and academia knew what postdocs are or do. Even on university campuses, many postdocs felt invisible and anonymous, crucial to research but suspended in limbo with no means of networking, creating a community or being heard.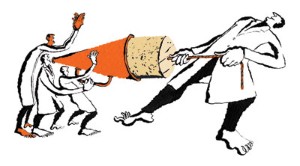 Almost ten years of efforts by the NPA have helped to mitigate those challenges. Based in Washington DC, the non-profit organization has worked hard on behalf of its 2,700 members and the nation's more than 60,000 postdocs (a number based on reports from member institutions). It has helped stakeholders — including federal agencies, members of Congress and policy-makers — to become eminently familiar with what postdocs are, what they do and the conditions they face. It has raised the issue of shoddy compensation and highlighted the difficulties of career development.
Yet most US academic postdocs still work long hours for trifling pay and have no clear route into a permanent position. Observers say that the NPA has made progress, but should do more. The association would like to boost outreach and advocacy and offer more services. But a meagre budget, a small staff and funding challenges present significant obstacles.
The seeds of the NPA were sown in 2002, during a postdoc networking meeting launched and supported by the American Association for the Advancement of Science (AAAS) in Washington DC. Two years earlier, a report1 by the US National Academies had recommended that funding agencies, institutions and other bodies award postdocs appropriate recognition and compensation; provide health benefits; and ease the transition to a permanent position. But few had adopted the proposals by the time of the AAAS meeting.
So seven postdocs at the meeting decided to change the landscape themselves. "We felt it was the right time to try to have conversations with institutions and funding agencies about the issues — career development and appropriate salary and benefits — and to try to come up with federal policies to support them," says Carol Manahan, one of the founding members of the NPA and now associate director of the education office at Novartis Institutes for BioMedical Research in Cambridge, Massachusetts.
"We were ghosts," says Orfeu Buxton, another founder and now a neuroscientist at Brigham and Women's Hospital in Boston, Massachusetts. "We formed the NPA in part because we wanted to bring a face to the faceless, a voice to the voiceless." They resolved to establish a group that could represent and advocate for postdocs around the country.
Over the course of a few months, the group created a steering committee and partnered with the AAAS, which provided office space, a telephone line and advice on how to network and correspond with heads of federal agencies and non-profit groups, and how to raise and manage money. The NPA pursued the Alfred P. Sloan Foundation in New York for funding, and won a US$10,860 planning grant, followed by a $456,000, 18-month operating grant, which the AAAS received and administered.
The organization had no track record or reliable sources of future funding, but it was still worth investing in, recalls Michael Teitelbaum, a senior adviser at Sloan. "It was a high-risk venture, but the proposal was really good."
The system was broken. Postdocs needed a seat at the table with decision-makers.
With office space and funding in hand, the NPA held its first annual meeting in March 2003 in Berkeley, California, drawing some 80 postdoc attendees from various universities. Six months later, Reed came on board. "The system was broken," she recalls learning during her first few months on the job. "Postdocs needed a seat at the table with decision-makers to set standards, create infrastructure and improve outcomes."
Before the NPA could advocate for postdocs — not to mention collect data about their roles at research institutions — it had to define what a postdoctoral researcher is, says Reed. The association helped the US National Institutes of Health (NIH) and the US National Science Foundation (NSF) to adopt a formal definition in 2007. That definition — which states, in part, that postdocs are "engaged in a temporary and defined period of mentored advanced training to enhance the professional skills and research independence" — helps institutions and principal investigators to see postdocs as trainees and protégés seeking to advance their careers, rather than as just a pair of hands at the bench, says Reed.
That done, the association staked out its position. As a 501(c)(3) non-profit organization, the NPA is allowed to spend up to 20% of its resources on lobbying — trying to influence law-makers, including Congress. But current executive director Cathee Johnson Phillips says that the organization is better suited to advocating, recommending and educating. In 2009, it created National Postdoc Appreciation Day, since extended to a week and now observed at about 90 US and Canadian institutions. In 2010, the US House of Representatives officially recognized the week and the contribution of postdocs to the scientific enterprise. That, says Johnson Phillips, "was the first step in educating the legislative branch of our government regarding the importance of the postdoc in US research and discovery".
Manahan represented the NPA on a US National Academies committee that called on2 the NIH to provide better support for postdocs seeking to set up their own labs. The committee's report helped to persuade the NIH to establish its Pathway to Independence grants in 2006. The NPA's input, including policy papers and talks with congressional subcommittee staff, helped to prompt 2007 legislation that required all NSF grant proposals that include funds for postdocs to list mentoring activities, and all NIH proposals that include postdoc funds to expand postdoc data collection. And last year, the NPA submitted a 19-page response to the NIH's request for information for a working group on the biomedical workforce. This June, the working group released the final draft of its report3 on what the workforce is lacking. "Their input certainly helped our analysis and identified needs that had not been fully realized," says NIH director Francis Collins, who was the keynote speaker at the NPA's 2010 annual meeting and remains sympathetic to the association. "The recommendations they put forward are under serious consideration."
In 2003, the NPA teamed up with Sigma Xi, a researchers' society based in Research Triangle Park, North Carolina, and others to conduct a multi-campus survey of postdocs — the first collection of data on postdocs' work, career goals and perceptions of policies and practices at their institutions. Among other results, it found4 that postdocs with structured plans for oversight and career development had fewer conflicts with their advisers, rated their advisers more highly and had more publications than those without such plans.
But perhaps the NPA's biggest accomplishment has been in encouraging US universities to set up their own on-campus postdoctoral offices and associations, for which it provides online toolkits (see go.nature.com/njxrwo) and conducts site visits. The NPA's annual meeting provides a forum in which such offices and associations can share ideas and best practices.
The association now has about 130 member offices on US university and other research campuses, and has inspired the creation of postdoc organizations in other countries (see 'International influence'). The offices support postdocs, offering networking and social events, handbooks and help with grant writing and presentations. They also often serve as the first line of action for grievances. A postdoc-office administrator can bring together faculty members and people from human-resources departments to create an institutional culture that improves conditions for postdocs.
Still, with an annual budget of just $600,000 from membership dues, grants and marketing, and just four staff members — one of them part time — including Johnson Phillips, the organization struggles to reach a wider audience. Johnson Phillips has a long list of projects that she would pursue if funding were more plentiful: a follow-up to the Sigma Xi survey; a smartphone app; more travel awards to bring administrators and faculty members to NPA meetings; more marketing; more staff members to develop white papers and other educational tools; and exhibits at many more conferences. She would also like, to the extent allowed for a non-profit, to hold awareness-raising meetings with federal law-makers or their staff.
Some members say that the NPA should redouble its efforts to regularly collect and analyse data on postdocs. Johnson Phillips says that the association doesn't have the funding for such endeavours, although she notes that in 2009, it conducted a pilot poll of postdocs on issues including compensation, benefits and career pathways as a follow-up to the Sigma Xi project. Other observers say that the NPA needs to increase its advocacy work. John Scatizzi, an immunology postdoc and president of the postdoc association at the Scripps Research Institute in La Jolla, California, would like to see greater progress on standardizing compensation and benefits. "They need to take more of an active role," he says.
To further improve postdoc career prospects, says Collins, the NPA should boost its visibility in the academic community. "This is a great opportunity for them to align themselves with organizations such as the Association of American Universities and the Association of Public and Land-grant Universities," says Collins. "These relationships could help them to further their agenda. A lot of what postdocs need in terms of career growth is controlled not by the NIH but by universities."
Johnson Phillips is quick to point to ongoing advocacy and educational efforts at the NPA. The association regularly publishes white papers on postdoc issues, responds to federal agencies' requests for information and makes recommendations to the agencies, NPA member institutions and other stakeholders. The NPA is developing a national certification programme to identify institutions that follow its best practices and recommendations, and will contact the US Association of Public Land-grant Universities for support and feedback. It has also developed a set of core postdoc competencies for evaluating career development.
Lisa Kozlowski, associate dean for postdoctoral affairs and recruitment at Thomas Jefferson University in Philadelphia, Pennsylvania, points out a less tangible achievement. "They've given postdocs a voice," she says, "and that's huge."
Related links
Related links
Related links in Nature Research
Related external links
About this article
Cite this article
Kaplan, K. Postdocs: A voice for the voiceless. Nature 489, 461–463 (2012). https://doi.org/10.1038/nj7416-461a
Published:

Issue Date:

DOI: https://doi.org/10.1038/nj7416-461a
This article is cited by
Nature (2012)

Nature (2012)