Public and private institutions have added new rules to ensure transparency and reveal conflicts of interest. For many, following the rules has become harder.
Navigating the labyrinth of ever-changing conflict-of-interest rules in science research is resulting in increasing paperwork and lost time for scientists and research institutions. Many well-intentioned individuals are trying to balance the demands of research enterprise with maintaining public confidence and scientific objectivity.
The heightened sensitivity is a result, in part, of a series of scandals and the growing number of links between academic researchers and industry. Governments, academic institutions and research centres are fine-tuning their financial conflict-of-interest policies to strengthen disclosure requirements and place limits on industry payments, all in the interest of promoting transparency.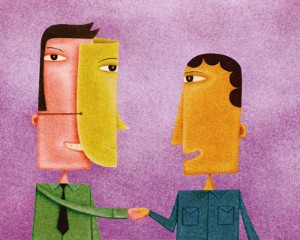 "It's a whole new game in terms of financial relationships," says David Rothman, director of the Center for the Study of Science and Medicine at Columbia University in New York. "It's unprecedented. If the information can be found, your dean is going to know. The journal editor is going to know. The National Institutes of Health is going to know. And if everyone knows, it means you had better be pretty thorough in disclosing and managing your conflicts."
Exhaustive reporting is the best strategy to maintain reputations and to protect researchers from charges of bias, say conflict-of-interest experts. Senior faculty members, early-career researchers and medical students should make sure that they leave little room for doubt about their financial relationships with industry.
Yet this zeal for disclosure poses a significant challenge for both institutions and individuals. Complying with the rules is expected to cost institutions millions of dollars, and is a considerable intrusion into scientists' time and privacy. Comprehensive reporting can leave the impression among members of the public that a 'conflict' exists when, in fact, the authors only have a competing or allied interest.
New rules, new responsibilities
The international crackdown on disclosing all industry payments comes in the wake of a series of controversial cases. These include a 2008 US congressional investigation into researchers from Harvard University in Cambridge, Massachusetts, who failed to report millions in consulting fees from drug manufacturers; a June 2011 report from the news agency Reuters that revealed how scientists whose research was published in the British Journal of Dermatology failed to disclose even the most blatant financial conflicts on the publication forms; and a 2011 decision by the European Parliament to audit the European Medicines Agency (EMA) after its former executive director, Thomas Lönngren, accepted a paid consultancy with a market-access company soon after leaving his position.
The US Department of Health and Human Services in Washington DC staked out new territory last August, releasing revamped financial conflict-of-interest rules, which updated disclosure regulations that have been in place since 1995. The rules take effect in August 2012 and will affect more than 40,000 researchers.
Under the regulations, the threshold for disclosing industry and non-profit payments or gifts to researchers and their immediate family members decreases from US$10,000 to $5,000. Violations will be punishable by suspension or by the termination of federal research funding. Academic and research institutions will be required to strengthen their disclosure activities by developing more robust regulations, as well as by expanding their systems to educate staff and report conflicts to regulators and the public.
"There are, increasingly, more interactions with industry as the knowledge base grows and there is more translation of that knowledge into practical outcomes," says Sally Rockey, deputy director for extramural research at the US National Institutes of Health (NIH) in Bethesda, Maryland. "We wanted to take a look at our regulations to make sure they supported investigators, as appropriate, as well as our ability to oversee the process."
In September 2011, the EMA released rules requiring scientific experts advising on drug approvals to provide a signed declaration detailing their direct and indirect financial interests, as well as any other interests that could influence them. The EMA also created a searchable database to allow the public to track those declarations. Some scientists expressed concern that the policy might have an effect on the number of experts able to serve on government advisory boards because of the sheer number of relationships between investigators and industry. Newer fields, such as nanotechnology or genetic engineering, are particularly vulnerable.
Moves to strengthen the reporting of conflicts of interest come at a crucial time financially for institutions such as academic research centres. With budgets forcing reductions in government spending on science research around the world, industry is increasingly stepping in to fill the gap, especially in translational and clinical studies. Although scientists would be wise to proceed with caution, these partnerships can be fruitful. "We don't want to inhibit these relationships," says Rockey. "We know they're there." Researchers should not assume that receiving industry money will automatically block an appointment to an NIH study group, a drug-approval committee or a formulary committee at a medical centre, Rockey adds (see 'Staying clean').
Clearly, the rules of the game differ considerably depending on the institution or country. Ethics experts therefore recommend that the first place to visit in the disclosure process should be the office for ethics and compliance at the researcher's institution. Most academic institutions have offices and committees charged with managing these issues, and everyone from experienced investigators to graduate students have a responsibility to know the rules. Reporting every conflict of interest may be intrusive, and some researchers may worry that it suggests an unproven tie between industry fees and research findings; but disclosure is the first and best defence against bias charges, and not disclosing information could look suspicious.
We try to promote the idea that having a conflict of interest is not necessarily a negative.
Some institutions not only offer one-on-one counselling but also provide helpful seminars and online tutorials to explain the rules and disclosure processes. "We offer many opportunities for our investigators to learn more about their responsibilities in conflict-of-interest disclosure and to ensure they aren't letting bias enter into investigations," says Guy Chisolm, director of the Innovation Management and Conflict of Interest Program at the Cleveland Clinic, an academic medical-research centre in Ohio. "This kind of transparency is a baseline for a change of culture and a change in attitude."
Armed with government and institutional regulations, researchers need to assess their potential conflicts of interest thoroughly. Have they taken any payments, gifts, speaking fees, meals or educational travel from a private company? What were the amounts and when? They should consider hard questions before accepting an industry-board appointment or attending industry-sponsored events: is this necessary to further their research or career goals?
While institutions determine if a conflict exists, researchers may wrestle with whether to report certain financial contacts, such as direct payments to investigators for the enrolment of participants; income received for work that is tangentially related after the research was completed; and income that is not directly related to the research, such as being on a panel (see 'Daring to disclose'). Almost everyone agrees that it is a major conflict to allow industry to ghostwrite articles, reports or presentations — still a common practice. Investigators who have patents and who conduct classified research or work with for-profit companies or non-profit organizations that have a stated agenda should disclose those financial relationships in detail. Junior researchers should be alert to any potential financial conflicts of their principal investigator, which could have an effect on the young researcher's standing if problems arise.
Even with full disclosure, many doubt the feasibility of removing all bias. Instead of overt reward, what remains could be an unspoken bias that is just as pernicious. "Consciously or not, money can bring with it a need for reciprocity," says Rothman. "Drug and device companies are very clever. They are experts at marketing and making connections. If they didn't feel it brought them some advantage, they wouldn't provide it. They're not in the charity business."
Long-term relationships between industry and investigators exist, and will continue to do so. Institutions need a robust strategy to manage these conflicts because no one wants to lose industry investment in research. "This is really about managing conflicts," says Rockey. "We try to promote the idea that having a conflict of interest is not something bad or necessarily a negative."
Related links
Related links
Related links in Nature Research
Related external links
About this article
Cite this article
Kellogg, S. The power of transparency. Nature 484, 131–133 (2012). https://doi.org/10.1038/nj7392-131a
Published:

Issue Date:

DOI: https://doi.org/10.1038/nj7392-131a