Non-EU researchers will find visa approval faster and easier.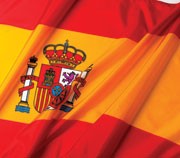 Spain is making it easier for researchers living outside the European Union (EU) to work in the country, in line with a 2005 EU-wide directive. The Spanish government has now incorporated the scientific visa directive into its immigration law, which should accelerate visa approval for researchers.
The reform, which came into effect on 13 December, puts an end to a legal dispute between the European Commission and Spain, which had been slow to enact an EU-wide directive stating that member countries must put in place regulations to streamline the admission of foreign scientists. The Commission took Spain to the European Court of Justice in October 2008 after the country missed the October 2007 deadline. The delays were largely because modification of Spain's immigration law requires a difficult and time-consuming process of parliamentary consideration and congressional approval.
The changes include a special entry system for non-EU scientists that allows applicants to avoid the slow and cumbersome process of applying via the consulate. As part of a 'hosting agreement', scientists will be automatically granted visas if their hiring institution is accredited by the Spanish government and the job offer is for longer than one year.
The reform also provides an avenue to enter the country on a work permit, via the EU 'blue card'. Available for highly skilled workers, including qualified scientists and engineers, the card will be particularly useful for researchers working in private industry, which is unlikely to follow the government accreditation process.
Scientists from outside the EU should benefit from the change, according to Louise McNally, the vice-rector of research at Pompeu Fabra University in Barcelona. But complications remain. According to Esther Alsina of the Catalan Researcher Mobility Node, a body that helps bring scientists from other countries to the Catalonia region, several aspects need to be fine-tuned by implementing regulations. For example, she says, the law requires that researchers be granted a visa if their salary at their host institution is above a certain amount. But the precise amount is still up for discussion. The Ministry of Labour and Immigration has until the middle of June to decide how to implement the regulations. "It is very important that the authorities establish realistic salary requirements according to the salaries that researchers earn," Alsina says.
The newly reformed law also stipulates that members of a researcher's immediate family will automatically obtain residency and work permits once the researcher is granted a visa. Under the current procedures, the scientist's family often needs to wait for a year before being granted a residence visa. This has deterred many non-EU scientists from coming to work in Spain.
"We urgently need to remove legal obstacles to hiring top scientists or we are going to lose talent to other European countries," says McNally.
Related links
Related links
Related links in Nature Research
Related external links
About this article
Cite this article
Jiménez, C. Spanish reform will help foreign researchers. Nature 463, 257 (2010). https://doi.org/10.1038/nj7278-257b
Published:

Issue Date:

DOI: https://doi.org/10.1038/nj7278-257b