Ren Wang has big ideas for his new post.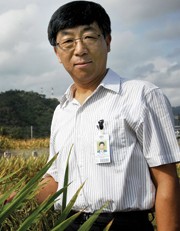 Ren Wang understands the importance of seizing an opportunity. As a farm worker during China's Cultural Revolution, he was given two choices: either go to an agricultural college or work in construction. His choice landed him in the plant-protection research division at Shanxi Agricultural University in Taigu. See CV
A postgraduate at the Chinese Academy of Agricultural Sciences (CAAS) Institute of Biological Control in Beijing, Wang studied the use of beneficial insects. A PhD fellowship from the Rockefeller Foundation then took him to Virginia Polytechnic Institute in Blacksburg, where he became an expert in the control of exotic weeds.
After returning to the CAAS to continue studying the use of insects in weed control, Wang continued US–China collaborations, eventually helping to set up a joint biological-control research institute. Soon afterwards, Chinese policy moved towards commercializing research.
"I didn't want to commercialize rice, so I looked for opportunities to continue pure research," says Wang. Asked by the director of Britain's International Institute of Biological Control for personnel recommendations, Wang offered himself and became its deputy director.
Lured back to China as vice-president of the CAAS, Wang supervised 10,000 staff. One of his major projects was a Sino–Japan Center for Sustainable Agriculture.
Moving to the Consultative Group on International Agricultural Research (CGIAR), an international public–private partnership that oversees 15 research centres, Wang became deputy director-general for research at the CGIAR's International Rice Research Institute (IRRI) in the Philippines. There he fostered collaborative initiatives between sub-Saharan Africa and central Asia.
After seven years, Wang has now become the CGIAR's director. He plans to address challenges such as climate change, poverty in Africa and South Asia and the effect of biofuel production on small farms. "If we can build strong collaborations, we'll form an unprecedented force to address such continued, pressing issues," says Wang.
His colleagues value his commitment to strengthening the CGIAR's research institutions. Robert Zeigler, director-general of the IRRI, says Wang understands the importance of decent infrastructure, a steady stream of exchanges and a critical mass of resources to address complex problems.
"I am an enabler," says Wang. "I want to develop the infrastructure that enables scientists to develop innovations."
Related links
Related links
Related external links
About this article
Cite this article
Gewin, V. Ren Wang, director, Consultative Group on International Agricultural Research, Washington DC. Nature 449, 634 (2007). https://doi.org/10.1038/nj7162-634a
Comments
By submitting a comment you agree to abide by our Terms and Community Guidelines. If you find something abusive or that does not comply with our terms or guidelines please flag it as inappropriate.