Kenneth Peach, director, John Adams Institute for Accelerator Science, Oxford, UK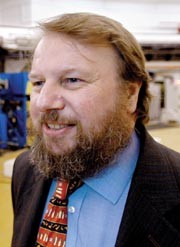 Ever since he was 12 years old, Kenneth Peach has been fascinated with the stars and interested in uncovering how the Universe works. This passion led his career down a path towards physics. With his appointment in April as the first director of the John Adams Institute for Accelerator Science, based in Oxford and London, one of his main goals is to ensure that the next generation of scientists can do their job — investigating the mysteries of the Universe. (see CV).
"It is a privilege and a challenge to have the task of defining the ways accelerator science will go in the future," says Peach.
The John Adams Institute, founded in 2004 by the UK Particle Physics and Astronomy Research Council, is one of two university-led centres in Britain set up to pursue research and development into particle-physics accelerator science.
Peach says he will be pushing for the building of a linear collider and a neutrino factory to study the conditions shortly after the Big Bang, 14 billion years ago.
He has always had a clear idea of his scientific goals — to understand particle physics, as a basis for understanding how the Universe works, and to use accelerator physics for studying what the Universe looks like. But Peach points out that he has not followed any particular career plan over the past ten years. "The jobs came out of the blue," he says.
He believes that enthusiasm is the source of every successful scientific career, and he is keen to tell the next generation so. "Listen to yourself and find out what you are really most excited about, than go for it as hard as you can!" he says.
Despite switching many years ago from directly performing research to managing it, Peach says that he still feels very much like a scientist, not a manager, and that working with researchers gives him a thrill. "It is satisfying to help scientists achieve what they would like to achieve — after all, this is also my interest," he says.
And in supporting those scientists he expects to get still closer to his childhood passion: he wants to find out where the stars come from.
About this article
Cite this article
Movers. Nature 435, 244 (2005). https://doi.org/10.1038/nj7039-244c
Published:

Issue Date:

DOI: https://doi.org/10.1038/nj7039-244c