The Partnership for Structural Biology
Structural biology in Europe is getting a boost from a new partnership of international laboratories all based in Grenoble, France.
The European Synchrotron Radiation Facility (ESRF), the European Molecular Biology Laboratory (EMBL), the Laue-Langevin Institute (ILL) and the Institute of Structural Biology (IBS) are combining their expertise and instruments to create a single centre for structural proteomics — the Partnership for Structural Biology (PSB). A 3,600-m2 building, which should be built by the end of 2005, will house integrated PSB teams as well as a new institute for structural virology financed by the Joseph Fourier University in Grenoble.
The partnership brings together EMBL's expertise in molecular biology with the investigatory powers of the ESRF's third-generation synchrotron radiation source, the ILL's high-intensity neutron flux capacity and the facilities at the IBS for nuclear magnetic resonance and electron microscopy.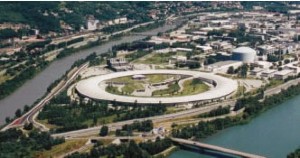 "Today's high-throughput structural biology requires robotics and new instrumentation. No single organization has all the necessary expertise or technology," says Stephen Cusack of EMBL and current chairman of the PSB.
The ESRF is contributing a highly automated macromolecular crystallography beamline to the partnership. "Researchers will have more time to concentrate on the science if they can be freed from tedious jobs through automation," says Sine Larsen, life-sciences director at the synchrotron.
Through the PSB, all of the participating institutes are increasing their commitment to structural biology to meet modern challenges in the field. For example, the ILL plans to increase its life-sciences research from the current 5–10% to 25% of its activity.
About this article
Cite this article
Goodman, S. Bricks & Mortar. Nature 427, 660 (2004). https://doi.org/10.1038/nj6975-660b
Comments
By submitting a comment you agree to abide by our Terms and Community Guidelines. If you find something abusive or that does not comply with our terms or guidelines please flag it as inappropriate.